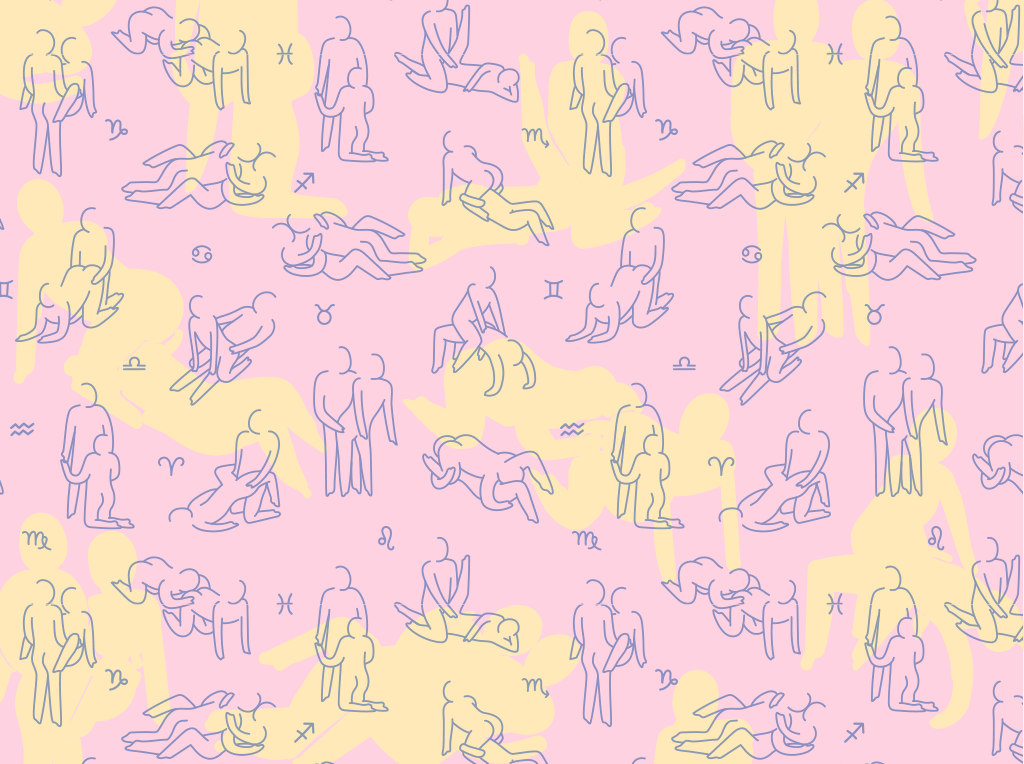 We're excited to announce our HoeScopes! Tune in monthly for your dose of sexy astrology realness 💋
Aries have no time for BS or games, they know what they want and they won't hesitate to get it. Seduce your Mars-ruled lover by letting them chase you. Get sassy -- they like a lover who'll put up a fight. Regarded as the baby of the Zodiac, they may be inclined to like or be "brats". All is fair in love and war, so don't be shocked if wrestling, biting, and scratching awakens something in your Aries lover.
Arguably, the way to a Taurus' heart really is their stomach. Indulge your Venus lover's sweet tooth and stimulate their senses. Be soft, slow, and sensual in your seduction. Taurus appreciates things that are tangible, so seduce them by engaging taste, touch, scents, and sounds. You can't go wrong with candles, massage oils, and lace. They might not be the kinkiest sign, but they love to be passionate and rough.

Gemini is the definition of a good time. They are so fun-loving and want to know that you're comfortable. Being Mercury-ruled, they desire clear and transparent communication, which is why it's best to be honest with them. Their sunny disposition shouldn't lead you to underestimate them. Gemini's open and curious mind makes them one of the more experimental signs. Try group play, bondage, and spanking, but be sure to discuss a safe word first!
Sweet little bundles of joy, Cancers' energy is so precious. They'll go out of their way for their loved ones, and can't help but to cater to their partners. Surprise them with a home-cooked meal, cuddle them, tease them, and appease them. The first step is to help them feel cozy and comfortable, then you'll learn how willing they are to open up. Of all the signs Cancers appreciates emotional exchanges and breast/nipple licking. Kink-wise? Don't be surprised if they're into daddy/mommy dom-play!
Your royal highness Leo is here. There's no being cheap or making them question their worth. Leos know they deserve the best and they'll remind you of that every step of the way. Spoil your Sun-ruled lover with compliments and take them on luxurious experiences. Your "humble" lion will spoil you tenfold in return, and just might welcome you into their kingdom. Leos love attention, so don't be surprised if this exhibitionist likes to play around on AND off camera.
Even dominant Virgos feel a deep desire to serve the person they're with. Mind the pressure -- they hold themselves to a high standard that they frequently crumble under. Make sure you let your Mercury bae know that you appreciate all that they do. Virgos are very technical, which makes it hard for them to relax. Help them comb through the details and unwind! If you're lucky, you might get to see their naughty side -- bondage, domination, slave, and master implied.
Libra are true givers and will bend over backwards to accommodate your every need (if they really like you). Being ruled by Venus, they are naturally flirty and fun. While they can be dominant, they exert a ton of energy to please and appease. Seduce them by taking the lead and letting them be catered to for once. They can be pillow princesses, but they are worth it.
Once you've met a Scorpio, you'll never forget the imprint they've left on you. Their intensity is unmatched. Influenced by Pluto, Scorpios are real ride-or-die types. They will stop at nothing to impress the individual who's enchanted them. Not everyone can appreciate their level of depth, so many of them keep it low-key -- until the panties drop. Have you ever tried being choked while your partner stares into your eyes? With a Scorpio lover, you just might want to.
Sagittarius' know how to make you laugh, so you best believe that humor follows them in the bedroom. Ruled by Jupiter, they were all born with a little luck in their pockets. Sagittarius keeps it light-hearted and positive, and they expect their lovers to do the same. Sex with them is experimental and free. They're down for toys, new positions, and of all the signs they are most likely to laugh off a fart! What? Sh*t happens. You can truly be your authentic self with this sign -- in and out of the bedroom. 
Capricorns take it slow in regards to love and sex. Even when sex is rushed, they are slow to reveal themselves. But when they love you, they are committed. Ruled by Saturn, Capricorns take their responsibilities seriously. They may not always be emotionally expressive types, but you'll always feel secure with them. Help them let loosen up by exploring discipline, punishment, and denial.
If you like the element of surprise, date an Aquarius. These loyal air signs have unique minds, which is why they sometimes hesitate to share. The world doesn't always welcome innovation, but if you can help them feel at ease then you'll be pleasantly surprised. Try introducing butt plugs and progressive sex talks... you'll be surprised by their perspectives. The mind can be just as erotic as the body!
Have you ever drowned in a puddle of your own pleasure? Pisces is a Jupiter-ruled cutie that loves to get lost in their own fantasies. Their ideas and dreams may seem a little out there at times, but always come from a place of deep reflection. If you want to capture their attention, take them to a world of pure imagination. They are low-key hedonistic, so tease and please them during explorative roleplay scenarios. Don't worry about getting bored, their interests are continuously expanding.
Sign up for our email newsletter to get them straight to your inbox monthly (scroll to bottom of our homepage) 💋
Horoscopes ~ Six The Sextrologer
Graphics ~ Kiah Nagasaka