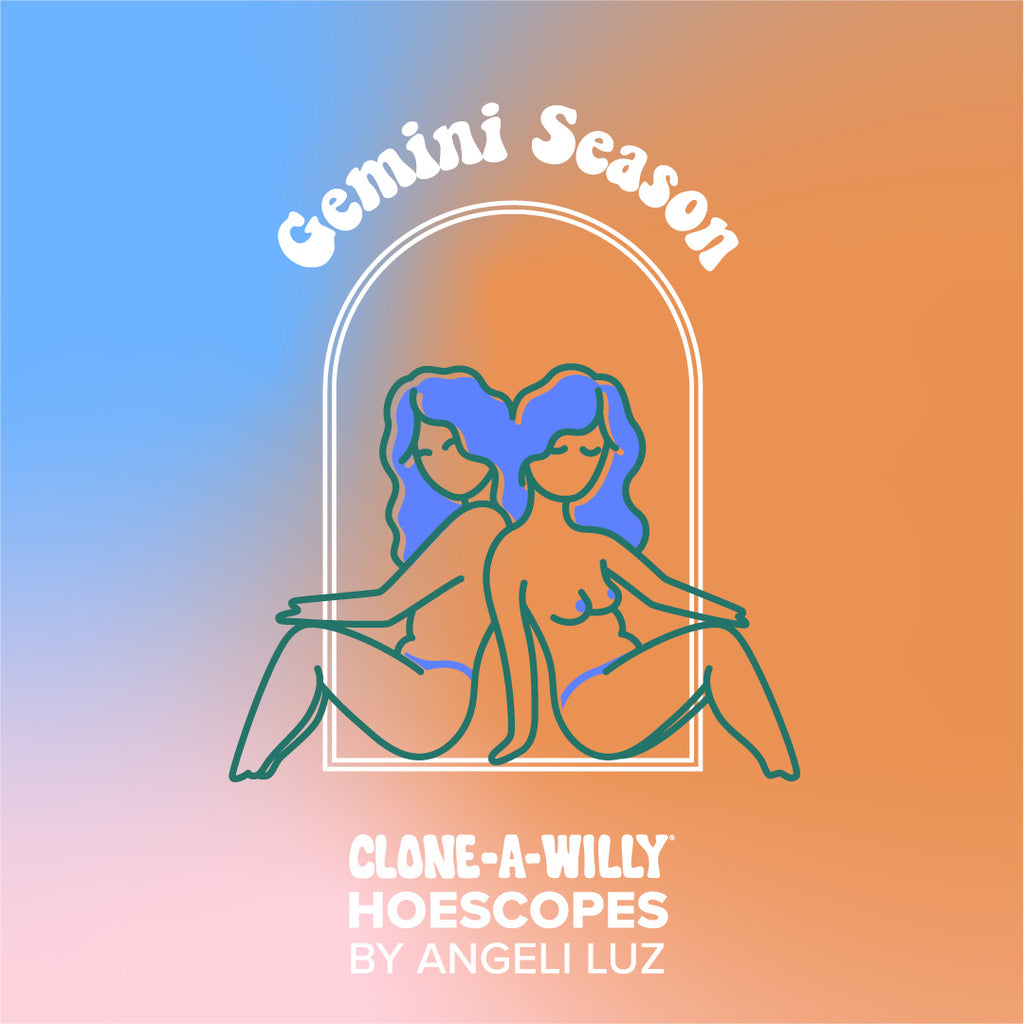 The planets have A LOT going on this month as we dive right into Gemini Season! As the weather warms up and COVID restrictions relax (thank you vaccinations), we are feeling the duality of the excitement to re-emerge into society while also already missing all that extra solo time!

Angeli is serving up your Hoescopes with essential dates throughout this month to pay attention to and reminders to check in with yourself throughout your budding social agenda!

With Venus entering Cancer on June 2nd, I am feeling an energy of loving tenderness for the people close to me. I may feel more sensitive to other people's energies and feel the need to stay at home more. On June 10th, the energy is getting switched up, and the New Moon in Gemini inspires me to put myself out there more. I allow myself to take the time to get to know someone new or start a venture that adds the spice of variety to my life. I'm particularly good at smooth-talking now; the sexual energy is just dripping off my tongue. I'm excited to plan a date with myself (or someone who excites me) and treat my mind to something new.

On June 21st, the sun is entering Cancer. By taking care of my needs and my loved ones, I feel like I'm in my power. My creative spirit is leading me towards beautifying my sacred spaces. Maybe it's time to do some redecorating around the house!

On June 22nd, Mercury is going direct once more. This is a time to recount all I have learned over the past month and apply it to my relationships. What conflicts have I been able to resolve? How has my perspective changed? I am motivated to journal about it. The answers I seek are within me.




The Sun in Cancer on June 21st is bringing financial security to the table. My stubbornness and headstrong nature is opening the doors towards whatever I desire. A promotion? A new connection? It's in the bag. All I have to do is stick to it.

The sun makes me crave the creature comforts in life. Perhaps I want to take a vacation this weekend, to the special faraway land called my couch. What my sensual nature desires this Cancer season is to share a night of relaxation and pleasure. I will make it special and change up my environment for once- perhaps I want to build a blanket fort and invite that special someone for a night of Netflix and chill.

On June 27th, Venus enters Leo. My Venusian nature wants to be in the spotlight- I don't just want to be seen. What I desire is adoration. I am making time to worship myself during this luxurious transit. Perhaps I want to be sculpted. Perhaps what I want most is a clone-a-willy to capture my beauty.




On June 2nd, Venus enters Cancer. My love language is usually communicative, but right now, what I crave the most is intimate touch. I want to be lavished upon- what I'm desiring is the most physical manifestation of love. While this may seem foreign to me, lean into it and experience the pleasure this kind of connection brings.

On June 10th, the new moon will come to rest in my sign. I am feeling in my element and shining like a Gem in the spotlight (hah, get it?). Social interaction motivates me, and I feel like I'm ready to organize a cookout, a dinner, and three different Gettys! I'm also planning out my birthday (if it hasn't happened yet), and I know I'm going to have the time of my life.

On June 22nd, Mercury is going direct again, and it will be in my sign! I am feeling extra communicative, even more so than usual. This is the best time for me to find my voice.

I feel inspired to write a book, an article, a zine, or even a Ted Talk about whatever is sparking my creative engine. I am hungry for information, new sights, knowledge, and stimulation. I'm ready to go out into the world and find it because I know the world is excited to hear my discoveries.




Venus is entering my sign on June 2nd, and it's showing me how to connect with my home environment- especially the bedroom. I want to add a personal touch to every corner. A candle here and a flower there can really set the tone for the night. I'm feeling very romantic and finding myself expressing this sensuality in my gestures and the way I move and carry myself. I allow myself to feel the passion in my womb space and fill my environment with the energy of the hearth.

On June 21st, the sun is entering my sign. It's my birthday season! After all, I do to care for my loved ones; it's time to celebrate me. I allow myself to go shopping for the perfect gift to myself and nurture my body and soul. I'm also feeling the urge to get crafty! I want to recreate everything around me and align it with whichever purpose I will set for this new year of my life.

On June 24th, the full moon is entering Capricorn. I am feeling more determined than ever and setting my sights farther than my current surroundings. My passion is my greatest strength, and it's driving me towards success. Now is the time to map out the road towards what I desire most.




On June 11th, Mars is entering my sign! I'm giving myself the space to listen to my heart. I feel driven to create something that will draw me towards my calling. This position of Mars is a complement to my natural magnetism. My partners are drawn to my passionate nature and bold advances. My creativity in bed stokes the heat up during foreplay, and I'm ready to take a lover on the sexual adventure of their life.

With the full moon in Capricorn on June 24th, I am setting myself up to achieve all my career expectations. If I want it, I got it, and nobody can take the spotlight of success from me. My finances are in order, my skin is glowing, and everything in my life is going just the way I need it to.

On June 27th, Venus is entering my sign. I want to do something special for my partner today, a grand gesture to show my love and devotion. I know being with me is a roller coaster, but it's not boring, even for a minute!




Venus entering Cancer on June 2nd is getting me in touch with my feminine side. I find myself daydreaming about my ideal home. I want to map it out, plan every step, and make dream boards of it! Still, I allow myself to remain open to every opportunity that comes to me and remember that the future is not always set in stone.

The new moon in Gemini on June 10th is popping me out of my bubble. Sometimes a new moon can make me feel slow and withdrawn, but my spirit is begging me to get out there and make new connections! I want to share my heart with another- maybe I can write a letter to my loved ones, old-fashioned and handwritten. If I want to take full advantage of this transit, I will release any blockages in my throat chakra with meditation, affirmations, and patterned breathing.

On June 22nd, Mercury is going direct in Gemini. After a long retrograde season, I feel a newfound sense of clarity. I am grateful for the life lessons that Mercury has left me with, as it has shown me where I'm most aligned and where I still need to put in work. I have learned to communicate my needs, especially in the bedroom. This surge of confidence is spicing things up like I never imagined!




Mercury is going direct in Gemini on the 22nd and is putting the spotlight on my social life! The retrograde was slowing down my plans with necessary distractions, but now I'm feeling more social than ever.

Let's face it, I am a joy to be around. New encounters flow into my life with ease. With my skillful sweet-talking, I am creating exciting connections everywhere I go and inviting glamourous new experiences into my life.

Venus is entering Leo on the 27th, and my sex life is getting a major glow up! My beauty is unmatched, and my charm is attracting all the people with the traits I most desire. Romance is in the air, and my partner is taking note of my luxurious side. We're spicing things up in the bedroom with new toys, aromas, and sexy lingerie. I feel more certain than ever about who I am and what I want from my relationships. I allow myself to honor my expectations and never settle for anything that is not befitting to my nature.




On June 21st, the sun is entering Cancer. Though commitment is one of my fears, I long to set down my roots somewhere. This Cancer energy is inspiring me to set myself up financially so that I can create the environment I truly desire for myself. I have been feeling the urge to take a trip down memory lane and revisit my past. Doing so will help me remember parts of myself long lost or forgotten, and I allow myself to honor them.

My shadow is showing itself this Cancer season by showing me what walls I've put up to the people around me. I am reassessing my boundaries in my relationships, and I feel open to trying new things I may not have been ready for. I'm ready to push myself past my comfort zone and try something new!

With Venus entering Leo on the 27th, my sexual life is taking a turn for the better. I'm showing myself to be more assertive and dominant in bed. I allow my desire to guide me rather than control me. The relationships I attract inspire me to be open with my heart and mind. I don't feel the need to keep myself under lock and key- for once, and I want to be under the spotlight.




The sun is entering Cancer the 21st has been stirring up some past traumas. I'm usually someone who's always on the go, and the Cancer energy has me feeling more vulnerable. I allow myself to feel what naturally needs to come up, and I make space to communicate my feelings with my loved ones.

As I'm going through this powerful placement, the Mercury retrograde comes to an end. This retrograde was a time to slow down and look inward- yes, I learned my lessons, but I want to get the ball rolling now. It's time to kick things up a notch. Mercury in Gemini has me wanting to get together with some old friends and have deep philosophical conversations about nothing and everything at once.

With Leo in Venus on the 27th, I am feeling as adventurous as ever. I'm craving a connection with someone who can take me on a new adventure and expand my horizons. I'm tired of the same old thing, so it's time to switch up my routine and get the self-love flowing. I'm thinking of a mani-pedi, some new clothes, sex toys, and lingerie to get ready for my trip. I know I'll meet the love of my life in a faraway land, so I'll start looking now!




The sun is coming into my 7th house of life partnerships, and it's bringing me some level of stress. I may be having some work or marriage disagreements. If I need a break, a nice vacation is well in order- I don't need to worry so much about work for a few days because my finances are sailing smoothly. I allow myself to be free of earthly constraints for a few days and let myself flow towards wherever I'd like to go.

Mars sitting in Leo is motivating me to network and make new business connections. With enough grit, determination, and a bit of natural charm, I can close any deal and make any sale with ease. I am self-confident, direct, and ambitious. I allow myself to feel pride in my work and pursue not only what makes me money but also what sparks joy in me. I allow myself to become exactly what my inner child would be most proud of.

Leo transiting Venus has me letting go yet still feeling more empowered with my partner. I welcome the change and allow myself to feel affectionate and intimate with all of my being. My partner is wondering what has come over me, and I'm so much more emotional than usual. This freedom to express myself has me experimenting with everything I've always wanted to try in the bedroom- and tonight, all the attention is on me.





Mercury turning direct in Gemini is allowing me to make sense of all the confusion of the retrograde. I have learned how my words, tone, and body language can impact others' perspectives of a conversation. I'm a lot more flirtatious than usual, and I'm taking pleasure in dirty talk. I am aware of how my words can create universes, and I'm exploring more creative ways to communicate with my partner.

Leo in Venus is encouraging me to link up with my loved ones and get closer to them. It's time to have the deep, meaningful one-on-one conversations I've been longing to have. My love life, my relationships, and my commitments are all about to be stirred up for good. I desire freedom above all, but Leo being fiercely committed is making me question that. Right now, all I want is to be seen and loved through all my enigmas, paradoxes, and conundrums.

The sun coming into Cancer on the 21st is bringing out my creative nature. This is a perfect time for looking into everything I have learned in the past year and healing from it. I am feeling inspired to create something artistic from it, maybe a journal entry, a drawing, or even a poem. My romantic side is showing itself more than ever with my partner, and I crave intimacy, sweet words, and fairytale moments in my relationship. With all the caring I do for others, I allow myself to feel worthy of being nurtured.

On June 27th, Leo in Venus is showing me the ropes on how to love myself fully. I recognize that self-love isn't just something I feel, but it's everything I do- it's the way I treat myself every day. I take care of how I eat, how much I sleep, how I move my body and my self-talk. I allow myself to embark on a self-care journey, and I start by treating myself to a healthier and more luxurious lifetime. This body I got is a gift to me from the Earth, so I need to start treating it like one!