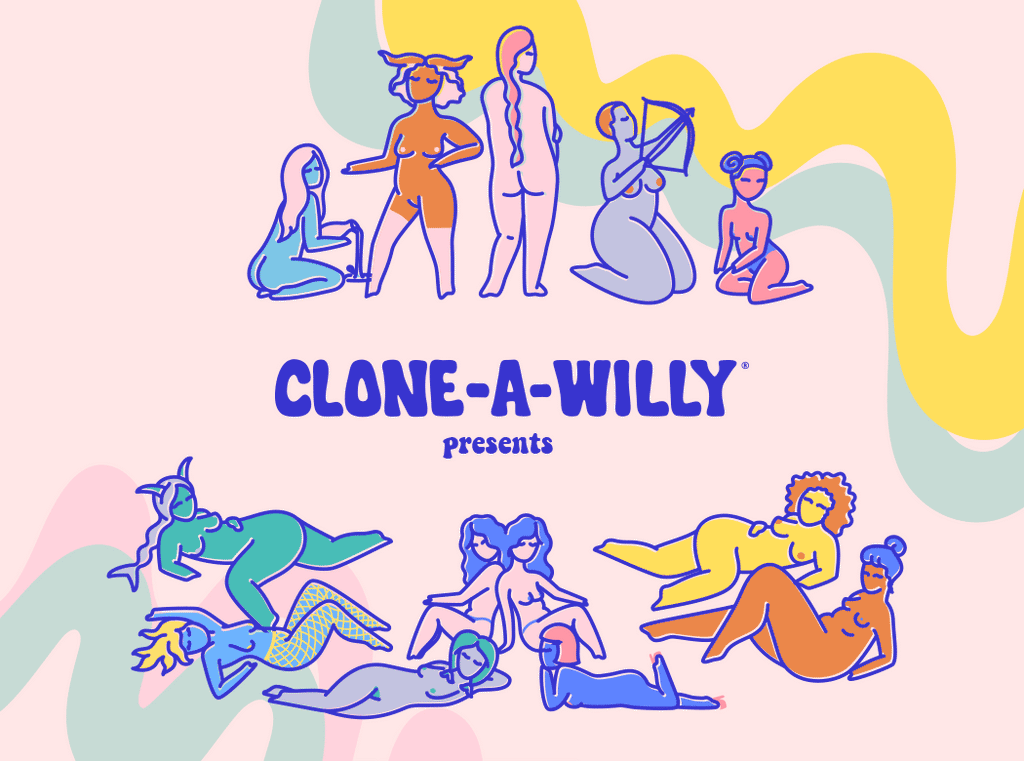 April Hoescopes are here to guide you through your spring quarantine! Six The Sexstrologer has some special social distancing mantras to keep us fresh and vibrant. We are all stuck inside and presented with many silver linings during the pandemic. Use this time to really check-in with yourself, get to know yourself again, and work on some goals you've been putting off! Take a deep breath, stretch your body, show yourself some extra love, maybe even touch yourself a little more often (yeah, you know what we mean). We're all alone in this together, let's make the best of it!
There is no better time for self analyzation and exploration then when I am stuck at home. It's time to face the mirror and address all that's reflected at me. I am not only a physical body, but I am also a collection of memories, feelings, heartbreaks, and wisdom beyond comprehension. I wasn't born yesterday, and I have actively worked to soak up each moment as if it were my last. I am dedicating more time to my meditative practices, thus honoring and promoting my daily rituals. I am enhancing my focus for April, specifically my focus on appreciating myself. I have realized the importance of developing structure and boundaries for my dreams, aspirations, and the community I surround myself with. I am taking this opportunity to check in with myself mentally, as well as physically. My body deserves to be worshiped inside and out!
This month I am starting to feel the weight of my responsibilities while also acknowleging that my life must be temporarily on hold. I am dismissing the word "lazy" from my vocabulary during the month of April. Instead, I am replacing that word with others such as resting, ambitious, balanced, and driven. Lazy has never and will never be a fair descriptor of human behavior, nor is it an identifier that I can resonate with. I am learning that I need to take brief breaks and naps, as well as welcoming more sensual play into my life. I am finding myself developing a team of individuals who share a similar vision as mine and am continuing to build our connection from afar. I intend to show my appreciation to myself daily, including adding pleasure to my daily self-care routine. 
March helped reveal a lot of hidden truths about myself, including what I need and want from relationships. I am finding the silver lining in slowing down and using my time to reconnect with myself on many levels. With Gemini in Venus and my Aquarius in Saturn and Mars, I am dusting off my "sexting abilities." I am enjoying this opportunity to take things back a step and be playful in a safe and conscious way. Saturn and Mars in my house of higher learning and short trips inspire me to learn more about my fantasies and curious desires. Jupiter and Pluto in Capricorn have halted my ability to explore the physical world freely, so I'm finding that I am shattering walls through connecting with others on the world-wide-web.
I am healing my public reputation, which means reclaiming my power and exercising it to attain my desires. As April presses forward, I am letting myself explore my curious thoughts and private parts. Social distancing has proven to be difficult, and all this isolation is inspiring my fantasy to experiment and intellectually engage with others. I am digging deep to unpack my unconventional and "odd" desires, and with Mars in Aquarius, I am allowing myself to unravel slowly and surprise my partner (and myself) with my radical desires. With the full moon in Libra gracing my 4th house on April 8, I am releasing the notion that I must serve others before I take care of myself. I need a vacation, but while I can't physically travel as freely as I would like to, I'm learning how to let my imagination soar and my lust for wander expand.  
I am learning how to take time to confront myself, and I am learning how to hold myself accountable for my daily routine. All communities require supportive individuals who are willing to be a part of a collective. During this time of social isolation, I am innovating the way that I work with and interact with others. I often wish to be witnessed in my entirety, and now I am allowing myself to shine through my creative works and projects. I am also spending April with the realization that I can not run from my progress, that transformation is inevitable and real. I am not completely clear on the person that I am becoming, nor am I all that sure about what the next day will contain. I am enjoying this opportunity to get to know my body as it has changed and explore kinks that are new to me!
I am taking time to draw my attention towards my career and legacy, which is a larger calling than the work I do on a day-to-day basis. With the current climate of the world, I realize how short life is and can be. I don't desire to be someone who lived below their dreams, nor do I foresee myself being a person who could even fall into the worst possible scenario. April is a month for me to collect myself, to develop a routine, and to begin executing my goals. I am also using the extra time I have at home to focus on self-pleasure and enjoying that release as a way to cope with the many stresses I am facing.
Fun is more than social outings; fun can also include identifying your long term goals and working smarter and not harder to achieve them. Life will continue to toss you around if you let it, grab ahold of something and ground yourself. This time of social isolation is enabling you to develop a written plan; make sure not to overwhelm yourself. If this pandemic has taught you anything, it should be the power to always seek balance for yourself. April will inspire an interesting, unconventional realization about yourself, so be sure to take notes. Pay close attention to your inner desires and where your needs may not be getting me, but don't get too lost in your reflection. Ground yourself in reality, see both sides of your situation, then plan and act accordingly. If anyone could make it through, it's going to be you Libra. 
When I face myself in a mirror, I will actively work to hold myself in my entirety -- fear, trauma, and all. I am allowing myself to let my mind wander and am opening my mouth to express myself, even if I am the only person who hears me. I am all that I am, and I am holding myself in my entirety. This quarantine may bring up painful memories, or flashbacks to previous experiences that live in the back of my head. But it is also providing space to explore my own body and needs. I am reminded that I am all I need, and my sensuality and pleasure is a great way to pass the time. To hold myself in my entirety means to identify my capabilities, and don't I have an abundance of them?
I am incapable of living my truth if I am not able to speak my piece. My identity is too strong to be held back or censored, and I must be heard because I have words worth saying. The claiming or reclaiming of my piece and thoughts is only a reflection of my present perspective. I speak my part to be honest, not to offend or belittle others. I express myself to exchange perspectives and inspire introspection. I am not above taking constructive criticism; in fact, I welcome insight to gain a better sense of the big picture. I welcome conversations with others that inspire thought-provoking realizations and transformation. I am growing beyond my blind spots, I am strengthening my pride. While my life may be on pause, I continue to grow and thrive daily and am taking advantage of extra time for sexual connection with myself and others.
I am taking the time to breathe, to enjoy my break, to reward my efforts. While the world is in crisis, I am actively working to maintain my grounding. Though self-care and self-preservation, I am honoring my boundaries, my limits, and my restrictions. I am unafraid of the lessons I still have yet to learn. It's a process, and this year has helped me understand that I am always on my journey. I accept that my path will never be crystal clear, but who wants a world that they didn't deserve? I am leading by example and being the change I wish to see in all the ways I can. As much as my mind is my temple, my body is as well. I am relearning every inch of myself during this time at home. The full moon in Libra on April 7 will allow the balance to take its course. 
I am a complete and neverending person, filled with acceptance of who I am, coupled with a constant desire to grow. I am reflecting on my blind spots and welcoming awareness of my space. While I accept that I am complete at the moment, I understand that each new moment ushers in another moment to grow towards. I am a complex person and embracing every aspect of myself, including my needs a sexual being. Being Saturn ruled, I can get stuck in my ways, which is why I am taking stock of my traits and behaviors. I am no stranger to detaching when the need is apparent, and I understand the importance of boundaries. Life isn't always easy; however, I am being thrown nothing that I can't handle. The energy is shifting, and it's time for me to shift with it. In Aquarius fashion, I am present when it's needed and gone when it's not.  
Manifestation isn't done overnight; it's done over a series of carefully chosen nights, days, and evenings as well. For that reason, I am taking the time to flesh through my desires, and I have no desire to misalign myself with intentions that do not serve me. I am committing to my vision boards and cultivating and curating a life that I aspire to live. I am not choking on words left unspoken. I am marinating my intentions on the tip of my tongue. I will not speak without feeling confident in my speech. Therefore I hold my tongue not because I have nothing to say but because I intend to speak with intention. I am stepping into my power on my own terms, and I am moving at my own speed. Part of my power that I must not ignore is my radiant sexuality, which I am exploring and embracing with every new day!