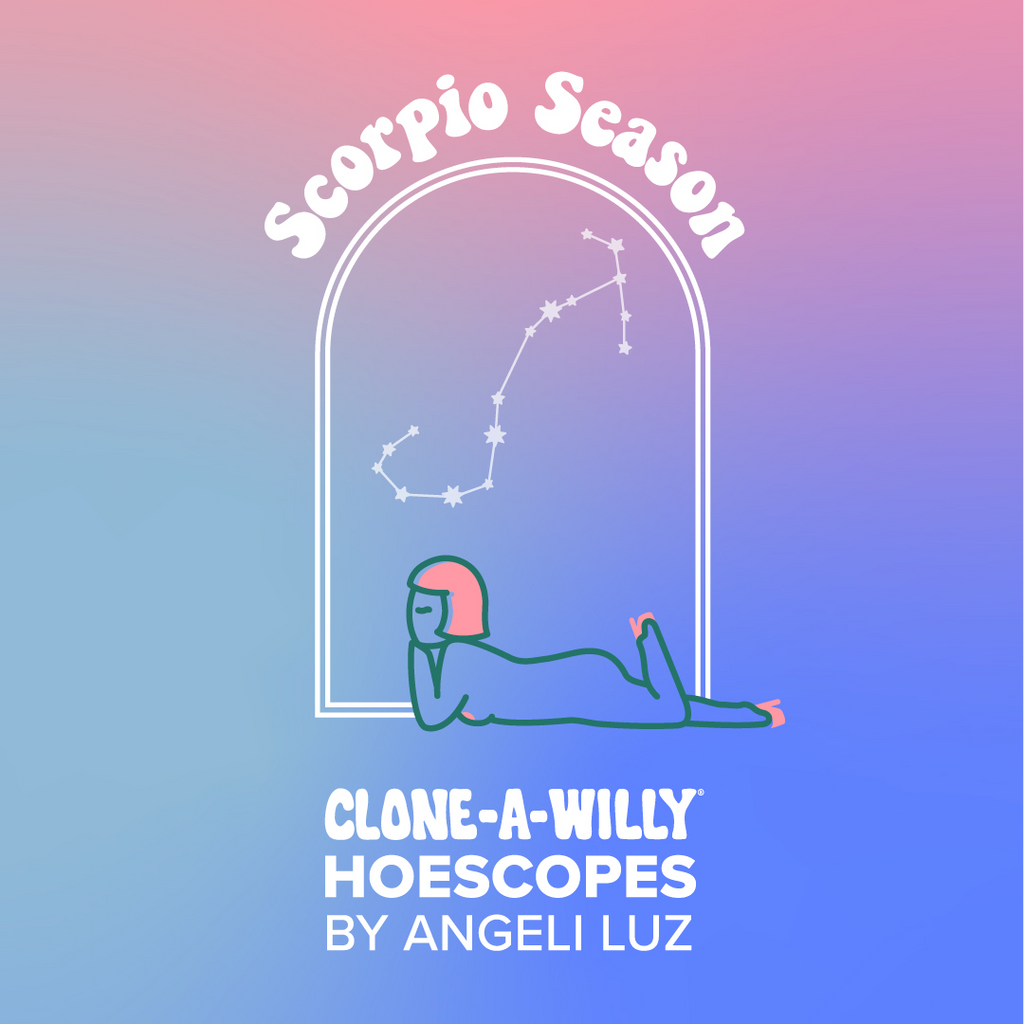 We've got your monthly dose of Hoescopes just in time to start planning out your hoeliday dates, hook-ups, and other sexy hangs! Things might be cooling down outside, but they are heating up in the bedroom 🔥


This New Moon in Scorpio on November 5th has me horny af. I'm not sure what's gotten into me, but I am ready to jump into something new and exciting, and life changing ! The moon is affecting my eighth house of erotica and transformation, and the one thing I'm learning from all this is how to set my standards higher, whether it's in friendships or relationships. I am unwilling to surround myself with disloyal partners and people anymore, and above all, I seek loyalty and honesty. From now on my standards, relationships, and my life in general are going through the roof, and my life will be so much better for it!

On November 21st, the Sun enters Sagittarius. I've been feeling like I want to expand my knowledge of the world and sign up for a new academic challenge. This is the best time for me to get my learning game on and challenge myself to take up something new! I know that if I follow my desires, it will only lead me towards success.


This New Moon in Scorpio on November fifth is crossing into my seventh house, the house of long term relationships, friendships, and financial partnerships. This is a great time for me to enter into a venture that demands passion and deep commitment from both parties. I also feel called to open up about something I've been keeping deep inside my heart. This is a time for new beginnings for me, and I'm ready to free myself from this baggage and start anew.

On November 21st, Sag season is teaching me how to open up about my deepest held grudges. There's a lot of things that have been piling up in my relationship, and I've been meaning to share this with my partner. I allow myself to release my mind, body, and soul from every bit of baggage I carry, so I can truly set myself free. Maybe if we foster some intimacy, I will find it easier to share this side of myself with my lover. It's crazy how much a relaxing bath together, some loving touches, soothing music, and a night of pleasure can make me feel so open and free.


This New Moon in Scorpio is sitting in my sixth house of self care. I've felt called lately to take up a new hobby, even if I have no idea where to start or what to do with it- I just know it's going to be worth it. I also want to dedicate some more time towards taking care of my body. This is a good time to really feel myself, and listen to all the spots where tension comes up in me. Perhaps I could treat myself to a massage, an acupuncture session, some good sex, or a steamy masturbation session with brand new toys. If I wanted to, I could even take a weekend trip with a special someone to escape from all the stressors in life. If I want to make life more pleasurable for myself, all I need to do is listen to my body and make it feel good.

Sagittarius season begins on November 21st, and this month is all about communication. I've been feeling like I need more assistance from my loved ones, and it's about time I say so! This is a perfect time to get together over a nice dinner and talk about what kind of support we need from each other.


This New Moon in Scorpio is coming in hot for me! My heart is open and ready for new experiences, and now I want to take my love life to a new level. I allow myself to prioritize love, comfort, and all sorts of hedonism, because I know I deserve it! With the moon in my fifth house, I'm thinking about what fills me with joy. I've been catching myself fantasizing about my dreams, especially the domestic kind. I know exactly the home I want, the kind of partner I deserve, and even the way I want to decorate every inch of my space. I allow myself to dream, as deeply, intensely, and thoroughly as I desire. Interior decoration is going especially well for me, and I've been thinking about giving my space a makeover. As a Cancer, my greatest expertise is with the home, and it's what balances me most.

On November 21st, the Sun is coming into the energy of Sagittarius. I feel like I'm in serious need of an adventure! I feel just fine, but I'm getting a little tired of living the same exact way, day in and day out. This sounds like a perfect time to plan a road trip with my lover, dance all night, and fuck under the stars.


The New Moon in Scorpio is coming into my fourth house of home and family. I've been reflecting on my life, and not just the present, but the future as well. Specifically, I've been calling my relationship into question, and how well they align with my dream of an "ideal" partner. I do want a family someday, whatever that may look like for me. I allow myself to think deeply, dream, and ask questions to myself and my inner child about what would make me truly happy. What do I want to come home to at the end of the day, and who do I want to lay next to in my bed at night? This is a great time to foster deep intimacy with a lover, and not just erotically, but emotionally too.

With Sag season coming around on November 21st, I feel like I'm ready to spark some romance with a special someone. This person has been catching my eyes lately and I want to really put myself out there and make my heart known to them. There's something about the way they look at me that makes me feel so warm inside. I can only dream of the kind of fun we would have in bed… but clearly it's time to stop dreaming and act on it!


The energy of this New Moon is reflected in my third house of communication. The world seems so full of mystery and I just want to go out there and explore every inch of it, strike up deep conversations with complete strangers, and even make some new friends. I allow myself to put myself, my ideas, and goals out there as boldly as I desire, and who knows, someone important may be showing interest in them soon. This is also a great time to invest in my social media presence. As someone who usually prefers to lurk, I am ready to come out of my shell and put my whole being out there. I know there are hundreds, thousands, even millions of people who will resonate with my ideas.

With Sagittarius season starting up on November 21st, I've been feeling like as much of a homebody as ever. All I want is to lay at home, resting and recharging, doing arts and crafts, and spending hours and hours just cuddling with my partner… and fucking the night away too, of course. Maybe I can take part in a little retail therapy and buy some toys to spice things up in the bedroom.


This Scorpio New Moon on November 5th has me thinking about money matters. This is a perfect time for me to reflect, meditate, and/or journal about what money and wealth means for me- and how I can attract it into my life. I've never been much of a chaser, in fact, what comes to me just flows as easily as I want it to. If I have been thinking about investing into a new venture, this is the perfect time to do so. I know there's a lot of options for me out there and I have a tendency to be indecisive, but the answer always lies in my heart. Social media can also be a great asset for me if I want to start or upscale my business. All I need is my natural confidence, my intellect, my sociable personality, and the knowledge that I can make anything happen in my life.

It's hard for a social butterfly like me to be so socially distanced, so starting this Sag season on November 21st, I will connect with people one way or another! The holidays are starting, and so is the party season- so it's time to get the gang together and make this shit happen. Maybe I'll even invite that sexy stranger over to the getty so we can have all the fun we want, all night long.


This New Moon is crossing into my sign on November 5th. Since all of this is taking place during my birthday season, this is a perfect time for me to reflect on myself, all the progress I have made in the past year, and where I want to take my life next. My journal is my best friend right now and I have so many questions to ask it: how have I felt about my life this year? How have my dreams and desires changed over time? How have my relationships helped me grow? It might not be New Years yet, but this New Moon is definitely the start of a new episode for my life. I allow myself to use this time as an opportunity to grow exponentially, and surprise even myself for a change.

During this Sag season, the Sun is crossing into my second house of finances. I am dead tired of 2021, but Christmas is finally coming and it's time to let the hoe-hoe-hoe out~ I'm loving all the luxuries of the holiday seasons, but it's best I keep the reins on myself and not go too crazy with the spending. I'm still going to be treating myself for the holidays, though. Maybe I'll buy a new bag, a new fit, and of course, a set of sexy lingerie. I just hope my stockings won't get stuffed with coal for being so naughty...


This New Moon in Scorpio on November 5th is weighing on me heavily. I feel like I have grown and changed so much in the past year that I need to take a day to rest. Everything in my life is constantly moving, and I am almost always creating experiences or doing something new. But I have to take a moment to listen to the side of myself that just needs to breathe deeply and enjoy the stillness of life. I may be feeling like at this point of my life, I am sitting in a sort of "depression". Maybe I can see it in a different light and allow myself to use this as an opportunity to listen deep within, and even connect with a higher power. My batteries just feel low, so this is a good time to spend resting, reflecting, recharging, and meditating.

My birthday season is finally starting on November 21st! I allow myself to be proud and hell, even brag a little about everything I've gotten done this year. A round of applause for me please! I just know this is a brand new start for my life and I am ready to set a new wave for myself. All I have to do is keep my eyes and heart open to new experiences, people, and above all, just let loose and have fun- cause at the end of the day, that's what life is all about for me.
This Scorpio New Moon is coming into my eleventh house of friendships. Even though I deeply value meaningful connections, I still see myself as somewhat of a loner. However, this New Moon is presenting brand new opportunities for me to be part of something outside of myself and work with others to fulfill a vision. I allow myself to express myself fully so that I may be heard and understood. As a Capricorn, I see myself as a world-builder and I know my ideas have the potential to change society at large- that is, if I give myself permission to put them out there.

Ah, what a long and grueling year. Sag season is here, my birthday is almost coming, and there's been a lot of joyful moments, laughter, and a great deal of work. But I am honestly exhausted. All I need now is to take a break and relax a little from all the stress of daily life. I allow myself to rest, I allow myself to seek pleasure (in all the best ways possible), and above all, I allow and encourage myself to have some FUN! Maybe I'll invite my lover over for a midnight oil massage, just to ease all the tension stored deep in my body.


It's time for business. This New Moon in Scorpio is affecting my tenth house of career. This means that it's a great moment to plan for my future and even journal about it. Where do I want to be, and what do I want my life to look like in three months? What about six months, a year, or five years?

On November 21st, we come into Sagittarius season with the Sun falling on my 11th house of friendship and connection. I've been feeling like I want to foster more closeness in my relationships. I recognize that I tend to distance myself from people, but I'm also open to intimacy. I allow myself to visualize exactly what kinds of relationships I want to attract into my life, whether it's friends, partnerships, or the spice of romance. I allow myself to imagine the kinds of people I would want to create a close connection with, and what I can do to get there. Finally, I allow myself to think about what kind of friend I want to be for myself- do I support myself enough? Do I bring joy and pleasure into my own life? Maybe I should spend a little time treating myself to some self care- my favorite dinner, followed by a hot candlelit bath, and a masturbation session with some toys to finish off the night...


This New Moon in Scorpio is coming into my ninth house of higher intellect and knowledge. I know it's easier said than done, but it's time for me to stop dreaming, and start acting in my highest interest! I realize I spend way too much time in my head, but because of it, I have an idea of where I want to be in life. All I need to do now is think about how I am going to get there. If there's a new field I want to delve into, a hobby, a study, or course, this is a perfect time to jump right in and do it. I also want to brush up on my sexual game- I've been wanting to try some new techniques with my partner, and this Scorpio New Moon is the best time to act on all my wildest fantasies.
During Sag season, the Sun is in my tenth house of achievements. This is a good time to think about planting the seeds for what I want to happen in 2022. Do I want to look for a new career path? Am I dissatisfied with any part of my life, whether it's my job, social media presence, or even my relationships or sex life? It's time to start acting in my best interests, because I know exactly what kind of life, social status, partner, and even sex I deserve.