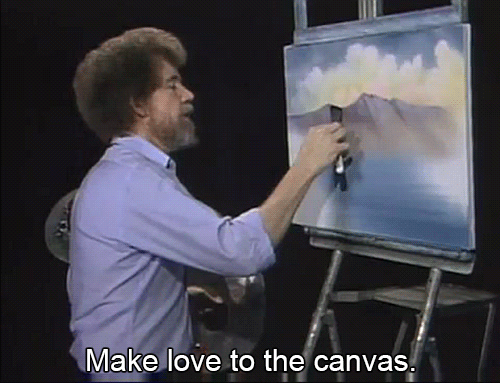 We're all spending a little (or A LOT) more time at home this summer! Meaning many of us are suffering from cabin fever, boredom, and at times severe monotony. But alas! We are here to spice things up with some DIY ideas that are easy, accessible, and of course, SEXY! We know we all need to continue to practice social distancing to be safe and considerate of those around us, but that doesn't mean we can't get creative within our own walls.
1. Clone Your Junk! (Duh)
Our kits allow anyone to make an exact replica of any penis or vulva into an amazing work of art (and sex toy) in the comfort of your own home! Choose from 9 silicone colors for our Clone-A-Willy and 4 colors for our Clone-A-Pussy. Our kits are a great way to stay connected if you are separated from your lover or need to reignite the flame with a partner you are quarantining with!
2. Paint A Canvas (With Your Body)
Nothing invigorates the senses more than using your body as a paintbrush! The Love Is Art Kit was created by Atlanta-based artist Jeremy Brown who was inspired by the late 1960s French artist Yves Klein who would cover nude models in paint and gently press them again a canvas. This painting kit allows anyone to use cover their bodies in paint and create a unique masterpiece at home. Sound hot? We think so too! 
3. Learn A Strip Tease
While everyone is learning a Tik Tok dance this summer, why not take it a step further and create a sexy striptease? Whether you perform it for yourself in the mirror just to remind yourself how damn sexy you are or surprise your partner IRL or via video chat, there is no better excuse to get dressed up and learn some new moves!
4. Create A Vulva Or Penis Portrait
We are all beautiful and UNIQUE! Same with our genitals. Set yourself up with a mirror, paper, and pencil and you are ready to explore yourself and create a self-portrait of your nether region. Want this to be a partnered activity? Have each person describe their parts in detail using a mirror while the other person sketches out what is described. This project will allow you to get to know each other and yourself better! 
5. Bedazzle Your Favorite Undergarment
What even are pants anymore? Lounging on the couch in our underwear is the VIBE of 2020. So why not add a little pizzazz to your favorite thong, jockstrap, negligee, or crotchless panties? All you need is glue and simple rhinestones for a major glow up in your lingerie and you'll feel fly as hell on your next run to the fridge for a mid-day snack!
6. Write A Spoken Word Love Poem (To Yourself)
You deserve a lot of credit! You are surviving a pandemic, most likely emotionally, physically, and even financially supporting those you love during these unsure times and continuing to move forward despite the circumstances. It can be hard to digest and acknowledge the hard work you are doing every day. Practice some radical self-love by writing a spoken word poem of gratitude for yourself! (Self-love is SEXY)
7. Practice Your Cunnilinguis Skills
While IRL dates may be on hold for the time being, they will be back eventually! Why not use your extra time at home to sharpen your head game and enter the bedroom with renewed confidence in the future!
8. Do A Guided Tantric Meditation (Solo or With a Partner)
It is very challenging to feel grounded and at peace during the current state of the world. There is a laundry list of things for us to stress about every day and often our relationships with ourselves and our partners will suffer because of it. Try setting a few minutes aside to practice a Tantric Meditation. You can find tons of guided meditations online for both a solo practice or a partnered experience. Tantric specific meditation focuses on pleasure and connection through breathing, conscious touch, empathy, and communication!
9. Cook Yourself Up An Aphrodisiac!
Many everyday foods are aphrodisiacs. A variety of foods currently sitting in your fridge could help enhance your sexual desire and pleasure (and are delicious to top it off)! From herbs and spices to veggies and seafood, the options are endless for your particular palate. The web is full of creative recipes, just open up Google and the world is your oyster (which also happens to be an aphrodisiac)!
10. Create A 2020 (Wet) Dream Board
Have you ever heard of the Law Of Attraction? In New Thought philosophy, The Law Of Attraction believes that positive or negative thoughts bring positive or negative experiences into a person's life. Whether this is your cup or tea or not, we've got the TIME. So why not grab some old magazines and a pair of scissors and go to town (or create a digital version on your computer). Create a "dream board" of all the sexy things you want to manifest for the rest of your year!