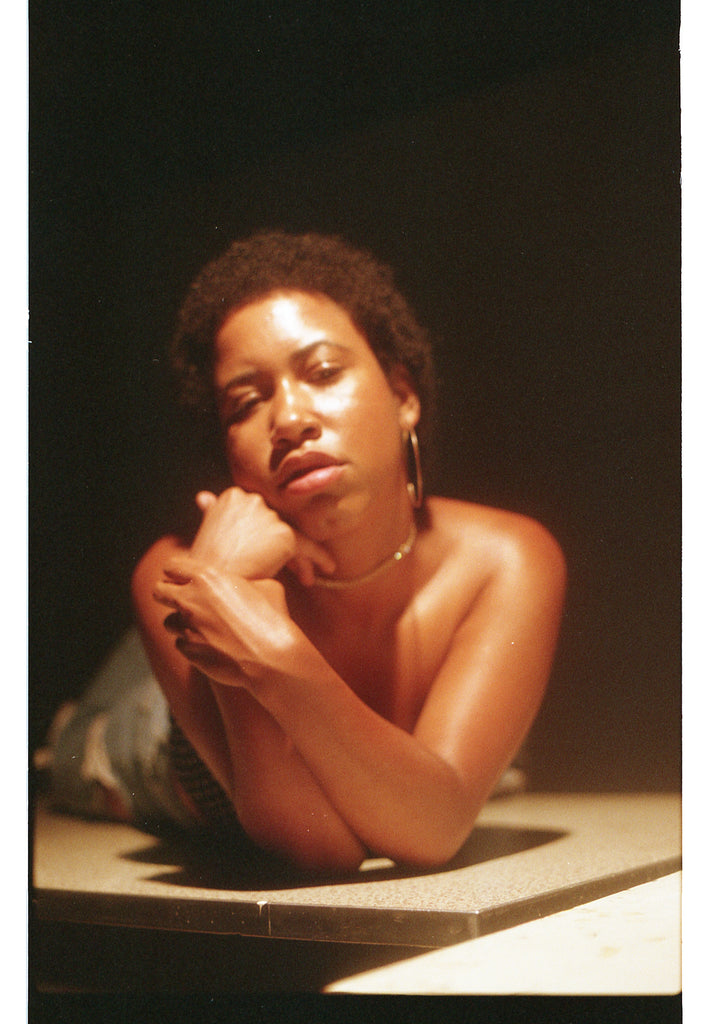 We had the pleasure of chatting with the amazingly dreamy photographer Portrait Mami who just shot our epic new photo campaign! Read on for the full interview and to peep our faves from the shoot ~
Q: Hi, Portrait Mami! Who are you, and how did you first begin working with Clone-A-Willy?

A: Hey! I am a Black Non-Binary Femme who shoots on analog film. I actually found Clone A Willy on Instagram and slid in their D.M.s because it looked like such an incredible, fun brand! I asked if they ever needed branded work, please reach out to me, and I'm so glad that we have a current working relationship together.

Q: Where are you located? What are some of your favorite things about where you live?

A: My hometown is Charlotte, North Carolina, and it's where I currently live too. Other places I have lived in the past have also been Virginia and Hawaii on the Island of Oahu. There is a lot of great local food where I am from that always has a great family-oriented vibe. One of my favorite places for takeout currently during this Pandemic is a local Vietnamese spot called Lang Van that has some of the best tofu in the area. I also appreciate being here because I am closer to my family that lives here too. My mom and I are best friends, and I always enjoy spending time with her.

Q: When did you first become interested in photography?

A: I took a small interest in high school but didn't feel that attached to it at the time. Back then, I was more invested in my writing and working towards my journalism degree. But later on in 2017, I picked it back up again, working with my father's old film camera. From then on, I absolutely loved it and continuously pursued it.

Q: Your work has a very dreamy feel! Where do you find inspiration?

A: Aw, thank you! A lot of the inspiration that comes from my work are from my favorite movies/tv-shows and what stood out about them. Whether it was the color grading, use of composition, the energy between characters, I took that inspiration and utilize it in my work. I like to tell a story, show human connection, and that's why I think I'm inspired more by movies/tv shows, but it's fun to transfer that love into another medium.

Q: What do you love most about shooting with film versus digital photography?

A: There are a few reasons I prefer shooting film versus photography. But one of the biggest reasons is the challenge. You're only given 24-36 shots per roll with 35 millimeter film. You don't have the endless amount of data to shoot all day like you would a digital camera. To me, the challenge in this is that it forces you to think for every shot. It pushes you to take care and consideration with the images you take and be more creative. Not saying you can't do that in digital photography, but this is just my personal experience that I enjoy and speaking on that. I am precise and quick with my work given the limited amount of film I have. I also love the raw textures and colors of certain film. Kodak is my favorite. The warm hues always look so rich on my subjects' skin tones. It really pops with this soft glow naturally as well that adds to those "dreamy" vibes.

Q: What do you look for in the models and brands you work with?

A: To be honest anyone can be a model in my eyes. To me I look for energy and what they convey being themselves. I take that connection to create a story within my work and celebrate the authenticity of that experience. When it comes to brands, I have a lot that reach out to me due to my following, but I'm selective when and where I invest. I'm looking for brands that value the hard work and efforts of Black creatives. Exposure does not pay my for my bills, a roof over my head nor food on the table. Brands need to understand the investment photographers put into their work and pay accordingly. A lot of people think "all they're doing is clicking a button". Wrong. In the words of photographer Memo Ortega, "You're not paying for a few clicks. You're paying for our camera and lenses, lighting equipment, memory cards or film, the amount of time and money it took for us to train for this position, traveling for the shoot, cost and time involved processing and editing the images, promotional costs, the percentage that goes to taxes, insurance. Not to mention the payment also has to cover food, housing, bills, and all other living expenses. You wouldn't expect a plumber, doctor, hair dresser, mechanic, or shop owner to work for free would you?" I'm also looking at brand feeds and how they go about representation. It's important to value the diverse voice and face of the people, and those are the brands I enjoy working with. However, if I do see a brand that is majority white, depending on the situation, I will
give them a chance if I have creative freedom to bring more BIPOC and LGBTQIA+ to their platform.

Q: What does the future hold for you? What is next in your creative journey?

A: My next creative journey will take place out west next month! I will be on a two week trip to Los Angeles for a few celebrity shoots that I am excited about. I am also in the process of working on my first magazine cover while "virtually shooting". So that will be a new interesting challenge that I am excited to dive into.

Q: Our brand is all about self-exploration and admiring how unique each and every one of us are! What is your favorite thing about yourself? You can pick more than one ;)

A: I really love the curves of my body. During quarantine, I have had a lot of time to reflect and explore myself. Both mentally and physically. I've been working on a lot of self-portraits, keeping a diary of different parts of my figure. It's been an interesting experience and one that I still continue during this time.
Learn more about Portrait Mami // Follow on Instagram