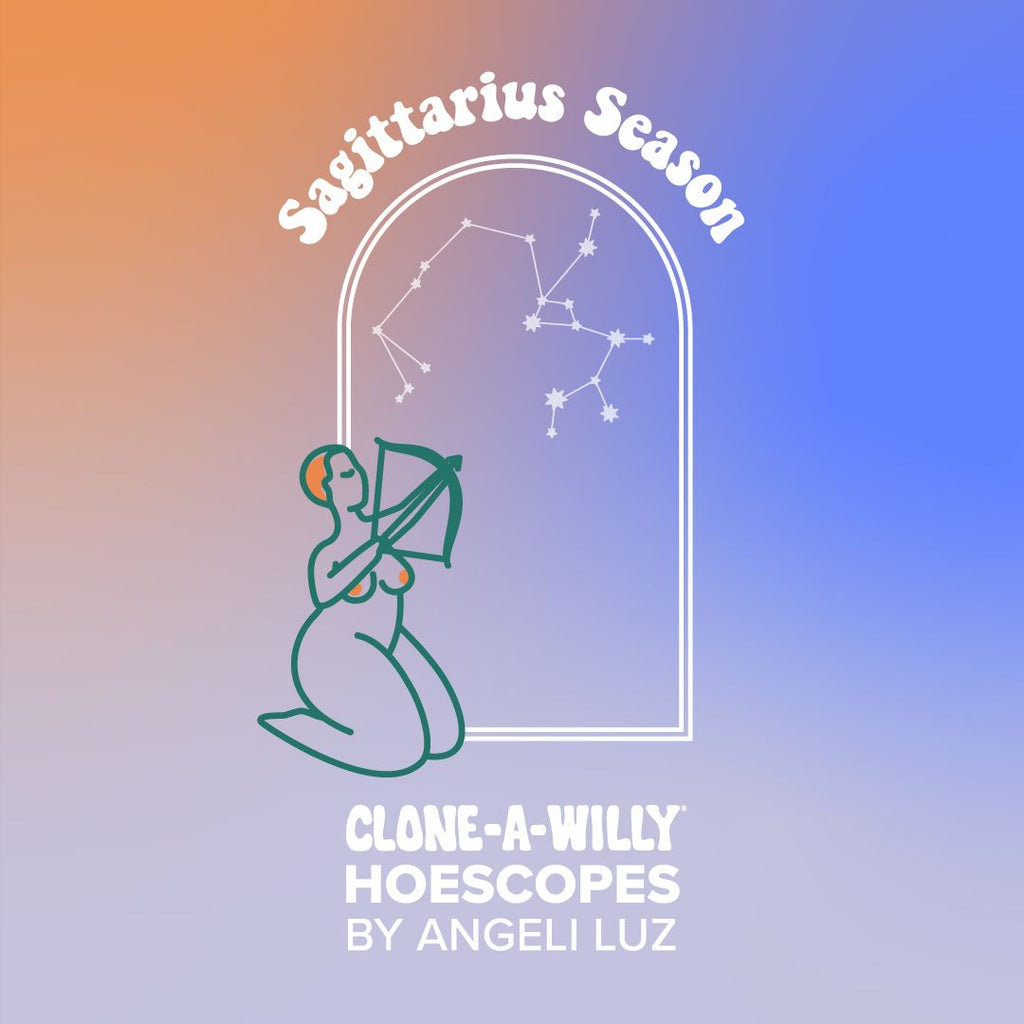 The hoelidays are in full swing! Tis' the season to be extra af, treat yourself whenever you get a chance and spread the love. Lean into the cozy season and get festive when it comes to your sex life (solo or partnered)!
Read what the planets have in store for you this month --

On December 4th, the New Moon is eclipsing in Sagittarius. This fiery energy may seem chaotic even for me, but I can also see it as an opportunity. I revel in chaos and use it to my advantage. This is the perfect time for me to keep my mind, schedule, and heart open to any impromptu adventures that come into my life. I allow myself to become excited by novelty and use this time as an opportunity to power my life up. Sex magic can be especially strong during this time, and I can use my pleasure to attract the life of my dreams.

The Venus Retrograde on December 19th is coming into my 10th house of achievements. I feel like there have been roadblocks in my life caused by my worrying about being judged- and it's starting to affect my relationship with my partner. If I want to move forward, I have to clear out my auric field from other people's beliefs, opinions, or their ideas of me and my love life.

This New Moon Eclipse in Sagittarius is entering my eighth house of transformation and financial support. It may even bring new business opportunities my way. It's up to my intuition to discern the right path for myself and decide whether or not to enter new partnerships. I still recognize that this is a period of rapid expansion and growth for me and that no matter what I decide, I will always have support.

On December 19th, the Venus Retrograde in Capricorn is hitting me hard. My Venusian nature is being forced out of my comfort zone, making me look deeply into what's not working in my relationships. As it sits in my 9th house of new perspectives, I'm coming to terms with the fact that my partner and I are struggling to connect. I am having a hard time expressing myself to my partner and letting the romance flow between us. My stubbornness is becoming a roadblock in our intimacy and even in our conflicts that should be easy to resolve. I need to meditate and reflect on where I want our relationship to go- and if I really want to keep the flames alive, we need to rekindle our passion, starting in the bedroom. It might be best to talk about these things after a delicious dinner, a hot bath, some relaxing music, and some good sex. If my heart is going to be touched, it has to be through all my senses.

This New Moon eclipse is entering my seventh house of romance! This is the beginning of something new and beautiful in my love life, as well as an opportunity to do away with everything that's not working, embracing new patterns and forms of intimacy. It's time to spark up the romance between me and my lover and rekindle our passion for each other in the bedroom- maybe with new toys, new experiences, or trying out new ways to turn each other on.

Starting on December 19th, this Venus Retrograde is bringing out all of my traumas and making every conflict a lot messier than it needs to be. There are many things that need to be transformed within me so that I can grow, expand, and change my life. I allow myself to take this transit as an opportunity to do some shadow work on what tends to trigger and destabilize me. I need to remember that the more I heal, the stronger and healthier all of my relationships will be.

This New Moon eclipse is bringing to mind all the ways that I could help myself, have healthier habits, and live a happier life. It's a great time to journal about how I could do better for myself. Am I incorporating healthy movement into my life, eating fresh and wholesome foods, and taking time to rest and recharge? If I'm not, then it's time to get to work on changing my habits and sticking to them for my own good.

This Venus Retrograde is sitting in my 7th house of partnerships and commitment, and this is a really intense and powerful time for me. Plans and manifestations made during this period can be especially life-changing and have the potential to really upgrade and redefine my quality of life! One way to manifest with self-care is through pleasure, sex, and masturbation. With some toys and even just my own touch, I can attract everything I desire.





This Solar Eclipse in Sagittarius is all about embracing FUN in my life. When was the last time I took a day off the hustle and listened to what I actually wanted to do? The energy of this New Moon is not only playful but also very flirtatious. It's time to hit my favorite spot and spark up some new connections- and maybe even take them to the bedroom. All I want to do right now is break free of everything holding me down, spark some joy in my life, and share a good moment with someone unforgettable. It doesn't matter how long it lasts, as long as I can treasure the memory for life.

This Venus Retrograde starting on December 19th, is highlighting all the ways I need to take better care of myself in order for my relationships to thrive. I am a very giving person to the ones I love, but how am I giving to myself? What can I do to help me? This is a good time to think about making a morning and evening routine that's all about caring for myself, my mind, and my body.

This Sagittarian New Moon is coming into my fourth house of home and family. I'm finally learning to release all the dysfunctional patterns that were ingrained in me by my family and clearing them from my mental space in order to make room for new ones. I allow myself to dream about the family I want, the home I want, and the space I need to truly grow. I allow myself to develop the foundations to make this happen, starting now. I allow myself to embrace the changes I need to make to create the home life I've always dreamed of.

During this Venus retrograde, I need to get in touch with what brings me the most joy. I live life under a boatload of stress, which makes me feel like I'm often just surviving instead of thriving. All I want to do is have fun and let loose for once in my life! It would be a great idea to plan a day this week to have an adventure or even a romantic escapade with my partner. Maybe we can treat ourselves to a nice dinner, a bottle of fine wine, and after, we can end the night with a different kind of fun ;)



This New Moon Eclipse in Sagittarius is coming into my house of community. Making connections with all kinds of people is one of my strong suits, but that can leave me feeling sometimes disconnected, feeling like a drifter in between many worlds. During this time, I should take the opportunity to deepen my connections with others. I allow myself to be intimate with my friends and create opportunities for closeness with the people I care the most about. I allow myself to get closer to my lover and allow our hearts and emotions to simply flow.

On December 19th, this Venus retrograde is affecting my 4th house of the family and the home. If I plan to move out with my partner or make a big decision surrounding my immediate environment, some of my plans may be held back or affected. It's a good idea to be thorough with all of my decisions and have open and free discussions every step of the way.



During this New Moon on December 4th, I'm thinking about what money can do for me. I'm picking up on new opportunities to increase my finances left and right, and step into my full potential. This is also a good time to splurge, within reason, and make my life a little more luxurious. I could even treat myself to an early holiday gift, like some new tech gear, a vacation, a massage, or some brand new sex toys to bring my self-care to a whole new level. The possibilities are endless, and I deserve to be a hedonist and seek as much pleasure as I desire. I also allow myself time to reflect on how the blessings coming in have the power to transform my and others' lives. How will I give back to the world that has created these opportunities for me? It's a good idea to take the time to remember that everything I give will come back to me tenfold.

This Venus retrograde is coming to rest in my third house of communication. Are there things that I have been holding back from my partner that is getting in the way of our intimacy? This is the best time to open up about all the things I'm keeping locked up in my heart and share myself and my emotions with my partner. If they're really meant for me, they will welcome my honesty. Plus, the more open we are in conversation, the more intimacy we share in the bedroom.



This Sagittarius New Moon Eclipse on December 4th is especially powerful for me, and it's an opportunity for me to reflect on all the changes I've made this year and embrace everything that is coming to light. I have so much energy right now, and I feel like I am about to massively level up in every single area of my life. I allow myself to love and accept all aspects of myself and let go of what is no longer serving me. I allow myself to be proud of all that I have achieved and use it to be revitalized and inspired for the next stage of my life.

During this Venus Retrograde in my 2nd house of finances, I feel called to be extra giving during the holiday season. I know that the more I give to my community, to my loved ones, and to the world, the more abundance that I receive in my own life. This is a great time to reflect on how I can share all the blessings I have received this year. My giving nature even has the power to transform my relationships. This isn't to say I shouldn't splurge on myself at the same time, especially during my birthday season! I've been tempted to buy a clone-a-willy kit for myself and my sexy partner, just so we could share in the fun.

This Solar Eclipse is coming into my 12th house of the subconscious and intuition. As someone who tends to overfocus on the mundane aspects of life, it's important to go deep inside myself and find balance with my own core. I allow myself to listen to my intuition and form a bond with my higher self. I allow myself to give way and allow myself to be guided by the universe instead of trying to control all aspects of my reality. This is a perfect time to journal about anything that comes up for me and allow any hidden and repressed thoughts to surface and be addressed.

On December 21st, the Sun is coming to rest in my sign. Happy birthday season to me! I feel called to look back on all the ways my life has been transformed for the better this year and treat myself for it. Maybe I can take some time off from my daily stressors and celebrate with a dinner, a deep tissue massage, or even a night of sex, relaxation, and an absolute pleasure with my partner.

This Eclipse on December 4th is entering my 10th house of career and achievement. As an Aquarius, I shine because of my uniqueness and unconventionality. I can be known and loved by the world for many of my ideas- all that matters is that I put myself out there to be heard. I naturally stand out from the crowd no matter what I do, whether it's my words, my art, music, or opinions. This is a great time to develop my social media presence or even just start a convo with anyone who will hear me!

On December 19th, Venus is going retrograde in the sign of Capricorn. This retrograde will be in my 12th house of the subconscious mind, and it's time to get in touch with my higher self, the universe, God, or whatever I believe in. If I have been hurting myself, even inadvertently, through my thoughts, behaviors, or self-limiting beliefs, then now is the time to address it. What kind of patterns do I want to play out in my relationships? It's time to release what is not working for me and recreate the intimacy that brought my partner and me together. There's a lot we can do to release what's holding us back, and one of the best ways is through physical intimacy, sensuality, and a night of pleasure. Some of the most powerful forms of love magic can be done orgasmically.

With this Sagittarian Solar Eclipse coming into my 9th house of knowledge, I feel called to seek new learning opportunities. I have the drive and energy to learn something right now, and this eclipse is the perfect time for these new beginnings! Everything in life takes some risk, but I just need to follow my intuition and allow it to guide me- I know everything I put energy into will pay off for me in the end. This is also a great time to get in touch with my lover and experiment in the bedroom. I have some new tricks up my sleeve that will really take our sex life to the next level. I just have the deepest desire to spice things up and get to know my lover in a new light.

This Venus retrograde is coming into my 11th house of friendship. I've noticed that there might be some romance coming from unexpected places. Maybe I've noticed a certain someone I'm close to might be catching feelings for me, or vice versa. While it's not the best time to act on this, it is time to reflect on why this is coming up now and what I should do about it.