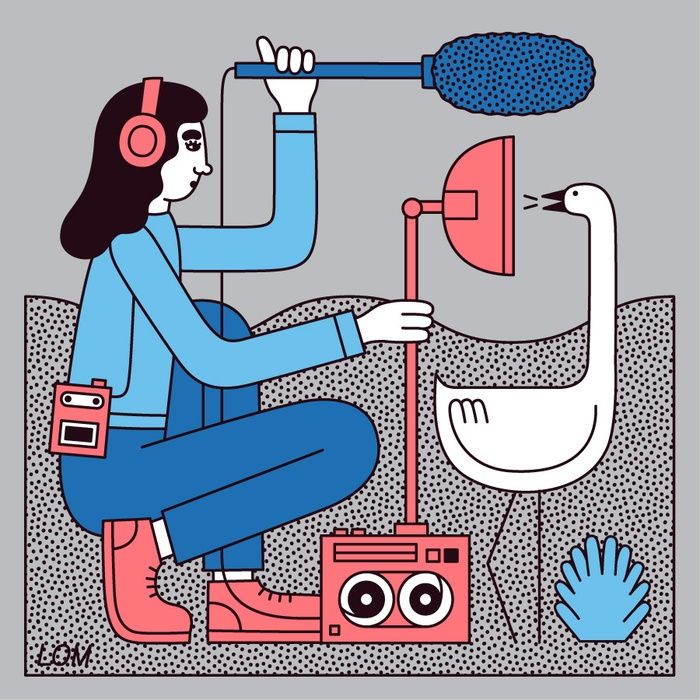 Illustration: Martina Paukova
With incredible storytelling and provocative journalism on the rise through the world of podcasting, it's no wonder we've had the urge to hunt for new shows and worthy episodes to share with our audience. 
The episodes that have stood out for us explore so many important and fascinating narratives, ranging from expectations around masculinity, how hackers and sex workers can help each other, and Denmark's volunteer-ran Red Van. 
Conversations with Kenzie - "Masculinity and sexual trauma with Zack Alexander"

Kenzie Brenna and Zack Alexander chat openly about masculinity and sexual trauma from Alexander's point of view. Alexander shares his perspective about how the expectations around masculinity impacted his life and how he's currently navigating his healing process. 
The Documentary Podcast - "Denmark's Red Van"
The Red Van is a volunteer-lead Copenhagen-based project aimed at reducing harm for sex workers in the city's red light district of Vesterbro. BBC's the Documentary Podcast visits the van over a weekend and not only observes its strategies for safety, but speaks with the volunteers who have been running it for years. 
The Red Van volunteers
Photo credit: BBC/Linda Pressly
All In A Day's (Sex) Work By Blair Hopkins - "Deviant Ollam"
Author and podcaster Blair Hopkins interviews safe and vault technician Deviant Ollam to investigate the overlap between hackers and sex workers. It's safe to say that the two share obstacles regarding misrepresentation, and hackers are able to find ways for sex workers to overcome some of the issues they're facing today on the internet.

Ollam is a well-known (and certified) lock-pick, digitally and physically, who  freely offers his expertise in physical and digital security basic training.
WNYC Studios' The Takeaway - Deep Dive with Dorian Warren: Sex Work 
On November 11th, 2021 The Takeaway premiered an episode of "Deep Dive, where host Melissa Harris-Perry and Dorian Warren explore sex work in depth and how it's been criminalized in the United States. 
This episode features perspectives from:
Melissa Gira Grant -  journalist and former sex worker 
Cecilia Gentili - principal consultant and founder of Trans Equity Consulting
LaLa B. Holston-Zannell -  trans justice campaign manager in the National Advocacy Department at the ACLU
Yasmin Vafa - executive director of Rights 4 Girls
RJ Thompson - managing director of the Sex Workers Project at the Urban Justice Center
Elexus Jionde - author, content creator and founder of Intelexual Media
Got a recommendation for us? Leave your favorite episodes in the comments, or drop us a line on
Twitter
or
Instagram
. 🎤
🖤