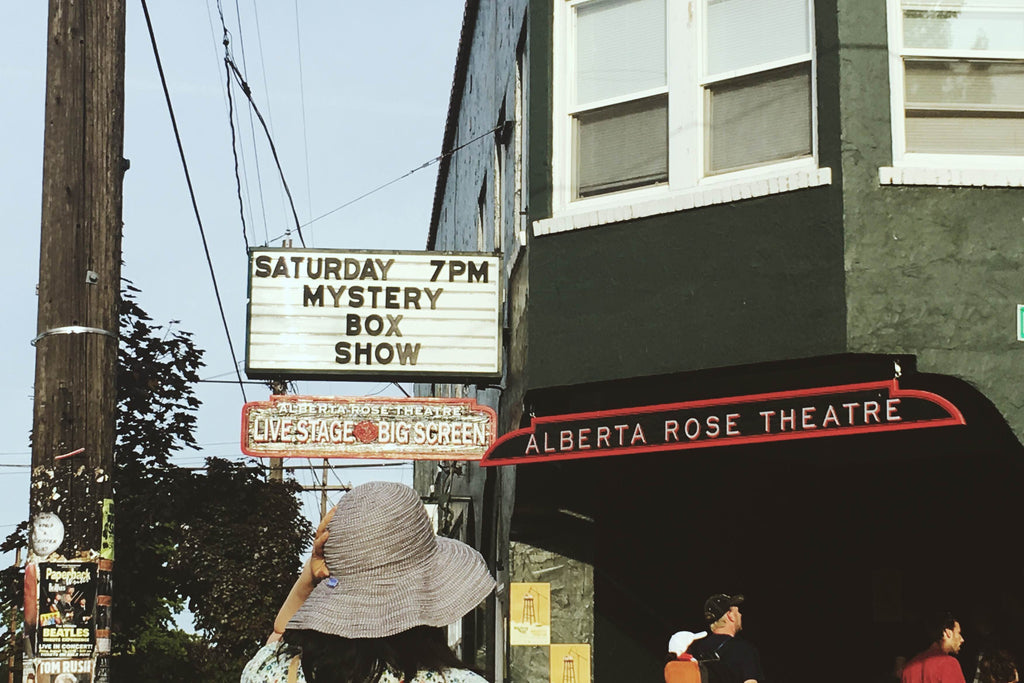 My friend and I had hardly an idea of what we were getting ourselves into. It was my first time even stepping foot into the Alberta Rose theater, but both of us had never been to a Mystery Box show before either. The host of the night, who was also one of the producers, introduced the show as a collection of storytellers who talk about sex and sexuality in general. He explained that no one in the audience needed to be good at either, just have a curious mind. It all began to feel like we were handpicked by a mastermind and this was an elaborate social experiment. I gripped the edge of my seat.
The first storyteller explained in detail about his experience with a happy ending massage. With his hands on his hips, he explained how he was looking for a special kind of touch, which got him connected with the back of a local paper. The interaction was simple.
"It was two people doing an activity. There was no significance."
The second storyteller revealed her past issues with body issue, shame revolving around sex and pleasure and the inability to open up to other people. She went to see a sexological bodyworker, a professional who could explain and work her through the things that were keeping her from enjoying her whole self. She shared two specific questions that stood out from the sessions.
"What were your peak erotic experiences?"
"What do you really want?"
The ending to her story was optimistic. She was forever grateful to the professionals who provide space for us to connect to all of ourselves.
The third storyteller shared her experience of how becoming a sex blogger and connecting with people about such intimate experiences changed her life. She found her community through sex positive culture, creating openness about such a foreign subject to many other people: sex.
The show saved the last and most intense story for last. Chris, who had attended a show in the past, submitted his experience to the producers of the show. They were blown away. Chris is an engineer who was having intimacy issues in his marriage, and agreed to look elsewhere to fulfill his needs. He found himself at an erotic ball one night, but didn't realize how life changing that night would be. Throughout the night, Chris engaged in all degrees of anonymous encounters. The night ended with him realizing so much about himself: that he never let go. He was holding onto so many judgments and unrealistic expectations. He finally felt liberated after shedding it all, and ended his story in tears.

A night at the Mystery Box Show was a night of sitting back and listening to people share intensely emotional and physical experiences with a room full of strangers. It reminded me that as complicated as things can be and as isolating as I can feel in certain eras of my life, we're all going through this together.
Visit the Mystery Box Show online - www.mysteryboxshow.com
Follow them on social media - @mysteryboxpdx