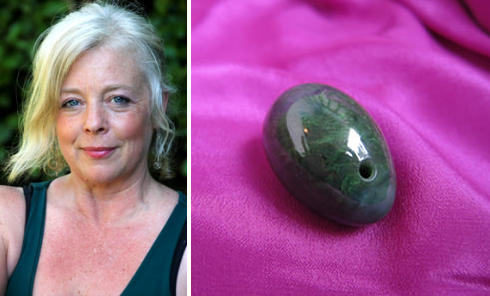 Last week, She Bop hosted a class focused on a fascinating topic: the jade egg. Kim Keller, a certified Tantric instructor and intimacy coach based in Ashland, Oregon, explained the stone and unveiled many secrets about the vagina. Keller frequently referred to the female anatomy as the "inner landscape" and introduced "yoni yoga". Yoni yoga was explained as a self-care practice to increase health as well as create a deeper connection between you and your yoni, or "sacred space".
Keller introduced herself in the most humble way, and stated "there's so much that I don't know about my essential being. I had my sexual awakening at 45." She was a youth, drug and alcohol counselor before becoming a certified tantra instructor. The way she lectured and shared information about herself revealed how humble and patient she is as a person.
Keller explained reasoning to use the jade egg in four parts: physical healing, emotional healing, repatterning of our neural pathways and connecting to the divine feminine essence. This ancient Taoist practice evolved thousands of years ago in China. The jade stone was encouraged because of its properties of purification and detoxification.
Physical Healing
Through "yoni yoga", the muscles in the vaginal canal are strengthened, which increases overall health, vitality and libido. You begin to have a better understanding of that region through working specific muscles and realizing different pressure points you would not necessarily explore otherwise. When you learn the muscles, you also learn pressure and pleasure points. This graduates your level of understanding with yourself and you increase your control over your own movement.
Emotional Healing
Because most touch involving the inner landscape is goal-oriented, whether it be to reach orgasm, hygiene or for an annual check up, the practice of getting to know yourself in this way is rare. This practice is entirely based on you caring and having compassion for your body. The practice, which is inherently quiet and its only goal is to better connect you with yourself, makes way for a subtle happening.
Repatterning
The negative and typical thought processes that come from pleasure involving shame and vulnerability in the wrong way can be targeted through this process. Through meditation and this particular practice, focus on your inner landscape brings new perspectives to old habits and neural pathways.
The Divine Feminine Essence
Kim Keller stated that the most "fulfilling sex is when you know yourself." Setting aside time and intent to listen to more than surface level communication and needs gives you the space to truly find out what you need and what you want. We're always changing and it's important to check in as often as you can.
Keller's lecture on the jade egg and the power in being a woman was informative and inspiring in ways that exceeded expectations.
"The feminine is fluid, moving, immersed in life, re-creating, and ever-changing. That allows her to transform everything on her way." -Lana Kravtsova )
You can find more about Kim Keller through her website:
For further explorations and getting to know yourself, check out our Clone-a-Pussy kit. "It allows you to make a non-functional, exact replica of the outer portion of any vulva."
http://cloneawilly.com/collections/clone-a-pussy
Future classes at She Bop
http://www.sheboptheshop.com/events
a guide on usage for the Jade egg