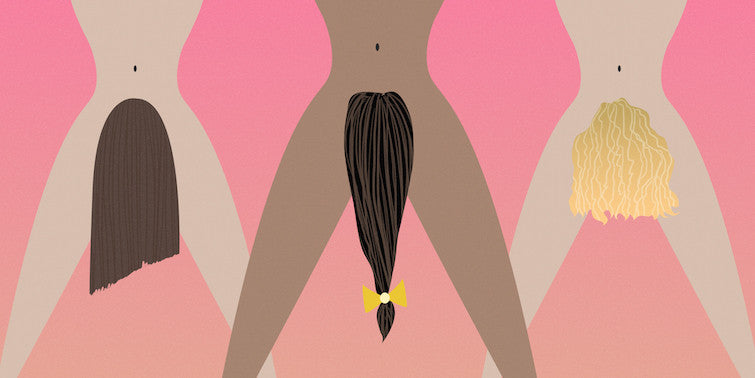 First things first when it comes to body hair: you should decide what's sexy. You could find yourself in a deep, dark hole of thousands of articles explaining why it's best to keep or best to get rid of your pubic hair. When using the Clone-a-Willy or Clone-a-Pussy kits, you could shave or trim to help the replica come out closer to looking like your body parts.
A General Guide to Shaving
Utilize grooming scissors to trim the area you'd like to keep. If your hair is longer than ¼", trim before shaving.

Soak in a tub or shave last while in the shower. It will give your hair follicles a chance to soften, lowering your risk for irritation.

Exfoliate the area gently beforehand to get an even closer shave and ward off ingrown hairs.

Use a shaving cream without heavy fragrances.

Always use a fresh razor.

Avoid too much pressure while shaving.

Never dry shave. At the very least, use a warm washcloth to bring moisture to the area before shaving.

Wear 100-percent cotton underwear after taking off body hair. It'll give your skin a chance to breathe and recover, preventing ingrown hairs in the process.
Pros of Shaving
Skin can be more sensitive to sensation.

Oral sex can be more enjoyable for all involved.

There is a lower risk for odor build-up without hair.


Cons of Shaving
Hair acts as protection from friction during sex and a cushion for forms of exercise that put pressure on your pubic area.

The importance of hair in sweating. There are two types of sweat glands: eccrine (secretes sweat with no odour) and apocrine (found specifically in the armpit and pubic area). The apocrine gland uses the follicles of pubic hair as a way to secrete sweat that's rich in proteins, lipids, and pheremones.

Regrowth, ingrown hairs, itching, tiny cuts through which bacteria and viruses can penetrate are never fun.



References:

http://metro.co.uk/2016/03/17/heres-why-you-shouldnt-shave-your-pubes-5757915/

http://www.usatoday.com/story/news/nation-now/2016/12/07/why-you-might-want-think-twice-before-shaving-your-pubic-hair/95081856/

https://www.theguardian.com/lifeandstyle/2016/jul/11/should-groom-pubic-hair-shaving-trimming
Save