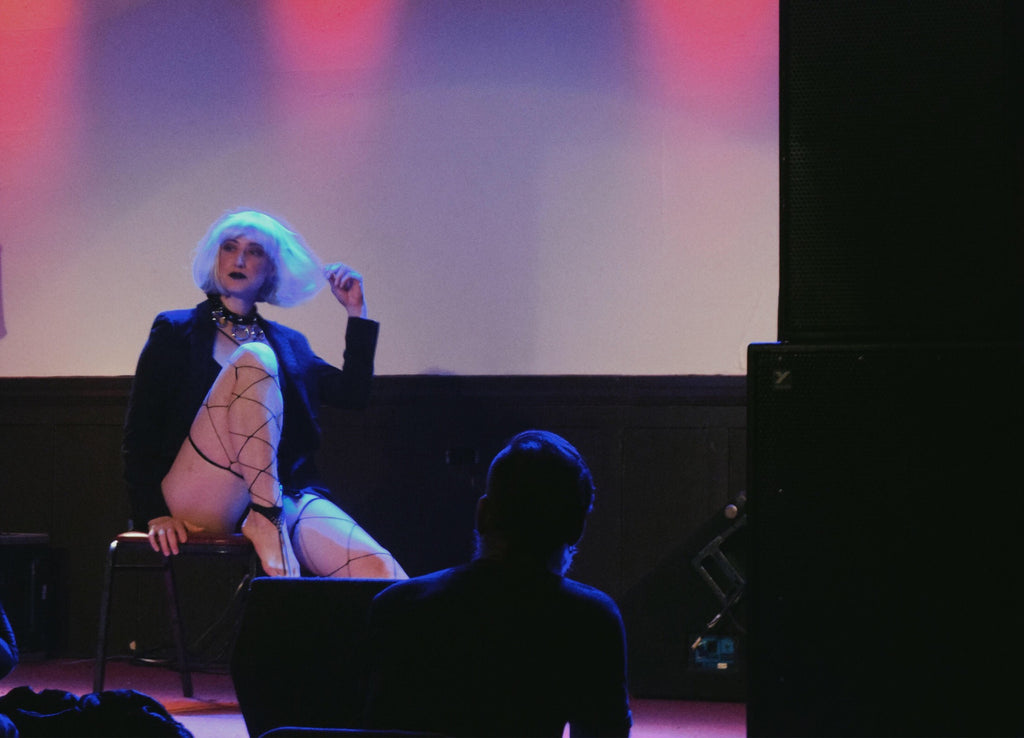 The Secret Society transformed into a space that I never would've imagined on my own, thanks to Amory Jane. The Portland-based sex educator, comedic storyteller, feminist filmmaker and creator of the podcast Sex on the Brain hosted Whoopee! A Sex-Positive Variety Show.
Whoopee featured twelve different acts: a storyteller, comics, a provocative lecture on rope bondage, burlesque, a film and the most memorable performances that transcended human beings into their characters of various sexual deviants.
The crowd was first welcomed by Eric Snyder, who recounted his first love with a Microsoft paint woman. We all laughed together, as we bonded over the outrageous ideas we realized we had from our first orgasms. Jasmine Rain prowled the venue in her animal costume and comic Jenna Vesper laid the phrase in my mind,
"What the dick do?"
The audience, myself included, gasped and held our breaths in a marathon of breathing exercises between the following acts. Valentine gave a performance only visuals could accurately describe. Stella Harris climbed the stage with her assistant, and they gave an exceptional demonstration and instruction on rope bondage.
"All it takes to make someone vulnerable is to have control of their wrists."
I relearned femininity through Ivana Mandalay's burlesque performance. Amory Jane told a story of a race to orgasm, the hand versus the machine. A film followed, featuring mostly obscure visuals layered on top of one another. It was an appropriate break in the constant flow of the experience. The break didn't last very long, as Syringa Vulgaris broke the moment of calm. Daniel Martin Austin provided the last moment of calm with his relatable sex positive jokes until Lady Coquine waltzed through the crowd with laser pointers for eyes and a cape hiding everything else. While dancing to what I think was RHCP, she invited two men onstage. She cut the hair of one and the ass of another.
Intern Courtney closed the show while the others slowly joined her for the grand finale. We had all of the performers lined up in front of us. Maybe they gathered to see if we would have our mouths permanently open. I know that I didn't close mine until I fell asleep that night. There's a reason this show sticks in my mind. It's difficult to recount all of the specifics within each performer, and easier to understand how important it is to experience something like this once in your life.
Do not miss the next show February 25th at 8pm at Dante's.