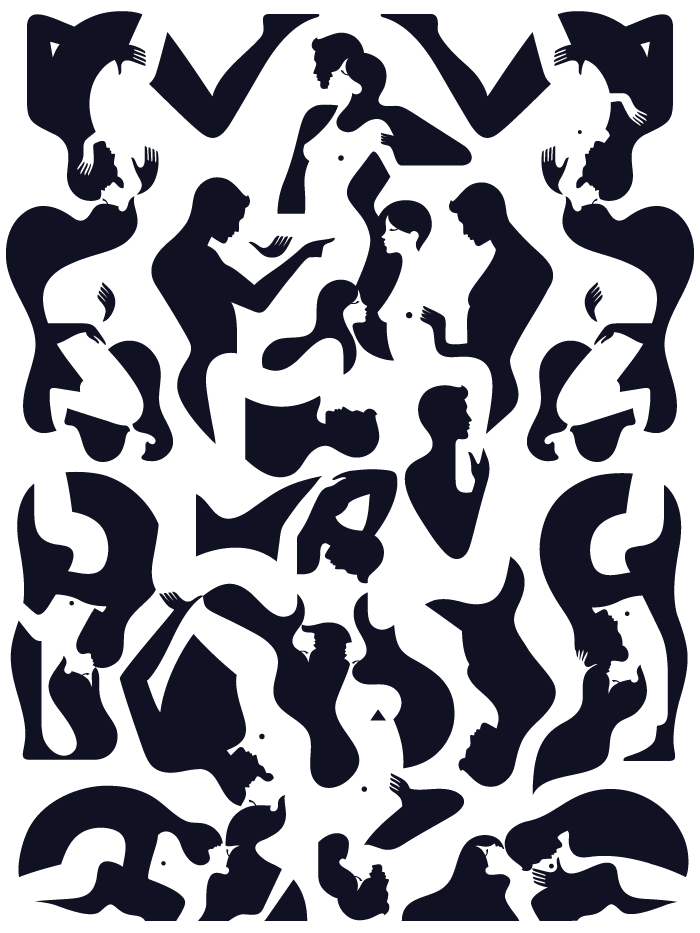 She Bop hosts an ongoing class called "Swinging & Threesomes & Orgies", taught by one of my favorite instructors, Amory Jane. Amory Jane is a sex educator, comedic storyteller, feminist filmmaker and host of the podcast "Sex on the Brain with Amory Jane". We recently caught her sex variety show, "Whoopee" and I'm already able to count on both hands how her work has changed my life.
With that said, I should admit that I grabbed a seat towards the back for this class. I realized that once I stepped inside the shop, the entire room was a hunting ground. I wondered if my gaze looked as hungry as the person sitting next to me. Amory Jane created an open space for conversation about group sex by asking us all a simple question:
Why were we there?
We all had different reasons to be sitting in our chairs. Some attendees expressed having concerns with past group sex experiences, others were interested in hosting parties and building sex communities. We were all there with the shared interest in being involved with multiple people.
Amory Jane shared many reasons why group sex could be beneficial for someone. Sharing intimate experiences with your friends holds the potential to bring you closer to your community. We all have varying sex drives and experiencing group sex could satisfy those times when you are convinced you'll never be.
Etiquette
1. Work out safe words, bells, the light system (use green for good, yellow for "check in" and red for stop everything. Consider bells and horns for larger playgroups.
2. Read and familiarize yourself with the house rules, whether that is a private party, a club, or somewhere in between. Being invited to a play party does not necessarily mean sex. Ask what that means for those involved.
3. Consider ways to to include everyone involved.
4. Come prepared. Bring personal items and protection (lubricant, gloves, towels, intimate wipes, etc.) For private parties, bring something to share with the host or ask what is needed.
5. Do not expect all of the attention.
6. Do not pressure consent or use coercion to join or start group play. Do not take rejection personally, just take it lightly and move on.


7. Always practice good hygiene by arriving clean without any strong odors or perfumes. Bring mints or use mouthwash rather than brushing your teeth to avoid any micro cuts in your mouth before playing
Common mistakes

It's easy to get carried away with our fantasies, but it's important to stay practical. Common mistakes within group play include:
1. Having little to no communication before, during or after group play. This includes nonverbal communication. Be aware of body language.
2. Choosing the wrong partners to play with. Experiencing negative interactions when having spontaneous sex with new people or friends you should not be changing the dynamic with. Who do you feel safe with?
3. Not arriving prepared.
4. Having ulterior motives. Be forward and direct.
5. Being goal-oriented. It's not just about the holes.
6. Not prioritizing your own safety. Understand your boundaries and what you truly want. Stick with your initial boundaries unless you feel confident in abandoning the ones you stated in the beginning.
7. Being overly focused on one partner and excluding another.
8. Jealousy. Avoid the couple-centric privilege. Understand your triggers that cause you to feel jealous and confront them. Keep open communication.
9. It is natural to "catch feelings". It is important to stay communicative with your partners.


In the end, my ultimate take away was that for an experience and intense as group play, being prepared physically and emotionally is the most important part. Amory Jane concluded with, "we are all vulnerable, whether you're sleeping with one or sixteen other people. Be good to each other."
Events and Clubs to Find Play Partners in Portland Sanctuary
Club Privata

Velvet Rope

Hawks PDX

Steam

Stella Harris' Recommendations

http://cloneawilly.com/blogs/news/stella-harris-talks-portland-sex-parties-br-for-psu-sex-week)

 

more information about She Bop:

more information about Amory Jane: