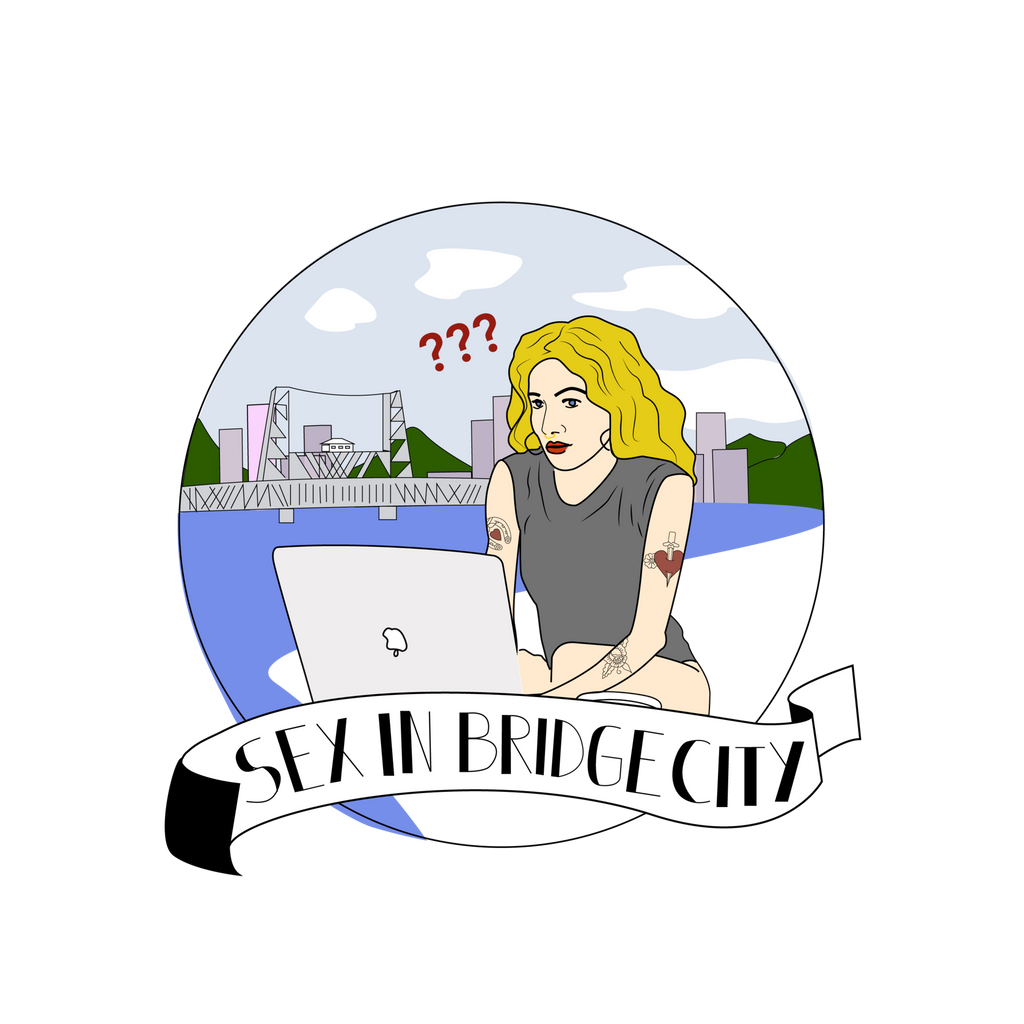 Sex in Portlandia
Having casual sex in Portland is like being trapped on a brightly colored tire-swing while blindfolded; exhilarating and strange, but mostly an exhausting way to get sick. After only living here for four years, I can say my sex life has exploded like a Mid-Century Modern travel-bag, filled with a plethora of Mary Poppins' scarves. And while I've discovered so much about myself here--my sexuality and my identity as a sexual subject for starters--I'm still generally feeling pretty *blah* about the sex I've been having. As I talk to more and more people about this issue, it seems to be not just mine, but Portland's quiet crisis: people in Portland are
having
sex, but so many of us are still disappointed.
So my question is: does having more sex equal having good sex?
Does the 'buzzing' sex scene in Portland make us more liberated, educated, inspired, orgasmed? Or does in reality does it just make us burnt out, lazy, under-stimulated, and hungover? And where are the sexually satisfied single people in this city that I hear so much about? They have become like unicorns of the Pacific Northwest to me. I'm a bit exhausted--sure, I might be a little bitter, even. But I know that I know good sex when I have it. I'm someone who's pretty adventurous and impulsive (remember when I called being trapped on the tire swing 'fun'?) but nine times out of ten the stuff I'm experiencing in Portland is mega blah and actually a bit depressing.
When I recently asked a group of close friends about their sex-lives as singles here, most of them rolled their eyes or sighed. The most common word used to describe the scene here is: incestuous. "Having sex in Portland is like hopping over a dirty puddle in the street only to discover that all your lovers are tadpoles in there having sex with each other already!," a good friend of mine, SN, was obviously on the same page as me. "Everybody has slept with everybody else". This is certainly plausible considering Portland has been polled as the most sexually promiscuous metropolitan area in America for years now, and the city's population is still so small. The odds of the PNW sex-partner crossover are now trackable stats.
I'd be lying if I said it hadn't happened to me. As someone involved in the arts my scene here is pretty small, and I've made an effort not to sleep with people in my peer group. But still, the Portland air gets me everytime. I once went to a gallery opening where there were three people I had slept with in the same room. A scorpio I dated one summer was selling jewelry and pretended she didn't see me at an after-work function I attended. I got off the bus one morning to discover that a person who had given me really great head in my dorm room Freshman year was riding three seats behind me the entire time. This is a risk any Portlander takes each time they leave the house.
Seeing people you have slept with after it didn't end well is awkward--especially if it doesn't really "end" at all. What I'm referring to is how most cases of sex end in this city: Ghosting. A common practice typically exhibited through device-oriented styles of communication, Ghosting involves slowly and gracefully withdrawing from a person while somehow engaging in literally no communication at all. Eventually both parties just pretend it never happened. This does not lend itself to comfort and freedom (unless it is for safety or wellbeing of course), and may even ruin the sex in this city for some entirely. For others, this might be what they enjoy most about their sex lives: anonymity and an easy exit.
The most critical piece to remember is that everybody's definition of good sex is different.
If we are to engage in partnered sex that is good, fair and casual, we owe it to each other to talk about where each party is coming from ;) . Portlanders seem to be a little shy about being direct with what they want. Where this kind of attitude is only slightly annoying in 5 o'clock traffic, when having sex with another person passivity is awkward, inconsiderate, and actually may cause harm.
This is where I take issue most, being a twenty-five year old femme in a city that loves to fuck; I want personal autonomy, which for me means respect and communication from my partners always, regardless of whether or not we're "dating" or intend to. I found that the culture here makes that seemingly impossible, and at times I wonder if we view the people we sleep with like aliens from another planet. I want a city where we can show up as ourselves and be comfortable with that.  A city where casual sex is beneficial and safe for both parties. A city where orgasms abound in fountains of rainbows and the fluttering of birds and open dialogue shines through forest floors. This city is not intangible, but right now it seems to be hard to find. My colorful scarves of sexual freedom have faded to melancholy shades of Portland grey.
But not all hope is lost, folks. I figure, if Portland is as sex-positive as it claims to be, maybe we can find a common ground through practicing talking about it more openly. Not on Tinder, not through text, but through actual conversations face to face with those we are going to sleep with. Make it something fun and do it naked. Or, maybe turn it into a song you can play at your next house show to break the ice and then talk about it afterwards. If nothing else, keep talking to your friends--like me--who genuinely want to get you through the struggle, remind you of your autonomy, and then can have some fun writing about it later.
Signing off for now...
-Kiki