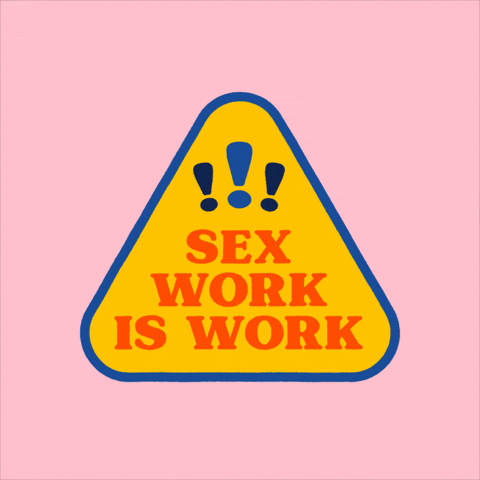 As someone who has experienced the multifaceted world of sex work and content creation, I feel compelled to write a piece that not only respects the diverse experiences of others but also offers a supportive space for those who are intrigued by this line of work and want to explore it ethically. It's important to acknowledge that I won't delve into every aspect of this industry, but I'll focus on the areas with which I'm most familiar and comfortable sharing, given my background as a former provider, online creator, and assistant.

The capitalist drive to earn money often pushes many of us towards various forms of employment. Unfortunately, many conventional jobs don't provide adequate compensation, which can lead to succumbing to the pervasive culture of hustling. This path can quickly become a slippery slope, resulting in overwork and burnout. So, I'd like to begin by emphasizing the importance of scheduling time for self-care, nurturing your mental well-being, and engaging in community-building. Zepp Wellness is a sex workers haven for support and self-care!

Community support can take the form of connecting with fellow workers through platforms like Twitter, Instagram, or direct email correspondence. This can involve offering compensation for skill-sharing or simply building relationships with like-minded individuals who understand your journey. Building a community around you can be incredibly empowering and the sex worker community at large is very supportive. This is due to understanding the intricacies of the work and wanting to maintain safety as well as wanting to uplift each other.

If you're looking to explore ways of earning income and finding fulfillment in this realm, please continue reading.

One of the more accessible routes into this line of work, if you're seeking discretion, includes online-only endeavors such as selling underwear, offering feet content, and other forms of content creation. Here, you have the flexibility to decide the level of anonymity you're comfortable with, from engaging in content creation without showing your face to fully embracing your identity, depending on personal choice and safety considerations. Certainly, let's dive further into some of the specific platforms and opportunities within the world of online sex work and content creation, including SextPanther, OnlyFans, ManyVids, and Patreon.

SextPanther is a platform that caters to those interested in offering text-based and phone-based adult services. It allows you to connect with clients and engage in intimate conversations while maintaining a level of anonymity. Setting up a profile on SextPanther involves creating a unique persona and deciding what kind of services you'd like to offer, whether it's text chat, phone calls, or a combination of both.

OnlyFans has gained immense popularity in recent years as a content subscription platform. Creators can share a variety of content, including photos, videos, and even live streams, with their subscribers. Setting up an OnlyFans account involves creating engaging content and building a loyal subscriber base. It's a platform where you can exercise greater creative control and flexibility, and the level of explicitness in your content is entirely up to you. Many creators use OnlyFans to share their unique personalities, interests, and perspectives, making it a platform that can be as diverse as the individuals who use it.

ManyVids focuses on the sale of adult videos and custom content, making it an excellent choice for those who are comfortable with video creation. You can upload a wide range of content, from explicit videos to fetish-specific clips. ManyVids allows you to interact with your audience through live shows, sell your videos, and even offer custom content requests. This platform provides opportunities to connect with a community of like-minded individuals who appreciate your work, making it a place to showcase your creativity and expertise.

Patreon is a platform that has grown beyond the adult industry but still provides opportunities for adult content creators to monetize their work while maintaining a level of discretion. On Patreon, you can offer tiers of subscription-based content, access to exclusive photos and videos, or even personalized interactions with your subscribers. While it's not explicitly designed for adult content, it can be a viable option for those looking to create a more personal and sustainable relationship with their audience.

Setting up profiles on these platforms involves careful consideration of your brand and what you're comfortable sharing. Be sure to read and understand their terms of service to ensure that your content aligns with their guidelines. Also, keep in mind that marketing and promotion are essential aspects of success on these platforms. Engage with your audience, maintain open communication, and be responsive to your subscribers' desires and feedback.

If creating your own photos or videos isn't your preference, you can still contribute to the community by working as an assistant to other content creators. Many individuals set up their rates and provide services such as managing social media, assisting with messaging fans, writing scripts for providers, and supporting the sale of content. You can explore opportunities and connect with such creators on platforms like Reddit, where you'll find valuable information and resources to get you started.

Another form of work to explore is in-person work or direct services. This path can encompass various avenues but we will stick to my wheelhouse which has included fetish work, erotic massage, sugar dating, escorting, and domination (domming). While it can be financially rewarding, it also involves specific risks and responsibilities that may not be suitable for everyone.

Fetish work: This involves catering to clients with specific fetishes, which can range from feet fetish to more specialized preferences like exploring different kinks. It's important to understand your client's needs and boundaries while maintaining your own. It's very important to seek some community in this space to be sure you are exploring responsibly. Fetish work can be very vulnerable and contain a lot of mental work. Many of my fetish clients have wanted to worship/smell my feet or body and then buy my socks/underwear after sessions. Or be used as a foot stool.(This sometimes flows into domination work but often these clients are pretty specific with their wants.)

Erotic Massage: Providing sensual massages can be a great way to explore bodywork, somatic healing, and its intersection with pleasure. Safety and clear communication are crucial in this context to ensure the comfort of both you and your client. Doing this work in a secure space is really important and understanding your body's needs as well as some appointments can last up to an hour. Many of my clients have been cis-het men that end up just wanting to be jerked off mid-massage which has saved me some time but other folks do genuinely want the full experience of being massaged by someone they fantasize about. (I personally always hated massage because I'm lazy lol sometimes switching over sessions to make the client massage me.)

Sugar Dating: Sugar dating typically involves a mutually beneficial arrangement with a financial component. It's essential to establish boundaries, clear expectations, and, when necessary, protect your personal information.

Domination (Domme Work): Dominatrix work involves guiding clients through BDSM experiences and remaining in a dominant role. This work for me has often begun sub training virtually and eventually in-person meets once I feel they have met all my requirements. I'm a brat in this way and some folks engage completely differently. You can choose how to explore this space. It's crucial to have a deep understanding of BDSM practices, consent, and safety measures. I recommended reading: Playing Well With Others: Your Field Guide to Discovering, Exploring & Navigating the Kink, Leather & BDSM Communities by Lee Harrington & Mollena Williams also follow @liquidandleather now ❤️

To maintain safety and wellness in this industry, it's crucial to take several measures:

Screening: Implement thorough client screening procedures to ensure your safety and the quality of your interactions. I recommend getting ID, deposit, and screening their contact information.

Safe Play Spaces: Whether it's a dedicated dungeon for BDSM or a secure location for other services, the environment should be safe and hygienic. Utilizing rented spaces is an option as well but as with much of the work, depends on personal preference. I strongly discourage working from anywhere near your home space.

Security: Have a security plan in place, which may include sharing your whereabouts with someone you trust or using security apps. I have also hired security for higher-paying jobs or had a trusted person come with me to a job.

Rate Setting: Determine your rates based on the services you provide and what you feel your time and energy are worth. No rate is too high and you shouldn't negotiate unless that feels appropriate for you.

Understanding Your Limits: Recognize your personal and emotional boundaries as a provider and communicate them clearly to clients. You can express boundaries clearly in ad spaces or in conversation prior to meeting. This industry is not immune to discrimination by any means and when engaging in work you are more susceptible to it ( this is why decriminalization is paramount) and sometimes potential clients will try to press you to change your rate based on your appearance, negotiate boundaries or press you for shit… this is never okay. Don't be scared to block people and move on!

Skill Sharing: Seek guidance and mentorship from experienced professionals in your chosen path. Learning from those who have been in the industry can be invaluable. Many providers are open to skill shares and some sex work advocacy groups offer skill shares virtually as well!

Finding potential clients can be done through various methods, such as online platforms, meeting people at bars (freestyling, which tbh I mostly did in my 20s in big cities), or using dating sites (yes, I've been banned from Tinder more times than I can count but there are ways to find tricks in all spaces). These methods each require their own set of precautions and strategies for connecting with potential clients safely.

With in-person work, the earning potential is significant, with some providers making $300+ for a 30-minute to an hour-long session. However, the financial rewards come with the responsibility of ensuring safety, boundaries, and ethical conduct. It's important to continually educate yourself about best practices and to prioritize your well-being while navigating this field. And, if you ever need guidance or have questions, don't hesitate to reach out to me directly—I'm here to support you on your journey.

In conclusion, the world of sex work and content creation is diverse and multifaceted. It offers a range of opportunities that can be empowering and financially rewarding. It is so important to recognize our individual identities and situations when entering the work. Sex work at large is still considered illegal and is heavily criminalized. Many folks don't have access to create in the same ways or do services in the same spaces, so if you are looking to explore please take the time to educate yourself on sex workers rights organizations, laws that affect the community you live in and support other workers It's also crucial to prioritize self-care and community building, and always keep safety at the forefront of your decision-making. Whether you're exploring the creation of content or assisting others in their endeavors, there are numerous paths to explore within this industry, and I encourage you to embark on this journey thoughtfully and ethically.

Here are some great orgs to follow and resource information about sex work advocacy in general:
Find more: https://www.nswp.org/resources 


With Love and Support,

Love W.