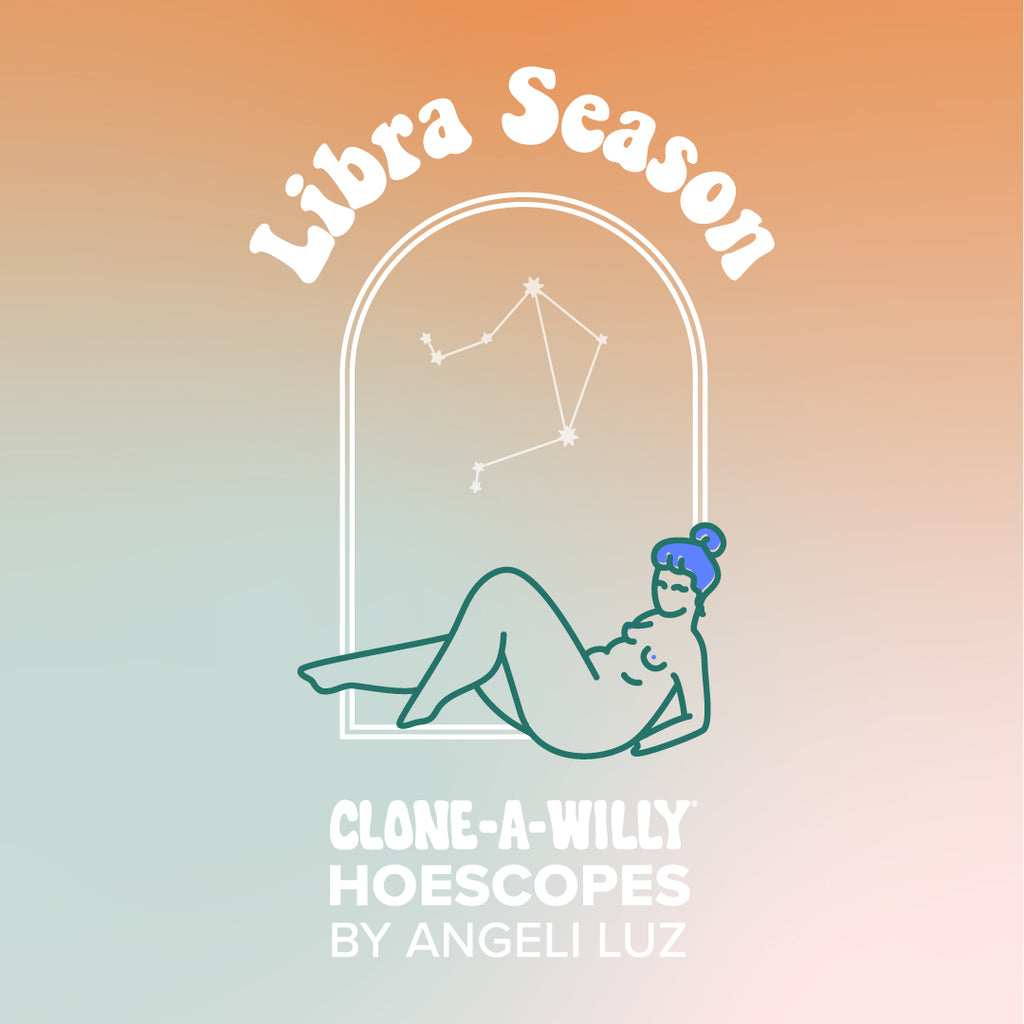 Thotumn is here, and we are all ready to get spooky!! The new season is an excellent excuse to check in with ourselves, practice self-touch, and enjoy all the pleasures OcHOEber has to offer 👻 
Read your Hoescopes to see what's in the stars this month! 
This October I am learning how to make peace with myself so that I may make peace with someone else. I acknowledge that my relationships need me to be there for them right now. I no longer feel afraid to commit and be closer to someone else. I don't always have to be on the edge of defending myself and not everyone is out to get me. The New Moon in Libra on October 6th reminds me to understand the true meaning of intimacy with another - by getting closer to myself first, through connecting into a deeper altitude of ecstasy within my body, by touching and loving myself to the fullest extent. What are ways in which I can treat myself and indulge in my senses? How do I define intimacy with myself? These are all questions that I will find answers to by the Full Moon in Aries on October 23rd. I understand the weight of the world isn't always mine to carry. When I am on the verge of extinction, I can always count on someone else to save me. I have all the help I need.
This month I'm understanding how to stop denying myself for others. For too long, I have been the peacemaker at the expense of my own sanity. Well I say no more, not anymore. For the New Moon in Libra on October 6th is showing me what the true meaning of respecting my limits means. I am not just a mediator others step on, I am the roots that hold everyone together. Because I understand the true meaning of loyalty, I can also understand how to be loyal to my own sexual health. There's no use in denying my own needs, I deserve to receive pleasure too. From here on out, I am demanding it with full conviction. The Full Moon in Aries on October 23rd is showing me where my deeper intimate desires are. I'm paying more attention to my nightmares and ecstatic dreams, I realize they can now be quite cathartic. Through purging my fears, I notice I'm less afraid to say I need my cookie ate.
In October, I feel a little happier than usual. I notice myself reconnecting with my old hobbies, wanting to go out on romantic dates, and overall experiencing the joys of life as a little closer to rainbows - rather than brooding about the storm. I might not always want others to see anything past my masked optimism on the outside, because my deeper emotions feel like cyclones from within. The New Moon in Libra on October 6th is showing me how I can look at my life from a different perspective, a perspective of absolute hedonistic pleasure. The same pleasure I preach about to others, yet rarely give to myself. It's so easy for me to learn how to experience pleasure and joy, yet hard for me to integrate it. I now fully give myself permission to let my body discover itself in its own primal instincts. I mold and take form into the shape of allowing intense sexual desire to flow. I can channel this sexual energy into creativity, fun, and beautiful art. The Full Moon in Aries on October 23rd paves the way for me to reconnect with those once lost. I allow these connections to flow, teaching me something, and integrate the lessons I will learn from within.
Throughout Libra season, I've been learning how to reconnect with my inner temple known as my home. This home protects me, encourages me, fights with me, cries with me, and holds me close. The home that is my body is a beautiful home to be in. The New Moon in Libra on October 6th shows me how to spend more time with myself. I know I value my alone time, but do I allow myself to recharge enough? Are my methods of recharging beneficial to my rest and growth? While bathing with my tears is my favorite pastime hobby, I understand it may not always be the most efficient way of caring for myself. As the Full Moon in Aries illuminates how I am sexually seen or objectified by others, I recognize and understand that perhaps I need to put myself out there more, even if it means more eyes are on me. I must understand that a bright light such as myself cannot always be kept in the darkness. While I may attract many moths and dark seducers, I can one day bloom into a beautiful butterfly that understands the value I carry. 
As October blooms into a new hue, I taste the brisk breeze teaching me how to breathe again. I feel kind of tongue-tied, not saying what I actually mean or not knowing what to say. Mercury retrograde's lessons haven't been the kindest to me, but I can be kinder to myself through understanding how to be patient with me. With thorough communication, The New Moon in Libra on October 6th will teach me how to cry my heart out with conviction. My words deserve to be heard, even if I have a hard time with authenticating my self-expression. I acknowledge and understand that speaking is best said with thoughtful thoughts. The judgments I hold against myself will be no more, I don't always have to smile or be happy for others at the cost of my own peace of mind. The Full Moon in Aries on October 23rd is paving the way with new things to learn from my past. Through looking at the fog of my memories with the perspectives I have now, I can experience outrageous growth and a cathartic understanding of all that once was. 
With Mercury Retrograde making me feel like I'm losing control of my current reality, I can experience a deeper connection with my physicality. When everything on the outside looks obscene, I understand I can always return to where I come from - from within. The New Moon in Libra on October 6th is showing me how discipline with my finances doesn't mean I can't treat myself. I'm now learning that discipline is all about making my life easier. I feel a new sense of control over my material world, the control that comes from learning how to quiet my mind with only what's intuitive and what's necessary. The Full Moon in Aries on October 23rd is showing me how being the burden of my worries doesn't benefit my future. I might be what others call a "worry wart", but I understand my fears come from a deeper place. These fears are being illuminated during this time. Along with my deeper fears regarding intimacy, I'm understanding the more I connect with my succulent sexuality, the easier it becomes for me to connect with others. It's okay for me to want more, crave more, experience more.
As I learn how to step into my self empowerment this month, I'm feeling the arousal of my own attraction. While understanding that I also crave more attention, I know exactly where to get it. The line of suitors waiting for me at my doors, the heads I turn when I hit the grocery store, or perhaps the fluffy dildo I just bought from Clone A Willy. With the Libra New Moon on October 6th, I'm feeling brand new. Libra season is MY time to shine, with this burning blaze, my new wings feel like they're ready to soar. I choose to allow myself to recognize how sexy I actually am. My gentle skin and beaming eyes allure every stranger galore. The Full Moon in Aries on October 23rd is allowing me to celebrate my sexuality with myself, and perhaps someone else. I'm connecting with my partner on deeper and more intimate levels. I allow myself to fully embrace my sexuality - no room for embarrassment there. Perhaps it's time for me to try something new? A little bondage, some more fluffy handcuffs, or maybe my new purple Clone A Willy!
This October the focus is on the perspective of my inner self. Now is a good time for me to get into a meditation and a deeper cleansing routine for my spiritual body. Light some incense, play some soft music, now I'm taking myself to the spa. My ability to care for myself is everything this month. The New Moon in Libra on October 6th is showing me relationships from my past coming back into my life or exes that once were. The variety of exes I have, the many faces of the erotic lover I once was (and always will be). I'm learning how to let go and let show, even if it feels rather difficult to forget. With the Full Moon in Aries on October 23rd, I know I can always count on myself to give to myself again, so how can I fill up my own cup? I'm learning how to care more for my health and my body. Sulking all day may add the extra drama I need to spice up my life, but perhaps I can learn to channel this energy into embracing more of my sexuality. Through this, I am learning how to create the energy of more new excitement in my life, go out on a date, be sexually safe, and impulsively go on an adventure with me!
The harder lessons of this Mercury retrograde have been teaching me what authentically connecting with others means. Am I allowing too many things to let go with a grain of salt? Or am I perhaps forgetting to be considerate to the sensitivities of other's emotions? Either way, the New Moon in Libra on October 6th is showing me that I can't always romanticize my friendships. That just leaves me sitting there alone with my rose colored glasses later on, not understanding what might've gone wrong. The Full Moon on October 23rd is illuminating all that brings me pleasure and joy, and how I can conceive more of it. This is the same pleasure and joy I know comes from within. When I am able to experience my sexual body into newfound heights, I am also able to take pride in my ability to connect with the physical world around me. Connecting with my sexuality keeps me grounded and I am learning how to embrace this even more.
All eyes are on me this month, the place where I like to be. The image I put out is rather important, but what does this image mean to me? I know it's okay for me to have masks, but where might I be letting these masks become a part of me rather than an aspect of who I am? With the New Moon in Libra on October 6th, I'm acknowledging that I'm an independent and hard worker, yet I'm understanding I don't have to duel the world alone. Being with a partner brings me great pride and joy, but being alone and taking space for my aloneness allows me to understand my own internal needs. How am I blocking my sexual energy from being fully enjoyed? The Full Moon in Aries on October 23rd tells me that home is this body I walk in, yet it always feels so lonely here. I may have a wound when it comes to being grounded within my physical nature and through intimate masturbation, I'm able to feel closer to myself and who I am.
This month, life feels a little more difficult than usual as I'm being forced to confront my lack of knowledge on some things. I know I like to know everything, some call me a know-it-all really, but there are many things I have not yet learned how to integrate. As the New Moon in Libra on October 6th illuminates my mind and knowledge, I understand to actually understand intimacy, I need to experience it. There are many ways that actually experiencing something differs just from having knowledge on it. Through this integration, I am able to understand what having true wisdom on partnerships, sexuality, and deeper intimacy means for me.With the Full Moon in Aries on October 23rd, I feel revitalized and energized. My primal sexual energy is rejuvenated with the initial integration of self realization. I finally feel free again, the first time I've experienced freedom in months, really.
The lessons of October take me into deeper states of self awareness surrounding my sexuality and intimate connections. I may be called sensitive at times, but I understand allowing myself to experience intense emotions makes me a stronger person at heart. Not many people can feel as deeply and as often as I do. With the New Moon in Libra on October 6th, I am learning what it means to connect deeply with my sexual self. I allow myself to indulge in profound self intimacy. I deserve every right to a private, wild, sexual life with myself. I am my greatest cheerleader, therefore, I am my greatest lover as well. The Full Moon in Aries on October 23rd illuminates all the ways in how I can gift myself more pleasure and joy. Though the gifts I offer to myself aren't always the most profound, I am learning how to spend more money on myself in ways that aid in my self care, growth, and sexuality.