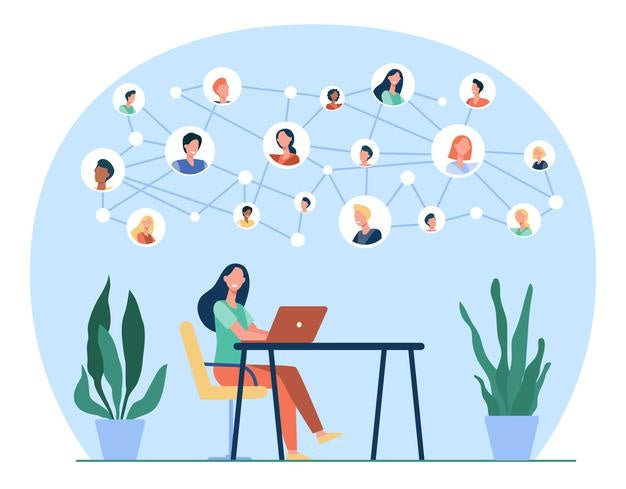 If you haven't gotten involved in online sex positive communities or are just looking to expand your networks, there's no better time than the present to do so. As the pandemic continues, it definitely challenges our basic human need to connect. 
Global, digital communities have the possibility to help lift us through these current challenges with physically connecting. They can remind us that we're not alone, even through the weirdest feelz we think we have in our own isolation cave. They can connect us with like minded folks and grow significant relationships. They can offer new ways of thinking about particular, vulnerable subjects in a way that's helpful and cathartic. These communities and educators have been a blessing through such a strange and dark whirlwind of an era. 
With all that said, we'll get on with some of our favorite and currently active sex positive communities and educators.  
Sexfluencers + educators
Cindy Lee Alves is a sexologist, educator, writer, and host of the podcast "Sex on Shuffle". "Centering Black and brown folks across intersecting system-impacted identities, they have educated thousands of people on various topics related to sex(uality) ed(ucation) and empowerment."
Eva of Cripping Up Sex with Eva is a writer, sex educator and contributor focused on sex and disability. 
We interviewed Erika Lust five years ago, and since the indie adult filmmaker has blasted away her own genre and culture in the industry. Not only has she and her team created a much more diverse, transparent and inclusive scene within the adult film industry, Lust has also created a platform for caregivers to have productive conversations about porn. The XConfessions and Lusties community is quite active, welcoming and a great space to connect.
London-based Calum McSwiggan is the author of Eat, Gay, Love and a lifestyle YouTuber who focuses on creating content surrounding queer culture and issues which affect LGBT+ communities, mental health, sex and relationships.
Sonya Renee Taylor is a NYT bestselling author and founder of The Body Is Not An Apology. Taylor is committed to radical self-love as a path to liberation and eloquently explains this in a recent episode of the 10 Percent Happier podcast. We not only highly recommend listening, but tuning in and engaging with this incredible human. 
Scotty Unfamous is a force, but also an erotic romance author, sexfluencer, and another London-based force putting energy into unraveling problematic stigmas and phenomena. Her focus is to help women explore and remove the stigma around their sexuality, educate them in the art of sensuality and promote and inspire self-love and body confidence.
For further exploration: social networks, dating applications + online communities
The Black Sex Worker Collective
Queer Crew Collective on Instagram
Are we missing an inspiring community? A life-changing educator? Anyone or anything, online and global who has personally shifted your sex positive bubble? We'd love to hear about it! Drop us a comment with their name or handle
💖