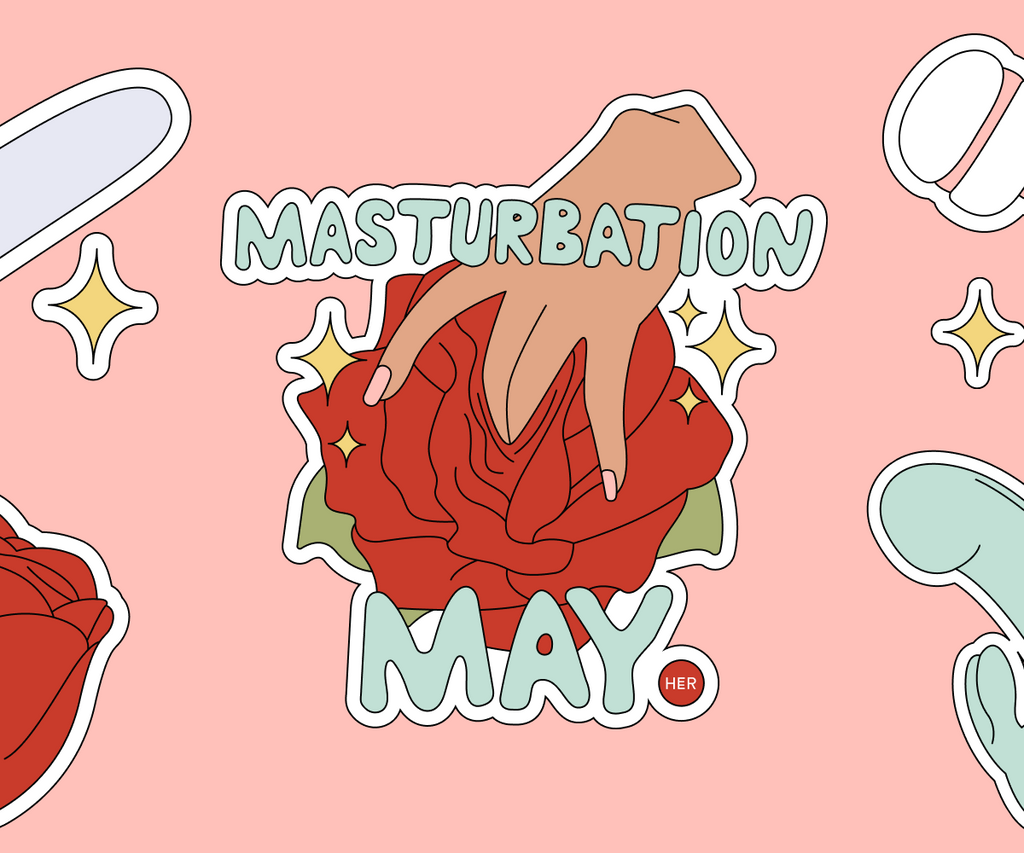 May is a month dedicated to honoring the art of self-pleasure: masturbation. It's also Mental Health Awareness Month. Mental Health and Masturbation go hand-in-hand. Masturbation is an amazing opportunity to make more time for yourself, get to know your body better, and prioritize your sexual pleasure. Masturbating is an act of self-love, empowerment, and exploration. It is also an amazing grounding technique to bring you back to your physical body and self-soothe through touch and pleasure. 
Good Vibrations founded International Masturbation Month in 1995 "in the wake of the controversy surrounding the firing of former Clinton administration Surgeon General Joycelyn Elders, who evoked conservative wrath when she stated that discussion of masturbation might have a place in sex education curricula. Realizing that one simple, sensible mention of solo pleasuring was enough to lose this prominent woman--the country's first African-American Surgeon General--her job convinced Good Vibrations staff that this most basic and accessible form of sex needed a serious image boost."
In case you need any more motivation to celebrate this month, Dr. Raegan McDonald-Mosley, Chief Medical Officer at Planned Parenthood Federation of America states: "Masturbation is a normal and healthy part of sexuality. It can enhance our physical, mental, and sexual health and the health of our sexual relationships. Learning about what feels good to you can help increase sexual pleasure with sex partners. And when you know what you like and are comfortable with your body, your satisfaction with sex increases."
Here are some ideas for ways you can release those happy hormones and connect with yourself. 
Depending on your preferred medium, do your own research on the topic. Find books, podcasts, or lectures from trusted and engaging voices. Find sexy playlists that you can play in the background to elevate your mood. Find visual artists exploring the topic of self-pleasure. Watch all the porn. 
Try out a new toy or technique - you might surprise yourself with how good it could be. 
Masturbate with your partner or partners. If you're able to watch them closely and remember the details, it could serve you well the next time you're intimate. 
Clone-A-Willy and Clone-A-Pussy are great tools for masturbating solo or partnered. Your part is fine art! (Pro tip: use promo code MASTURBATIONMAY for 20% off our site)
If you're finding it difficult to set aside time for yourself, give yourself permission to be spontaneous even if it's for a few minutes. Remind yourself why this self-love is important and how beautiful even the most subtle changes could be when you give yourself the time and energy. 
We'd love it if you connect with us over Instagram, TikTok, and Twitter for the memes, giveaways, and sales on our products!