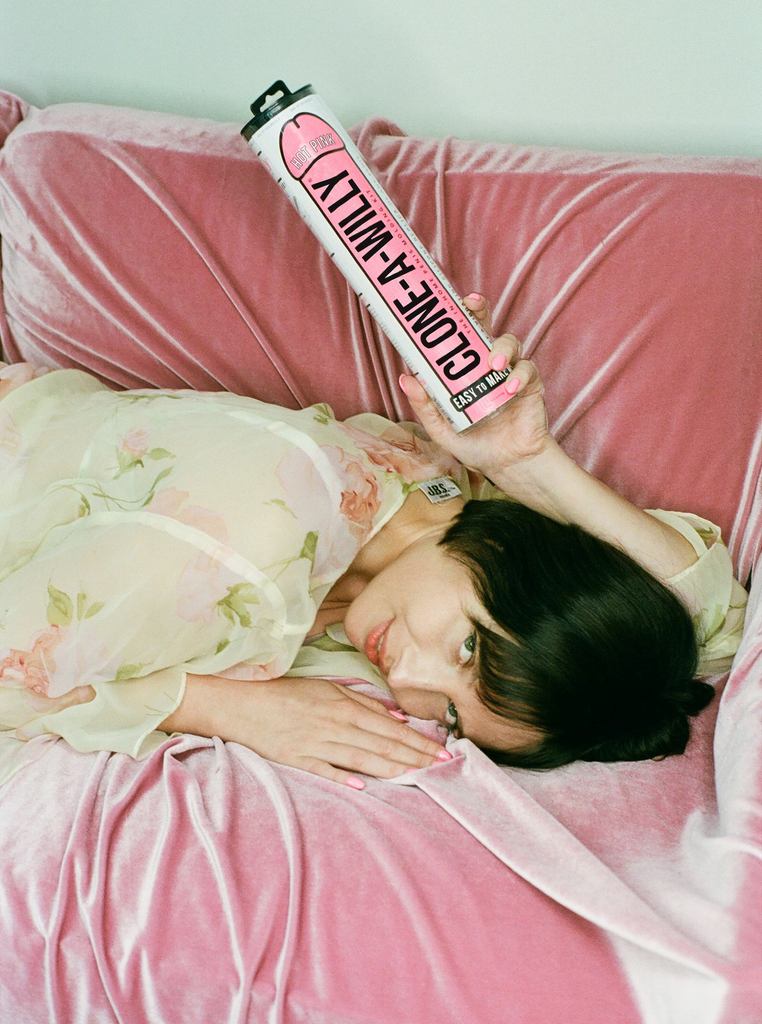 We recently chatted with friend of the brand/ Dildo Duchess/ Founder of Spectrum Boutique, Zoe Ligon! Zoe is well-acquainted with our full line of molding kits and has used many over the years (including to mold her fist & auction off a mold of her vulva for charity). We talked all things sex toys, adult industry trends, and self-love: 
Q: Hi, Zoe! Can you briefly summarize how you got where you are in the sex toy industry today as the Dildo Dutchess?
Sex toys were an integral part of how I discovered my body – and ability to orgasm! When I was 18, I started making collages out of vintage porn magazines, which was my first foray into the sex sphere I suppose! A friend of a friend knew about my art, and worked at a brick and mortar sex toy store, and suggested I also apply to work there. At age 21 I was working the floor of an NYC sex toy shop, and the array of interactions I had on the sales floor inspired me to begin writing articles about sex and relationships. I was lucky enough to have friends with some very solid media contacts, and the next thing I knew my Tumblr-written musings were becoming Refinery29 and VICE articles, with some pieces ending up in Huffington Post and Daily Mail. This is of course a very abbreviated version of events, but I think these are all the main ingredients that went into my ability to create my own independent platform! While I am no therapist, I feel very equipped to discuss and co-research with my customers, and always continue learning in order to lend support and advice. Sex toys are one big way we can make those conversations more fun!
Q: You have been a friend of our brand for a long time! When did you first learn about Clone-A-Willy, and what were your thoughts?
I sold the heck out of it at the store I worked at prior to starting Spectrum Boutique! It's so funny how it was often sold as a "bachelorette" type gift, yet it's really more like a DIY arts and crafts project for sex toy enthusiasts if you ask me. I remember meeting you all at my very first ANME, and we hit it off immediately. You showered me in free samples!! I'll never forget asking my then-boyfriend to clone his willy, which he for some reason was opposed to (because I believe the idea of a vibrating version of his own dick felt threatening – haha! HUGE eye roll here…) Needless to say that relationship sucked and I have now Cloned many a willy – and my hand too! I like thinking of Clone-A-Willy as an interesting litmus test for how down a dick-haver is to participate in one's love of sex toys. The kit has also just helped me understand the process of molding silicone in a way I wouldn't have grasped had I not used it – now I understand the perils of silicone bubbles and why curing takes so much time!
Q: How have you used our kits in your personal life? We'd love you to share a specific experience you enjoyed if you are open to it!
I suppose I got ahead of myself in that last question! My boyfriend and I did a kit together and saved the "big reveal" for us to open "live" on our now-ended podcast Hot Brain. It was REALLY impressive. The details, I tell you!!!!!! Every little moment that makes his dick unique was captured in silicone. Previously I had only done vegetables – and my own hand – due to my lack of willing participants, so this was VERY exciting for both of us. It is truly beautiful. I have also cloned my pussy multiple times, and sold them on OnlyFans! You and I also did an auction of my first mold and donated the earnings from the highest bidder to SWOP (it was $420 I believe!) So, I like that these are not "identical clones" of our parts, but a nice way of feeling closer to a person whose parts we like, or love :)
Q: The sex toy industry as a whole seems to be evolving, and more spaces are opening up for conversations about sex! What do you think we can do as individuals, as well as brands/communities, to continue to help people feel empowered by pleasure?
As I slowly withdraw from performative social media spaces, I think it's important to stop comparing ourselves to other people's bodies, sex lives, and relationships. Whether you're learning about someone's intimate life through a screen, or a friend is divulging their conquests, you're only hearing about a part of a whole that you'll never know firsthand. The frequency of someone else's sex life, orgasms, whatever, is no yardstick for your happiness and intimate life. Worrying about the type of sex and the frequency with which we have it will make everyone a lot less empowered in the long run. I'm not saying we need to overshare the dirty details of our lives (trust me, I've done that haha) BUT being realistic in how we discuss sex instead of sharing an idealized snapshot (especially with close, trusted friends) is a way we can have perspective and an open mind to all the ways we express ourselves sexually. Keep an open mind, but know your own wants, needs, and boundaries! Communicate from the heart! Don't be afraid to ask questions, and question the answer to your question! Be curious, and reframe sexual anxiety as sexual curiosity or excitement for the unknown. 
Q: Which of our DIY Molding Kits is your favorite and why?
Oh man… I am a sucker for the classic blue Clone-A-Willy kit. The color is gorgeous and very #aesthetic. Haha! In all seriousness though, I love the thought that I can make a dildo out of just about anything. I want to clone my Venus statue next!
Q: What's something you would like to see more of in the sex-toy space?
Where do I begin! For certain a wider variety of colors (both in ROYGBIV but also in colors to represent skin tones). Toys that don't just look like penises, vulvas, or a reiteration of the standard shapes we are all very familiar with. I'm really excited about the relatively new humping and grinding toys that have been coming out lately – they're so versatile!
Q: Can you share one nugget of wisdom you've learned over the years of working in the industry and with so many insightful people that has stuck with you?
A people pleaser's saying for worrying less! "You can please all the people some of the time or some of the people all the time, but you can't please all the people all the time." As it relates to the industry, I think it's just a reminder that the products we create won't please everyone, and neither will the same approach to discussing sex ed and toys, so it takes a lot of different approaches, ideas, and people to create something that can speak to *everyone*.
Q: What does the future hold for you? Do you have any exciting new projects you can share with us?
Spectrum is just about to launch our loyalty program! I'm really excited to offer even more goodies and discounts to our customers. The Spectrum Journal is another ongoing project that brings me a lot of joy – and I am so grateful to have an educational portion of the site solely dedicated to advice, reviews, and ideas. On a personal note, I'm excited to take some weekend wilderness survival classes this summer… muahaha!
Q: Our brand is all about self-exploration and admiring how unique each of us is! What is your favorite thing about yourself? You can pick more than one ;)
Who me? Myself?? I want to say my dedication, drive, and loyalty, but that's a kind of stale and work-related answer, although it's true on a personal level as well. I like my dark sense of humor, my curiosity, and most importantly… my butt. Sorry, that's six things!