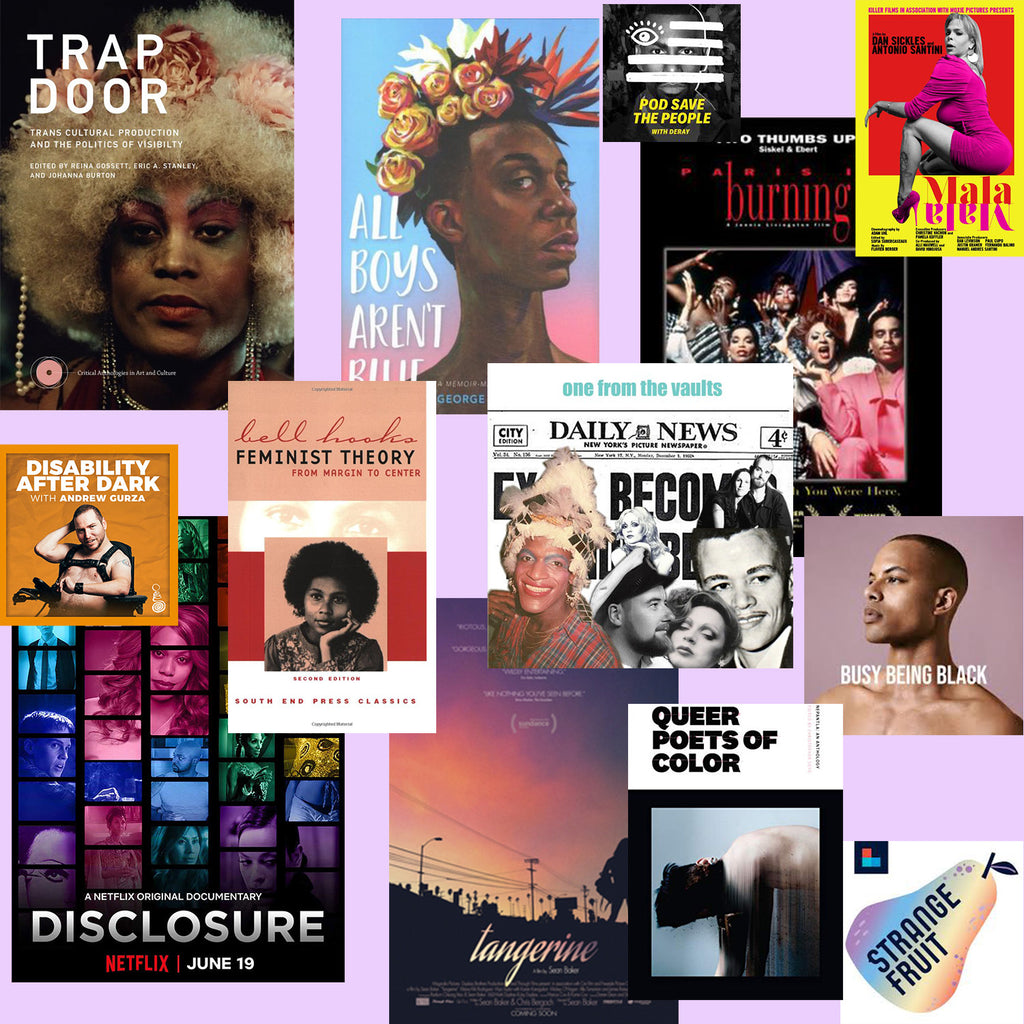 Learn, listen, watch, and read in celebration of Pride all year-round with these films, books, and podcasts!
WATCH -- Films / Documentaries 
Moonlight
Paris Is Burning
Bessie
Disclosure
PUNKS
I Am Not Your Negro
Mala Mala
The Gospel According To Andre
Tangerine
The Trans List
Treasure: From Tragedy To Trans Justice Mapping A Detroit Story
Rafiki
The Color Purple
Pariah
All About My Mother
Still Black: A Portrait Of Black Transmen
Jewel's Catch One
Free Cece
Tongues Untied
Black./ Womyn.: Conversations With Lesbians Of African Descent
The New Black
Kiki
Criminal Queers
Set It Off
Naz & Maalik
A Place In The Middle
The Skinny
Young Soul Rebels
The Watermelon Woman
Blackbird
Portrait of Jason
Difficult Love
Mississippi Damned
Kate Bornstein Is A Queer & Pleasant Danger
Black Is, Black Aint
Check It
Beautiful Darling
Gunhill Road
Brother To Brother
Holiday Heart
READ -- Books
We Are Everywhere ~ Mathew Riemer & Layton Brown
Ain't I A Woman ~ Bell Hooks
The Fire Next Time ~ James Baldwin
HoodWitch ~ Faylita Hicks
On Earth We're Briefly Gorgeous ~ Ocean Vuong
Real Life ~ Brandon Taylor
Black. Queer. Southern. Women ~E. Patrick Johnson
The Black Flamingo ~ Dean Atta
Thick ~ Tressie McMillan Cottom
The Days of Good Looks ~ Cheryl Clarke
The Summer We Got Free ~ Mia McKensie
Black Is The Body ~ Emily Bernard
How We Fight For Our Lives ~ Saeed Jones
Stonewall ~ Martin Duberman
Go Tell It On The Mountain ~ James Baldwin
Hood Feminism ~ Mikki Kendall
Latin Moon in Manhatten ~ Jaime Manrique
Riot Baby ~ Tochi Onyebuchi
ZAMI: A New Spelling of My Name ~ Audre Lorde
Black Girl Dangerous on Race, Queerness, Class and Gender ~ Mia McKenzie
Bad Feminist ~ Roxeanne Gay
Fresh Water ~ Akwaeke Emezi
Redefining Realness ~ Janet Mock
Fairest ~ Meredith Talusan
No Tea, No Shade ~ E. Patrick Johnson
Gold By The Inch ~ Lawrence Chua
Sister Outsider ~ Audre Lorde
Since I Laid My Burden Down ~ Brontez Purnell
Untamed ~ Glennon Doyle
The Other Side of Paradise: A Memoir ~ Staceyann Chin
Coffee Will Make You Black ~ April Sinclair
Koolaids ~ Rabih Alameddine
Giovanni's Room ~ James Baldwin
B-Boy Blues ~ James Early Hardy
Not Straight, Not White ~ Kevin Mumford
Trap Door ~ Reina Gossett, Eric A. Stanley, and Johanna Burton
All Boys Aren't Blue ~ George M. Johnson
The Color Purple ~ Alice Walker
Juniper Leaves ~ Jaz Joyner
Black On Both Sides ~ C. Riley Snorton
A Year Without You ~ Julian J. Walker
Black on Both Sides ~ C. Riley Snorton
Close To The Knives ~ David Wojnarowicz
Unapologetic ~ Charlene A. Caruthers
Fierce Femmes and Notorious Liars ~ Kai Cheng Thom
Looking For Lorraine ~ Imani Perry
A History Of My Brief Body ~ Billy Ray Belcourt
We Are Never Meeting In Real Life ~ Samantha Irby
Freshwater ~ Awaeke Emezi
A Brief History of Seven Killings ~ Merion James
Some Of Us Did Not Die ~ June Jordan
Feminist Theory From Margin To Center ~ Bell Hooks
Boy Erased ~ Garrard Conley
Felix Ever After ~ Kacen Callender
Rubyfruit Jungle ~ Rita Mae Brown
Hunger ~ Roxane Gay
Metaphysical Dog ~ Frank Bidart
The Tradition ~ Jericho Brown
Nepantla: An Anthology Dedicated To Queer Poets Of Color ~ Christopher Soto
Further reading: https://www.racialjusticebookshelf.com/#/books 
LISTEN -- Podcasts 
Strange Fruit
Busy Being Black
Dumb Gay Politics
Making Gay History
Never Before
Queersplaining
Food 4 Thot
One From The Vaults
Come Thru Queen
The Diversity Gap
Intersectionality Matters
Code Switch
Pod Save The People
The BiCast
To L And Back: An L Word Podcast
Throwing Shade
Hoodrat to Headwrap
Cafe' Con Chisme
Dyking Out
Still Processing
The Black Umbrella
Homophilia
Black Radical Queer
Dead For Filth
Nancy
The Read
Disability After Dark
LGBTQ&A
The Ten
Queery
 See something we missed? Email us at media@empirelabs.com!