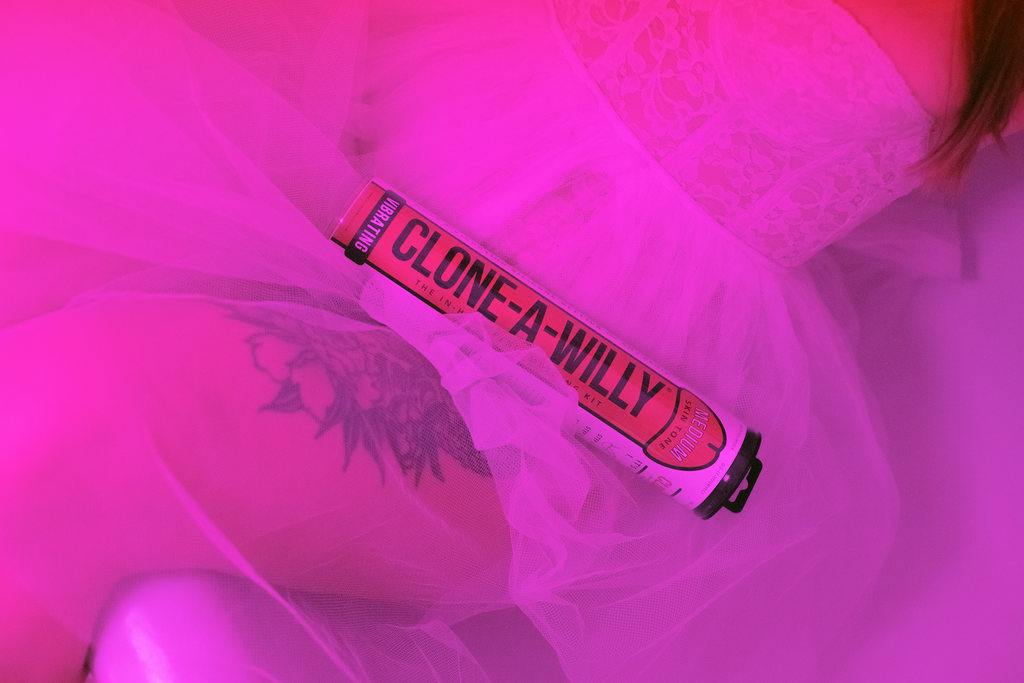 Wedding season has arrived and around every corner is another couple celebrating their upcoming nuptials! Finding the perfect gift for the bride or groom can be daunting -- the options seem endless. Fortunately, you've found yourself on our website, where the most unique (and unexpected) present is just a click away. Win the gift-giving game with the DIY Molding Kit every couple needs!  
Still undecided? Read below for why Clone-A-Willy & Clone-A-Pussy make the best gift for all wedding season celebrations!
 

You'll stand out in the crowd.
Every pre-wedding celebration tends to hit similar marks. Dancing, drinking, crying, laughing, and of course, gifts. Lots. Of. Gifts! While the bride and groom might not remember who got them a toaster ten years later, they will never (ever) forget who got them a Clone-A-Willy or Clone-A-Pussy Kit! The mix of emotions -- shock, joy, laughter, arousal, excitement, curiosity, etc. -- will set you apart from the crowd. Not only that, but you are not only gifting a DIY Molding Kit to make a high-quality sex toy, but you are also gifting a memorable experience for the newlyweds!
The couple is sex-positive.
While many of us grew up in a world where sex was considered taboo, we are finally shedding those stigmas and paving the way to sexual liberation. Sex Positivity is not only empowering; it's chic! Our DIY penis and vulva Molding Kits are self-love staples! Whether the bride and groom are dildo newbies or seasoned sex toy connoisseurs, Clone-A-Willy and Clone-A-Pussy will hit the mark. 
Our kits promote self-love & self-exploration.
Clone-A-Willy and Clone-A-Pussy are fantastic resources for self-exploration and love. It's not every day we make exact replicas of our genitals and turn them into silicone sex toys! Whether the kit is used partnered or solo, it is a life-changing experience. This might sound a bit dramatic, but the truth is that it's not every day we get to look at our parts face-to-face! All vulvas and penises are uniquely beautiful. We should love ourselves from head to toe!
You want to help get the honeymoon started early.
Why save all the fun for the wedding night? Sex helps fight stress, strengthens our immune systems, and burns calories, so it's the best wedding prep there is! Gift a Clone-A-Willy or Clone-A-Pussy Kit and inspire the fiancés to get to know each other even better before they tie the knot! 
You'll get a bang for your buck (pun intended).
Choosing a Clone-A-Willy or Clone-A-Pussy as a wedding season gift is not only affordable; It's several gifts in one! (And if you sign up for our email newsletters, we send out promo codes regularly) Dollar signs aside, our kits are memorable, aesthetic, 100% body-safe, create a high-quality sex toy, and are all around just good vibes all around! Plus, we use the highest-grade silicone, so the willy or pussy clone will last forever (just like the couple-to-be, fingers crossed).
You want to encourage something new in the bedroom.
We all know a couple that needs to spice things up. Sometimes they just need a little inspiration to try something new. Enter, Clone-A-Willy & Clone-A-Pussy! Going into a sex toy store and choosing something fun for the bedroom can be daunting for some. Our DIY Molding Kits are an approachable option for people who might not be ready for a full-on shopping spree. Our products can be shipped directly to the recipient, are packaged discreetly, and the entire process takes part in the comfort of your home! The intimate yet light-hearted experience of using a DIY Penis or Vulva Molding Kit allows the couple to connect on many levels and create space for further dialogue surrounding pleasure. 
The bride or groom often travels for work. 
If there is one thing our kits are known for, it's their ability to keep people connected no matter where they are in the world. Clone-A-Willy & Clone-A-Pussy Kits are invaluable resources for long-distance couples everywhere. So many careers and lifestyles cause people to travel for work, and our kits allow people to have a piece of one another during times of separation. Nurturing intimacy and pleasure is achievable across long distances! Facetime, zoom, or just some old fashioned phone-sex accompanied by a clone of your favorite willy or pussy can get the job done.  
You're looking for a good laugh.
When you first learn about Clone-A-Willy and Clone-A-Pussy Kits, it's natural to laugh. Most sexual things inspire laughter anyways (either due to discomfort or genuine humor). But the best part about our kits is that while some might initially perceive them as a gag gift, they are designed to create high-quality, fully custom sex toys all without leaving the house. So while you will win the gifting game in terms of humor and wit, in the end, the couple will also be able to create a one-of-a-kind sex toy they can keep forever!
The couple loves DIY craft kits.
We all know THAT couple. The artsy type who is always trying something new and then talking your ear off about it later). They've done it all, you think! But have they? Most people consider DIY crafts and sex toys two very separate things, but our kits are breaking that mold (literally). Blow the couple's minds with a Molding Kit that allows them to make an exact replica of any penis or vulva. And while our kits are designed to create a sex toy, the options are truly endless. We've had people make altars of self-love, bedazzle their replicas, and even make replicas of fruits, veggies, and action figures. Our kit can also be used to replicate a favorite dildo for double penetration! 
The couple has dropped hints that they want a kit!
We can't help that we're popular! Many future brides and grooms may already have us on their wishlist (or registry, we'd love to see that). Our DIY Molding Kits are for anyone and everyone! Although they allow for molding a penis or vulva, as we mentioned previously, they can also be used to mold other penetrable items or something not sexual at all. Most importantly, Clone-A-Willy and Clone-A-Pussy create space for individuals and couples to get to know themselves and each other better. They allow an opportunity to be vulnerable, turned on, and cry with laughter simultaneously! We are all unique and beautiful from head to toe. Clone-A-Willy and Clone-A-Pussy are indeed the gifts that keep on giving!