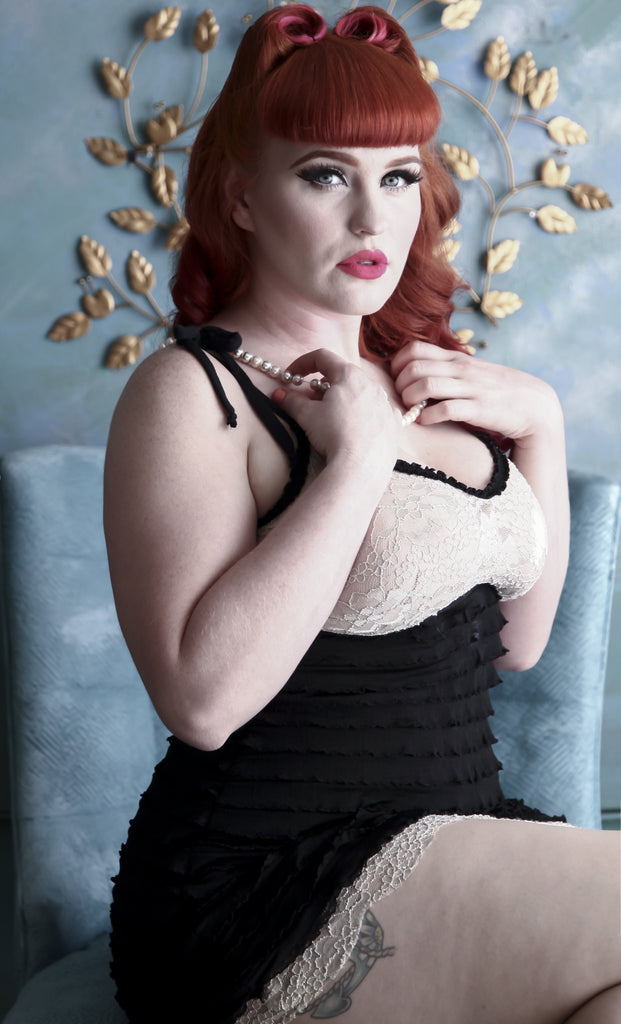 We were able to chat with Vanessa Froehling, owner of Fräulein Couture, before one of the sexiest and most interesting events takes place in Portland: Unmentionable: a Lingerie Exposition. Fräulein Couture is exclusive handmade by Froehling, who dives into evening wear, business couture and costumes in addition to lingerie. You can read more about the brand and Froehling's process below.
What inspired ​Fräulein Couture?    
Fräulein Couture was inspired after I participated in a designer challenge in Eugene, OR called Metamorphose; where designers competed to created outfits constructed from discarded/upcycled materials. I was sewing for my organic knitwear line at the time, and for one of the challenge requirements, we had to design and create an evening wear look. I decided to test my skills and design my first Trumpet style gown which took first place in that category! From then on, I was inspired to focus on a line that specialized in more intimate, couture pieces.
​How do you keep up with modern trends? Do you set them?  
For me, designing is a lot of research and mood boards. I do pay some close attention to current trends, but feel my designs resonate with more classic silhouettes that have a modern perspective to them. I try to produce statement pieces that define the wearer's self-expression. So in a way I create new trends that are unique to the individual themselves.   
What are your goals with each piece?  
Goals I set for myself with each new piece I create, is to make sure they have special details embedded within that stays true to their own uniqueness. That they're pleasing to the eye at first glance, but at a closer look they have lovely additions that make them their own.
How do you evolve in your design?   
For me, evolving my designs is always a main goal and I absolutely LOVE to create 'illusions' within them. I'd have to say my current obsession is to create 'two-in-one' looks where they have a sense of multiple layers or can transform into a completely different garment!
What is your favorite material and colors to work with?  
I wouldn't really say I have a favorite type of material as much as I would say I have a favorite 'feel' of materials! If it feels to the touch luxurious, I want to work with it. And I really enjoy textured fabrics as well. As for colors, I lean towards a lot of black and pair it with a beautiful print; usually of an abstract nature.
How do you promote body positivity within yourself and your community?   
Promoting body positivity is really important to me. As something I'm sure all of us have trouble with from time to time, it's important to celebrate each and every form. I promote this by showcasing the range of beauty throughout my portfolio, and participating in events that also focuses on body positivity.
How do you make everyone of all sizes feel sexy?  
When I'm designing a look, it's my favorite thing in the world to hear someone say "I'm feeling myself!" I can see them take on a new attitude! By creating a seam-line here, by drawing your eye over there; I want to make sure I bring focus to curves and the individual's favorite part.
What are you working on now?
Currently I'm completing my newest lingerie collection called Nightshade, that will be revealed at the Unmentionable: A Lingerie Exposition in Portland on February 8 (a fashion show that has a huge focus on body positivity).  Alongside this, I'm also working on a specialty collection called Kaleidoscope that are ready to wear garments of day to night styles for women and men. These pieces showcase a myriad of beautiful colors through different patterns and textures, and will be revealed at the Fade to Light Fashion Show (also in Portland) on February 22.
What are recent goals with your career?​
I like to set small, stepping stone goals each year with my career. Mainly this year; as being an emerging designer in the Portland area, my focus is to be involved with as many industry events for networking, and obtaining boutique accounts to have Fräulein Couture accessible throughout Oregon. Currently my designs can be purchased online at www.FrauleinCouture.com and at Anne Bocci Boutique & Gallery in the Pearl district Portland, OR.
All photos courtesy of Vanessa Froehling.