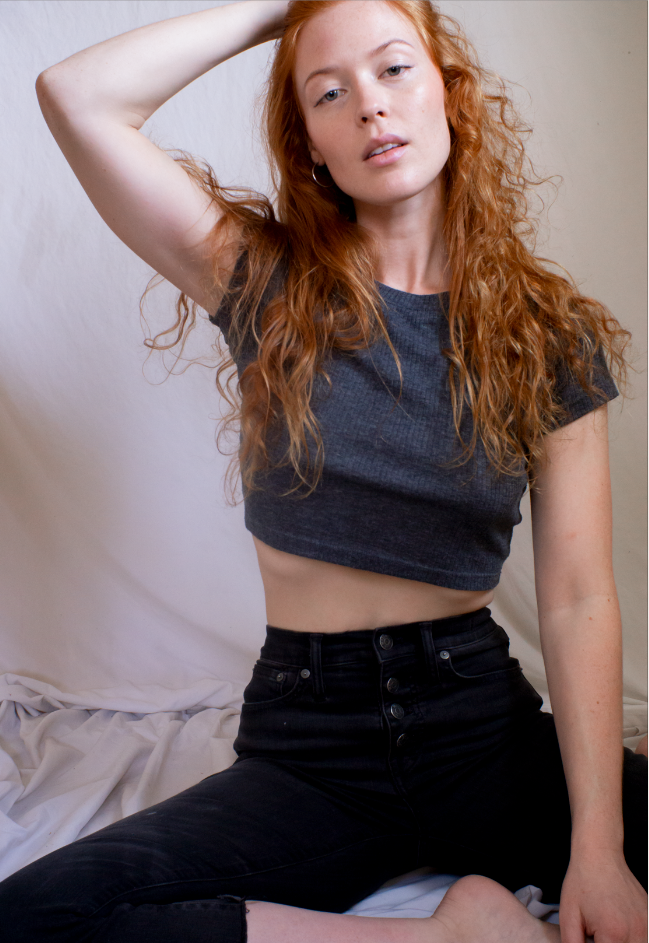 We held a virtual interview with our gal, Austin-based visual artist Alexandra Bryson, where we discussed self-pleasure through art in a time of isolation. Read on learn about how Alexandra has stayed creative through quarantine using the human form to inspire connection, and what is next in her creative journey ~
Hi, Alexandra! Thank you for your interest in our brand, and for participating in this interview with us!
Hello! Thank you so much for taking an interest in my art. I am a huge supporter of your brand, and your sex and body-positive message. Thank you for having me.
We love your drawings and eye for the human form. What inspired you to start drawing bodies, and what do you love most about that as your subject?
Thank you so much. I have been inspired by many different subjects artistically, but the human form in particular has been a passion of mine for many reasons. Mainly, it comes from a place of connection. I think we as humans have become very disconnected from our bodies in many ways, especially our physical forms—with technology, social media, and how much time most of us spend working to survive, I think it's very easy for us to live outside of our bodies and become completely immersed in what is going on externally. I love creating pieces that highlight the movement, shape, and pure emotion that we hold in our physical form. I think it makes me feel so much more connected to my own body, and I hope it helps others to do the same. We hold so much in our bodies, and it is so vulnerable to be open and connected with your physical form. 
What is your favorite art medium, and why?
I enjoy using many different mediums when creating, but my favorite mediums are watercolor and charcoal. I enjoy watercolor because it is very delicate, and the colors are very subtle—I think it can really illustrate the human body beautifully. Charcoal is also incredible for illustrating the human body, but in a different way. With charcoal I can really depict movement, and I feel very connected to my canvas when using that medium because I use my hands a lot for blending. Feeling a connection with my art while I'm creating is very important to me.
Do you find that studying the human form as your art subject affects your own self-image/self-acceptance?
Absolutely. There have been many events in my life that have caused me to become very detached from my own body, and have made it difficult for me to have confidence in my sense of self. Becoming connected to the human body as an art form has helped inspire so much connection with myself and my own body. I think a lot of us struggle with having confidence in our own skin, and my biggest hope in sharing my art is that it will inspire others to find a deeper connection with themselves.
Where are you currently living? How have you been able to keep your inspiration alive in quarantine?
I am currently based in Austin, Texas, and have been quarantining here in my apartment on the east side. This is where I create all of my pieces, and I find a lot of inspiration from the colors and landscape in Austin. It's so vivid, warm, and alive, even during these times. So I feel really grateful to live in a place where I can stay inspired creatively while being so isolated.
How have you been practicing self-care/self-love during these trying times? 
Art is a huge part of my self-care. I find that if I'm not being actively creative in some way, I'm really neglecting myself. So, I try to spend as much energy as I can being creative, whether that be painting, drawing, or playing music—as long as I'm practicing art in some way, I feel cared for.
Have there been any silver linings when it comes to your art projects during the Pandemic? 
I think the pandemic had a huge effect on many artists in our communities, especially musicians who rely on playing shows as a huge part of their income. I am grateful to create with a medium that can be made and sold from the comfort of my own home. I've also used my creativity to donate money to different causes during the pandemic, which has also helped me stay inspired. I find that to be a silver lining during a very dark time.
What does the future hold for you? What is next in your creative journey?
That's a great question! I just finished publishing my website, which I hope will streamline the process for prospective buyers. I am also starting to take on more commissions, which is a really fun part of being an artist—designing that perfect piece for someone through collaboration. I think it brings an entirely new element to my creativity, and also gives people a truly personal experience when collecting my art.
Our brand is all about self-exploration and admiring how unique each and every one of us is! What is your favorite thing about yourself? You can pick more than one ;)
I think my favorite thing about myself is my passion. I am very passionate about the things that I love, the values I hold close, and what I believe in—and it's this passion that gives me so much strength and motivation to create, have empathy and support for others, and fight through any obstacles I face. What is art without passion, anyway? 😊
Struggling to find inspiration in quarantine?



Follow Alexandra's tips for nourishing your soul through isolation below ~


 

Get a pen and paper, open the Notes app on your phone, sit down at your laptop, or whatever you like to take notes on.

Start by writing a list of the things in life that bring you a feeling of ultimate peace—this could be anything from taking your dog on a walk, to meditating, to diving into a really good book. What makes you feel genuinely content? What makes you feel at ease and brings your soul positive energy? Once you have a list, pick one, and make a plan. Ask yourself how much time you can dedicate to that activity weekly. It can be an hour a week, to an hour a day—don't overwhelm yourself. Be realistic with your time. However, the more energy you can put towards the things that bring you a true sense of peace, the more you will be practicing self-care, and giving your soul what it needs to thrive.


Who are the people in your life who you feel offer genuine support? In isolation, it can be easy to feel lonely, or miss the connection that you are used to having with your community. Think of ways that you can put more energy into feeding those relationships—are you someone who needs face-to-face interaction to feel connected? Make more time to Face-time your best friend. Is your love language Acts of Service? Put together a care package for someone you care about with some of their favorite things. Putting energy towards the people in your life that you care for will not only nourish your soul, it will also only further develop your relationships in a positive way, and give you that sense of true connection that we are all missing right now. 


For those who have a passion for traveling, a pandemic can bring a lot of restless energy. Try not to get discouraged—there are ways to ease that restlessness in isolation.

Being in nature can give a lot of us that satisfaction of traveling, while also being COVID safe. Download All Trails on your phone, and find a hike in your area that you've never tried. Or, if spontaneity is what you crave, hop in your car and drive until you see something worth exploring. It may not be the same as buying a plane ticket to your favorite vacation spot, but finding yourself in a new environment can be equally as thrilling, and remind you of the beauty that exists all around you. And don't forget to bring your mask :)