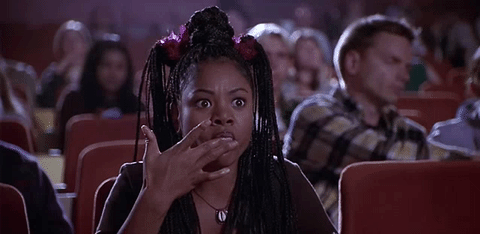 With spooky-season officially underway, it's time to start checking off that movie list!
If you're looking to spice up your movie nights, or conjure up a few new go-to flicks to add to your collection, look no further. These tried-and-true spooky gems will keep you hot, bothered, and absolutely possessed!
Practical Magic (1998)
Need a go-to witchy classic to satisfy all of your spooky-season cravings? This flick truly has it all – love, drama, a séance, tequila…and Nicole Kidman. One in grief and the other fleeing a hot summer romance gone bad, two sisters reunite in the house they grew up in—a witchy Victorian mansion in New England. Raised in a small town by their aunts who practice witchcraft, the whole town is against them, but nothing can break the bond of sisterhood—especially when one of them gets possessed by the demon of their former lover. This is one you'll be rewatching for years to come.
The Witches of Eastwick (1987)
Susan Sarandon, Michelle Pfieffer, and Cher—oh my! In this twisted love-triangle cult-classic, three small-town women who have given up on love get simultaneously swept up by the psychotic charms of Jack Nicholson. Though they could not be more different, they are brought together by the powers they form together, the confidence they find in sisterhood, and the strongest force sure to bind together any group of women—getting back at the same man.
The Craft (1996)
It's always weird to be the new girl in school, especially when you get taken in by a group of witches. In need of one more witch to complete their circle, three spell-casting goths will stop at nothing when they learn that the new girl in school has the powers to be their fourth. Take a wild ride through 90's fashion and Fairuza Balk's unparalleled hunger for power to discover what happens when four high school girls are suddenly given the witchy powers to make anything happen…
The Love Witch (2016)
There's nothing like being a single Wiccan in 1960s California with an insatiable desire for unavailable men. Elaine is a hopeless romantic, fueled by both her passion for love and the power of seduction. This sexy psychedelic low-budget horror flick will take you down a dark and twisted road of mysterious potions, cult gatherings under the moonlight, men going mad under the spell of feminine energy, and witchy burlesque–all served with a twist of feminism. Do not miss out on this gem.
Heathers (1988)
F*ck me gently with a chainsaw…this fever-dream of a cult-classic features a young and incessantly moody Winona Ryder who joins a clique of the most popular girls in school—who are all coincidentally named Heather. Blinded by the thrills of popularity, she soon realizes the trap she has walked into…until she meets a deviously handsome but probably sociopathic Christian Slater, who becomes enthralled in freeing her from her Heather prison. Take a deep dive this spooky season in a world of evil blondes, plaid skirts, step-ford parents, and maniacal croquette.