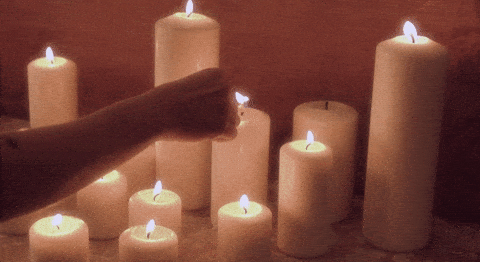 Setting the mood doesn't have to be complicated, but spending time to create an ideal atmosphere for intimacy is an important task to keeping a spark alive. 
Sex experts found that being intentional and setting up an environment is a great way to prompt intimacy. Folks in long-term relationships have reported higher sexual satisfaction when they have spent time creating an atmosphere that encourages intimate moments. 
In general, setting the mood is an act on its own that shows compassion and consideration for your partner. Putting in effort to show that you care about their needs and are turned on when they're turned on is hot as hell. 
While this can look different for everyone, there are many ways to explore so we'll narrow it down by suggesting what to do in the thick of summer. Here are a few ideas to get you started: 
Curate a sultry playlist, and pay attention to the cadence of the mix. You could build something wonderful up through a sonic climax or two. 
Take advantage of and enjoy the gorgeous natural light from summer sunrises and sunsets together, whether that involves quiet and secluded nature or a bright spot in your residence. 
Hone in on something special your partner enjoys this time of year and plan a thoughtful date around that. 
Lastly, two things you can do year-round: emphasize connection and put the tech away. 
We are on Instagram, TikTok, and Twitter, sharing giveaways and announcing big sales from time to time. Follow us to stay informed. 🌸