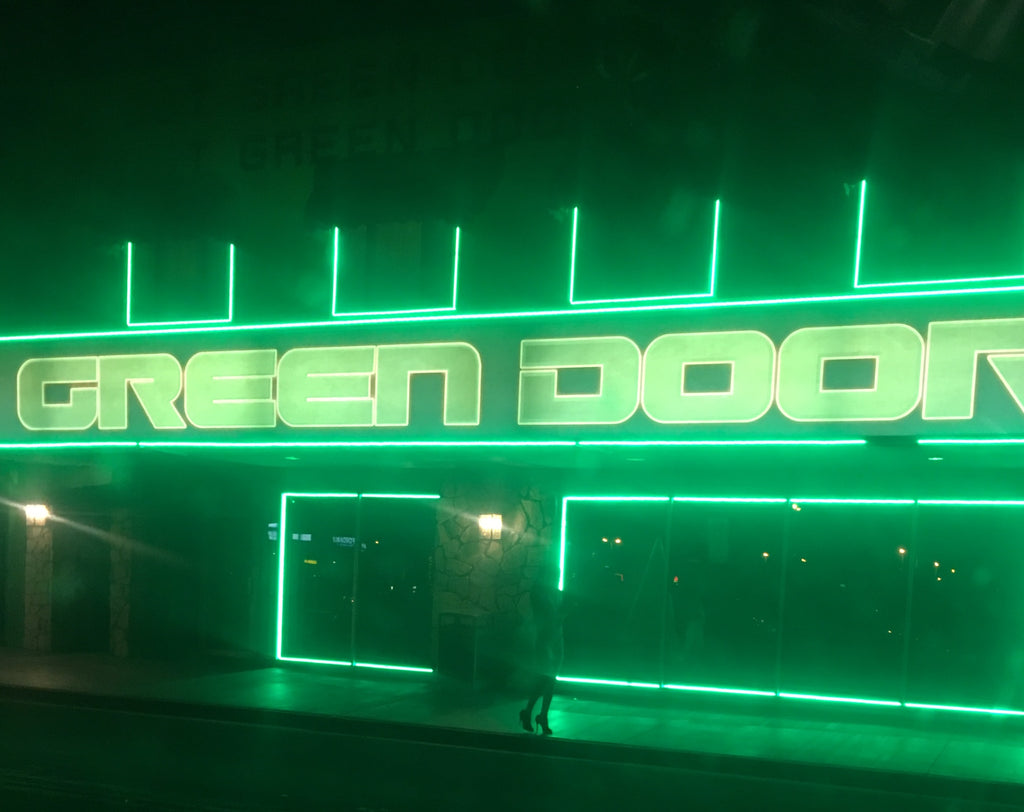 The Green Door is a sex club, tucked away in a strange shopping center off of the Strip in Las Vegas. It's been quoted as a place tourists go for "instant sex" . The website boasts that it is known worldwide for their swinger parties. I found myself staring at the entrance on a Friday night. I was alone, curious and wanting to finally experience it on my own.
When I arrived, I realized I had gone too early. The doorman suggested I have a drink for me and for him, so I did. There's a former western saloon-turned-gay-bar next door. I swung the doors open and strut towards the bar to a Shania Twain pop hit. The bar was filled with characters whose faces I'd never forget.
The bartender asked to see my identification and I happily showed him.
"I knew you were young. We're the same age!"
I told him that all we had left was our youth, and slid my gin and tonic down the bar to an empty barstool. I sat alone for a few moments before a drag queen took the empty seat next to me. We talked for a few hours before I admitted that I was on a mission that night and needed to go and do that.
I re-entered the club this time with confidence from my drink. To accurately describe the Green Door would be to describe a maze. Imagine never ending hallways, lined from floor to ceiling with neon and black light accents. Thongs signed by porn stars are framed and hanging in gateways to play rooms. I remember seeing all of the empty beds and feeling more like I was in a furniture store. I sat on a loveseat sandwiched between semi-private rooms, calculating my next step.
"Can I come sit by you?"
A man came over, I nodded and made room. We talked about his experiences at the club and my lack of experiences in sex clubs. He told me about the few uncomfortable times he had in the club when the couples he would play with weren't communicating. Things went sour and they would leave in a rush, with the woman often slapping the man "back in his place". His storytelling barely floated over the sounds coming from the private rooms around us. A crowd gathered near the curtains. The couple had a chain up, blocking the entrance and representing that it's okay to watch, but not to join in. I tuned out of our conversation and into the woman moaning. I wondered how much I could dive into all of this. I hadn't been tempted to even flirt beyond what I was doing now.
Once I tuned back into our conversation, someone else interrupted.
"You are being requested in the jacuzzi."
We looked at each other for a moment without words. He told me that he'd rather just hang out with me, but I urged him to take care of business. I told him that I'd find him.  think we both knew that wouldn't happen. I wandered around the other rooms and eventually became bored. I decided it wasn't my night, but I also decided that I wouldn't give up on it.
So I went back.
This time, it was a weekday night and I knew there would be a different scene. I wanted to see the person I met the first time. I wanted to see what that interaction could turn into. I walked straight away to the steam room. On the way there, I passed him serendipitously. He walked into the steam room a few moments after me, and we were the only ones there. I remember thinking how strange it is that a space can completely define your relationship with someone else. He spoke first. I was intent on listening.
"Where were we?"