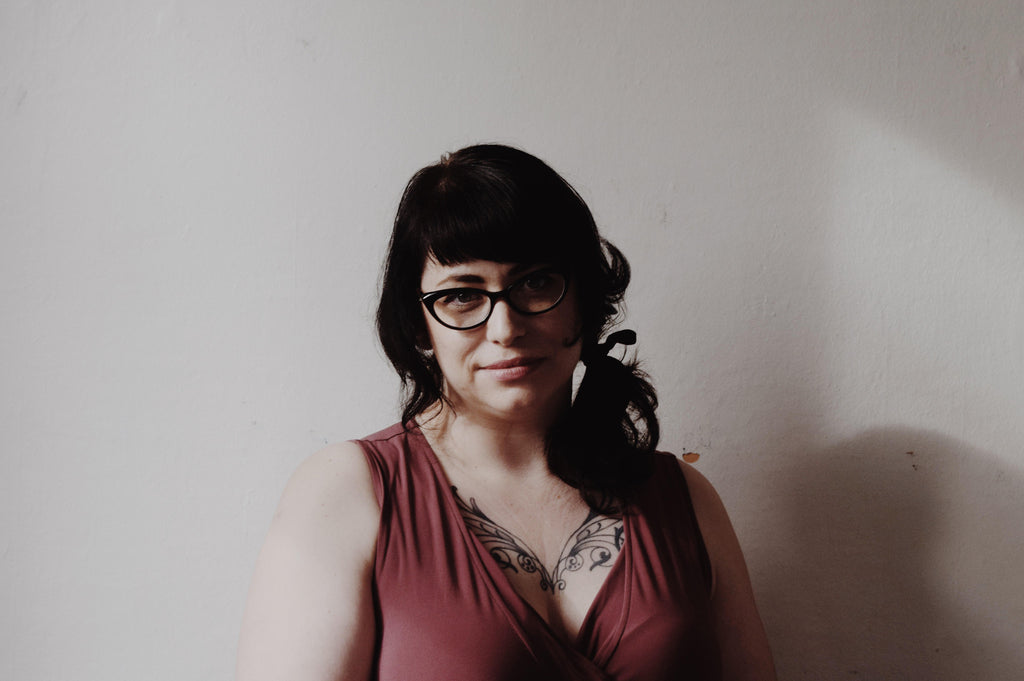 Stella Harris is a Portland-based sex and intimacy coach who stays busy engaging the local community and traveling far and wide to gain and share knowledge concerning sexological anatomy, hands-on bodywork, healing sexual trauma, erotic energy cultivation, and so much more. We had the chance to find out more about her practice and her general perspective. Read the interview below.
How did you begin and sustain yourself in this career as a sex and intimacy coach?
I think sustaining myself is still something I'm striving for. It's hardly a stable career - but it's one I'm passionate about and determined to make work.
As for where I began, that's a matter of what you want to count from. As early as 13 years old I had to teach my grandmother genital anatomy (when she said I'd break my hymen with a tampon) and I realized that this was information people didn't know. I studied sex and gender as part of my Sociology degree in college, and then took a long detour into a different career before coming back around to sexuality. I started by publishing erotica, and then teaching in the kink & BDSM community. Then I received more training and began teaching general sex ed as well as offering private coaching.
What's the best part of your job?
I love that people trust me with their most intimate and vulnerable selves. And I absolutely love being present for someone's 'ah-ha' moment when something finally clicks for them, and they begin experiencing the sex or sexual expression they've been craving.
How much do you worry about this occupation being problematic if you are single and in the dating scene?
It can be tricky, for sure. Deciding what to say about my job is the most frequent thing I change on dating profiles. People can get the wrong idea pretty quickly and it also makes folks a lot more likely to send sexually explicit messages to me right away, which is not what I'm usually looking for. Some people also seem to find dating a sex educator intimidating, and that can be frustrating to push through.
How do you begin to build trust with complete strangers?
I'm looking for a lot of cues when I meet someone new. Both what they say and how they act, and also how they have various conversations. How willing are they to have a safer sex talk? Does that seem like something they do on a regular basis? Do they seem nervous or offended when I ask? How they have that conversation is as important as what they say.
How important in sexual chemistry in a long term relationship?
Absolutely vital. Unless the members of the relationship negotiate to have a companionate partnership, and are in an open relationship, I think sexual compatibility is one of the most important elements of a relationship being satisfying over the long term.
In your personal opinion, are we becoming more open sexually as a country?
I think so, but it's a slow process. And sometimes it looks like one step forward, two steps back. At least in terms of laws, we've certainly seen some backlash.
But you are seeing things like kink and polyamory starting to hit the mainstream, and colleges have started hosting "sex weeks" in the last few years, getting a broader range of information to students, so I do think things are changing.
Also, young folks seem to have a much more flexible and inclusive view of gender, and I'm excited to see how that will change the culture as those folks grow up and move into positions of power.
What are your favorite subjects to teach?
I love it all, really. There's so much valuable information to share with people I don't like to limit myself to one or two topics. Probably my most popular class is Mapping the Vulva, which has a couple different versions. Sometimes I teach it with a live demo and sometimes I demonstrate touch on sex toys.
What does the future of sex education in public schools look like?
I'm not very optimistic for the next few years. Beyond that, I really hope we start seeing some major changes. Abstinence only education has been a nightmare, and eventually I hope there's enough of a tide shift that young people can get the information they need to make safe, healthy, and informed choices.
How do you think mainstream porn influences cis - gendered, heterosexual males' sexual priorities and expectations?
Well, I can't speak from the male perspective, but from what clients tell me I hear that porn can lead to unrealistic expectations for how men are expected to perform. Porn can make it look like cis-men get erections on demand, and that those erections always last as long as you want them to. That's simply not the case. Bodies can be unpredictable and don't always do what we'd like.
I think porn can be a great way to explore new fantasies or sex acts, especially if you seek out ethically produced porn, but it should replace other sources of information about sex and sexuality.
What are you involved with now?
I'm doing more speaking at universities and conferences and I'm very interested in helping train other professionals, such as therapists and doctors.
I have two conferences coming up in April - one in Vancouver BC aimed at sexuality professionals and one for people interested in Kink & BDSM. At the sexuality conference I'm speaking on a panel about the intersections of polyamory and mental health, as well as doing a 3 hour workshop on battling imposter syndrome. For KinkFest here in Portland, I'm teaching their etiquette and orientation class as well as my communication class and my class on pegging.
What are some new projects you have been working on?
I've got a guide to rope bondage coming out soon, that will be a companion to my classes and private lessons. When that's done, I'm eager to start some other, longer, writing projects.
Find out more information about Stella Harris HERE!