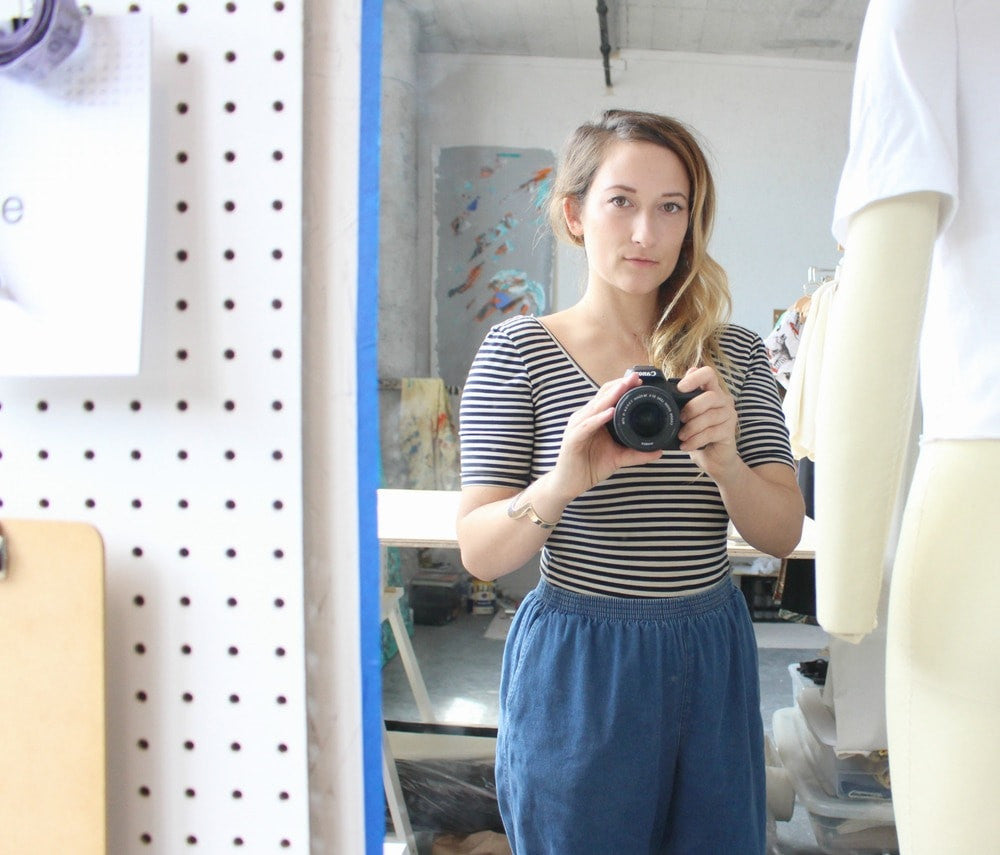 Photo credit: Laurs Kemp
Laurs Kemp is an up and coming Portland-based designer, creating the most flattering basics, dreamy one-offs, all inspired by cinema and the female gaze. We got a chance to ask her about her artistic process, her perception of fashion, the local landscape, body positivity and so many things in between.
How did you start your business?
After studying fashion merchandising at college and working several basic retail jobs, I continuously made one-off pieces made mostly of vintage materials and sold them online. I finally decided to take a leap and try to design full-time. I worked out of my home at first and relied mainly on Instagram and Etsy. Katie Freedle of the Portland shop Backtalk asked if I wanted to be the designer-in-residence at her shop for a year and that helped me tremendously to develop my line and get the word out. Now, I have a studio space and sell mostly through my website, Garmentory, local pop-ups and a few select shops. I still feel like a newbie in many ways though. I'm constantly learning.
Many of the forms in your apparel are incredibly complimentary to all body types. How did you hone in this?
There's just something effortless about "loungewear" pieces that I've always gravitated toward. Every body shape looks gorgeous in a kimono-style jacket or oversized shirt, plus you're secretly comfortable! I pretty much want to dress everyone like they're on their way to a Soho art opening in 1979!
Photo credit: Aaron Levy
Can you elaborate on your "Rohmer Series"? Where were you when you created the first garment? How has the series been received? What has it inspired? Etc.
The Rohmer series allows me to combine my love of repurposing vintage, embroidery, and film - specifically the films of the French director, Eric Rohmer. Each embroidered "pose" from the series is inspired from a still of an Eric Rohmer film. He is one of my favorite directors and one of my go-to inspirations for my entire line! I started by posting a few vintage silk blouses with these embroidered poses on Instagram several months ago, and I am so thrilled at the positive response I've received! It even lead to a collaboration with Goodwin, an online concept shop comprised entirely of exclusive pieces by independent designers.
Photo credit: Laurs Kemp
What do you think of specifically when you imagine the "female gaze"?
In a nutshell, everything since time immemorial has been filtered through the the Patriarchy and Male Gaze, without much thought for anyone other than straight white men. I'm not sure if the "Female Gaze" is an academic term, but I like to use it as shorthand for how I seek out inspiration, collaborate, design and generally interact with the world. For me, it's the idea of women re-appropriating and celebrating their ideas, endeavors, bodies, and sexuality on their own terms, independent of preconstructed Patriarchal norms. (Phew!)
Photo credit: Alexis Paschal
What are the struggles and advantages of being a female business owner?
Of course, I experience some of the same stigmas as any woman (regarding healthcare and so on) as well as categorically unfair privileges in other areas, so I will say overall I am beyond lucky that I have found being a female business owner to be my absolute pleasure. The community of Portland and the online community by and large have been so encouraging and inspiring. Because of all those that have gone before me and paved the way, I have for the most part been able to receive nothing by support and friendship. I hope I can give some of that back to others who are just starting out.
Photo credit: Laurs Kemp
What do you expect from the future of Portland's fashion scene?
Portland's fashion scene has such a rare atmosphere of collaboration and encouragement. It is becoming more diverse, high-concept and sustainable all the time! I simply hope for more! More makers, more shops, more events!
What are you most inspired by right now, specifically?
Right now, I'm really into still life paintings by Dutch masters, blurry amateur photograph, monochromatic outfits, artists in their studios, and Geoffrey Beene. And about a hundred movies. The best way to see what I'm watching is to follow my Mubi account, where I archive and rate everything I watch, or my personal film journal on Instagram, @_staircasewit.
Photo credit: Christopher Garcia Valle
How do you balance professional and personal life?
I always plan on setting aside "work hours" like a proper grown-up, but I find myself somewhere between listening to tons of podcasts at the studio and watching movies while I answer emails at home. A bit of work and a bit of play at the same time all day long. I'm sure I will have to buckle down and make schedules down the road but right now I am trying to give myself plenty of time off - especially during those rare sunny days in Portland. Basically, I'm a bad Capitalist. I'm fine with my business progressing at a glacial pace. I'm very happy where I am.
What is your process in creating new work?
I'm mostly motivated to create new work not by the traditional fashion calendar, but by collaborating on a project with another local artist, maker, or model. We'll plan a concept for a photoshoot, video or runway show and I'll make a few new pieces in respect to that concept or medium. Then, I will make a small batch of that new style and sell it until the fabric simply runs out. Films are my main source of inspiration as well. I try to watch at least one film per day.
 
Photo credit: Alexis Paschal
Photo credit: Laurs Kemp
Top five films right now?
Always a tricky questions because it changes constantly, but here are the five films I would choose right now if I were curating a film series where the only theme is that I want the world to appreciate these hidden gems as much as I do.
1) Chameleon Street (1989) by Wendell B. Harris, Jr.
2) Variety (1983) by Bette Gordon
3) Sherman's March (1986) by Ross McElwee
4) Night Moves (1975) by Arthur Penn
5) Design for Living (1933) by Ernst Lubitsch
Can you talk about your most recent collaborations with local artists, makers, and/or models?
One of my goals this year was to do a lot more photoshoots. I'm trying to break away from the idea that I have to do photoshoots in this traditionally professional way with a brand new collection. I think being an "amateur" is a highly underrated concept. I want to be an amateur as long as possible and just meet up with people I admire and make something with them!
For one of the shoots, I asked performance artist/dancer Allie Hankins to wear some of my clothing while performing some improvisational pieces in the Rose Test Garden and in her studio while I took a stab at photography and videography alongside Jessica Clemens, another local photographer/stylist I admire. I love seeing how the same clothes can look completely different with you have a different model, photographer and concept! Plus the shoot itself is always so fun and inspiring!
Photo credit: Laurs Kemp
Find more information about Laurs Kemp and her incredible work here:
https://www.instagram.com/laurskemp/
Save
Save