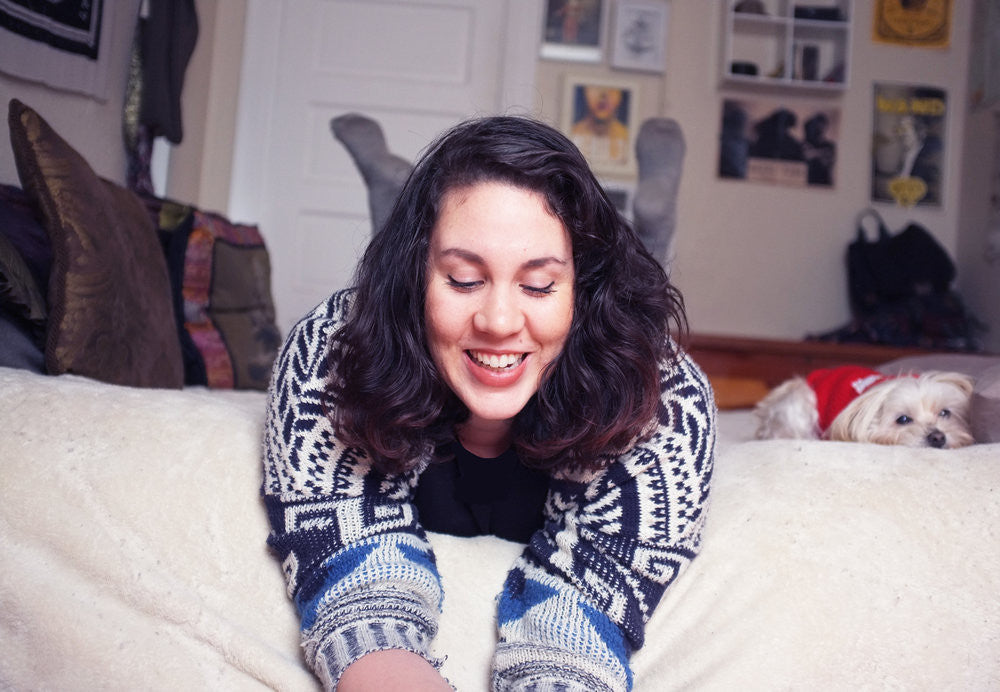 Photo credit: Akila Fields
Meggyn Pomerleau is a graphic designer, illustrator and blogger based in Portland, Oregon. She's designed shelves full of books. She's illustrated tons of printed books and zines. She's written and photographed hundreds of shows. She founded and manages the media collective FOUND. During the few spare moments she's had left to breathe, we caught up with the local creative to discuss her recent projects involving body and sex positivity.  
What inspired your recent projects, the Post-Structuralist Vulva coloring book and the Beard coloring book?
I was prompted by Microcosm Publishing to fully dive into illustrating what I love- BEARDS! I talked about them so much that, embarrassingly enough, they thought something good could come out of it. They came up with the brilliant idea for combining post-structuralism and vulvas upon hearing about the Cunt Coloring book maybe going out of print. Shortly after that, I dedicated my life for the next year or so to scribbling as many ideas as I could. Some were more far-fetched than others. I'm still very happy with the outcome and where it's lead me.
from the
Post-Structuralist Vulva coloring book
How do you promote body positivity within yourself and your community?
I think that acknowledging there are more beautiful body types than your standard skinny, muscular, fit, what-have-you body.
Every body is different, and once you understand that the media isn't accurate on what is beautiful, you are in complete control of your own insecurities.
It took me a long time to realize that, and I am still figuring things out. I love that my books promote the diverse imagery of beauty and hope that more people can pick up on that.
What were the last ideas you scribbled - digitally or on a piece of paper?
​I recently had tea and learned more about Mizuba for my online publication Found.
I scribbled details about Lauren, the owner, and her history, story, and approach to matcha.
What motivates you right now? Latest inspirations?
​I'm motivated by small businesses and stories about connecting to community.
Portland is a large hub of craft and I am constantly being inspired by everyone around me. ​
What are you working on now? What are recent goals with your career?​
I'm focusing more on nonprofit things and sketching politically, but sometimes I am way too overwhelmed with how much great illustrations are out there in response to the current political and social climate. I'm still photographing at shows and tip toeing in music journalism. Just like everyone says, I'm not active enough.
Some current career goals include designing an unifying typeface, integrating community with user experience, and honing in on my technical illustration craft.
What would you like to see happen in the Portland community that you haven't seen yet?
​I want to see more people stepping out of their comfort zone and connecting with each other. It's really easy to get locked in the idea that the rain is terrible and staying in the best option. The weather here is mild and the people that live here are amazing.
Go outside, meet someone new, and create stories together.
Save
Save
Save