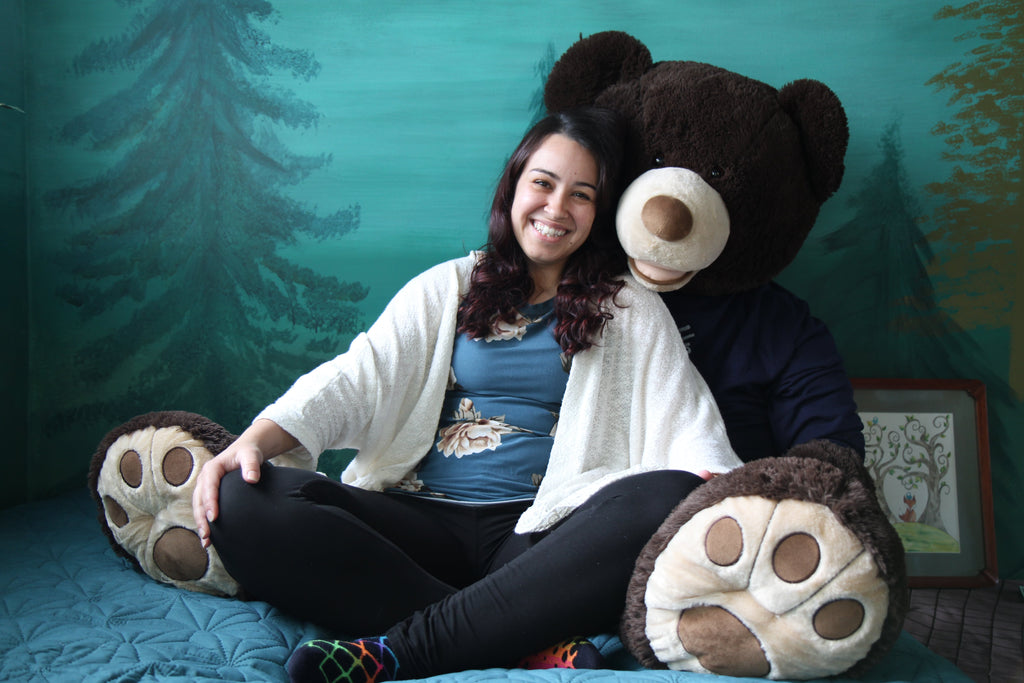 Samantha Hess, owner and founder of Cuddle Up to Me in the forest-themed cuddle room.
I recently met up with the ever-delightful Samantha Hess, founder of the Portland-based Cuddle Up to Me, to talk with her about touch, healing, and what she calls "massage for the mind." She invited me to to visit her studio space in NE Portland, and showed me around five cozy, themed rooms and the group room.
"I have the worst business model," she joked, all smiles. "My goal is to get people to a healthy place, the place they want to be, so they don't need me anymore." She says that for many people who come to her, this is their first experience with healthy platonic touch. "The vulnerability this creates is what I'm really interested in," she says.
Tell me more about your clients… how are they finding you?
We definitely don't have any trouble getting clients! We've had a lot of great press since we've opened. There are so many people who need touch for all kinds of reasons. There are people who come seeking healing around sexuality and it's possible for this to help, but ultimately that's not what we do.
It seems like your work is kind of like therapy.
Definitely. I see my work as creating a safe foundation for people to grow their worlds through touch. I help people understand how to be safe, and how to access consent and what language to use. It's a form of self care for some people.
That makes so much sense. Just like people go for massage.
But it's so different than massage! It's really different with each cuddler and they come to each of us for different experiences. Some want to fall asleep together. Clients who come to see me actually do a lot of talking. It's like massage for the mind!
Your business has a lot to do with learning healthy consent and boundaries. Do you have any thoughts you'd like to share about the recent rise of the #metoo on social media? Have you encountered anyone coming in for healing these kinds of traumatic experiences?
Well, I wrote a blog sharing my own experience, which I think wasn't even that bad compared to some others'. People do come to me with stories like this. My approach isn't centered around fixing it. With these clients, we often start our work without us touching at all. We work over many sessions to get to a point where they feel safe with touch.
How long are most of your clients seeing you?
It's a baseline average of 40 hours for most people to access that emotional healing.
How does someone become a cuddler?
I put all my employees through a 40 hour training and certification program that covers everything from cuddle positions to consent. And I send every cuddler I hire to Cuddle Sanctuary in LA for additional training.
How do you feel about other businesses like yours?
Several other cuddling businesses have opened since I started. I mean, I wish them well as long as they are operating in a way that's safe for people. But for me, this this is my life's work. No one else can do it exactly like me.
For more info visit cuddleuptome.com.