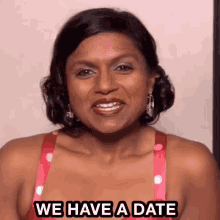 It's 2021 and we're still staying home! Does quarantine have you missing those spontaneous date nights with your SO? Yeah, us too. COVID may have made it difficult to keep the romance alive, but don't let social distancing create distance between you and your partner. Here are 10 date night ideas for when you want to have fun, but also be safe—and heat things up, of course!
Get cozy at the drive-in
In a way, drive-ins have always been socially distanced, so it's the perfect way to have fun while still being safe. Find a drive-in theater near you, pack the movie snacks, and throw on those sweatpants. It's time to get cozy! And don't forget, you're in the privacy of your own car. So it's time to finally fulfill that fantasy of having an epic movie-length make out sesh!
Go here to find a drive-in theater in your area.
Stay in and get creative
Take a night to lay off the Netflix and get creative with your SO. Always wanted to try pottery? Get some air dry clay and make some pinch pots together. Have some bare space on your walls? Bring your different artistic styles together and collaborate on a painting. Or, if you're looking to spice things up, get naked, touch each other, and make a sex canvas or DIY dildo with a Clone-A-Willy molding kit. Crafts aren't just for kids. 
Go on an adult picnic
Parks are a great place to be during a pandemic, because you still get the feeling of being out in the world without having to worry about coming within 6 feet of anyone. Bring a big blanket, a Bluetooth speaker, and pack your favorite snacks—oh, and don't forget the wine! Things getting chilly where you live? Great—cold weather only gives us more of a reason to get ~closer~. Bring some extra blankets, dress warm, and cuddle up. Use this time to reminisce about your favorite date nights before quarantine, and dream about what you'll do when things open back up again!
Have a spa night
Stock up on the massage oil and face masks, and have a spa night with your honey. Put on relaxing music, light some candles, and sip on some champagne while you give each other massages, facials, and lounge in your bathrobes. You can even create a menu that you can each pick from, creating a real spa experience without having to leave the house. Not only is this the ultimate foreplay, it's also the perfect way to de-stress from 2020!
Plan a (sexy) scavenger hunt
Scavenger hunts can be fun for adults, too! Choose as many items as you want to hide, and number them in the order you want them to be found. Make a note for each item with their corresponding number, and start by handing your partner note #1. Each note should have a clue for where to find the next one—but don't make it too easy! Spice things up by hiding things like lingerie or a sex toy, and reward them with a prize at the end.
Recreate your favorite sex scenes
Blue is the Warmest Color, anyone? We all have those movies with a sex scene that really gets us going—and for all you know, it gets your partner going too. Press play on one of your favorites, fast-forward to the good part, and find new ways to role-play by re-enacting the scene together. And don't take yourself too seriously—you don't have to be a great actor to have great sex. 
Have a photo shoot
Having a photo shoot with your SO is a great way to see them through a different lens—literally! Put on something cute, turn on that portrait mode, and take turns capturing each other. Turn up the heat and put on some lingerie—or just skip the clothes altogether. You can never have too many photos in your spank bank!
Make a fort
Sitting in the same house night after night gets old. And with everything closed, sometimes you have to get creative and change the scenery to keep things fresh! Gather all the blankets, sheets, and pillows you have, and build a fort in your living room. Throw some twinkle lights in there to set a ~vibe~, and cozy up to your SO in your homemade fortress. Who knows, maybe your new surroundings will unveil some secret fantasies!
Play some strip poker
You don't need Vegas to play poker and see strippers. Get a deck of cards and play a game of strip poker with your boo! Don't know how to play poker? Make any card game into strip poker by simply adding in a rule that whoever loses that round has to also lose an article of clothing. Trust me—you won't be worrying about the cards very long!
Get wet
Save water, shower together! Having a date night with your main squeeze doesn't have to take a lot of planning. It can be as simple as turning on the water, losing the clothes, and turning up the heat. Make your shower or bath more intimate by scrubbing each other's backs, or washing each other's hair. And who knows, maybe that will lead to some mind-blowing shower sex—you can still get dirty while you get clean!