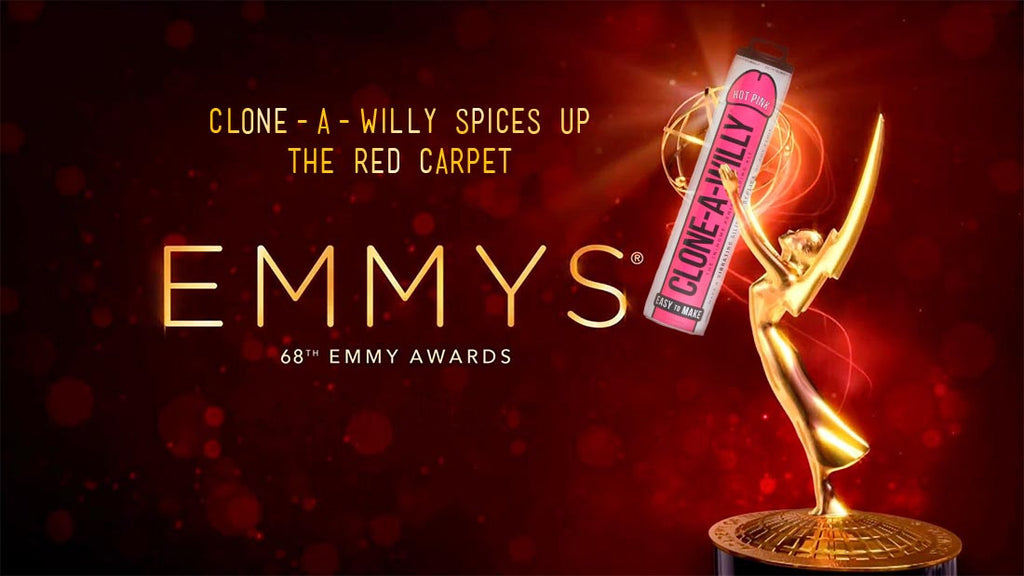 We had the honor of spending last weekend handing our kits out to some of TV's grooviest stars. Congrats on all the Emmys that went out! Maybe they can make a copy of their awards in neon silicone with our kits! #keepitcrafty
Broad City's Arturo Castro paid Clone-A-Willy a visit during this weekend's Red Carpet Gifting Suite! We made sure to send him off with Clone-A-Pussy kits for our favorite ladies, stars and creators of the show, Abbi Jacobson and Ilana Glazer.
We helped get Joe Keery, of everyone's favorite new show Stranger Things, pumped for the second season with some crafty kits from yours truly!
We were especially charmed by X-men & The Good Wife star Alan Cummings, who we hope put our kit to chic and theatrical use at his home in NYC.
Brad Garrett had plenty of jokes to crack about our Clone-A-Pussy kit. However, we know the Everybody Loves Raymond & Finding Nemo star has BIG plans for his kit.
No one understood us quite like adult film star Ron Jeremy, who we will be seeing again (fingers crossed) at the January XBIZ Awards!
Emmy Nominated Master of None & painfully funny Tim and Eric star Eric Wareheim paid us a visit! #fangirlsforever
Breaking Bad's "Tuco Salamanca" (Raymond Cruz) kept his enthusiasm under control while we explained to him how exactly our product could mold his penis. Please don't kill us.
Bridesmaids hunk Chris O'Dowd brought the style with his periwinkle blue lounge shirt and shades. That glow in the dark kit is going to make a lucky lady very happy.
Game of Throne's Staz Nair was extremely stoked for a Dothraki, gathering up his Clone-A-Willy and Clone-A-Pussy gifts with pure joy along side his #megababe girlfriend Klara Vernier.
Disney & Nickelodeon star Drake Bell did his best not to run away in a full sprint as soon as he saw the colorful penis molding kits we were slanging. It's going to be okay Drake, you have a penis too.
50 First Dates, Lilo & Stick, and Cat & The Hat actress Amy Hill brought nothing but good vibes to the Emmy gifting suite! We hope she puts her kit to some good use.
We were stoked to see our good friend and Hole's star Khleo Thomas! He always brings the swagger.
It was an honor to chat with the creators of the Emmy Nominated show Stranger Things! Matt & Ross Duffer were two breaths of fresh air. We can't wait to see what they come up with next!
We got a total throwback with Half Baked and The Craft star Rachel True. We will get witchy with her any day. Our Clone-A-Pussy kit is basically magic anyways.
We had quite the chuckle with the charming W. Earl Brown, star of the Emmy Nominate shows Deadwood and True Detective.
Transformers & UnREAL star Josh Kelly reacted to our product like most people do, shocked and on on the verge of a boner.
Save
Save
Save
Save
Save
Save
Save
Save
Save
Save
Save
Save
Save
Save
Save