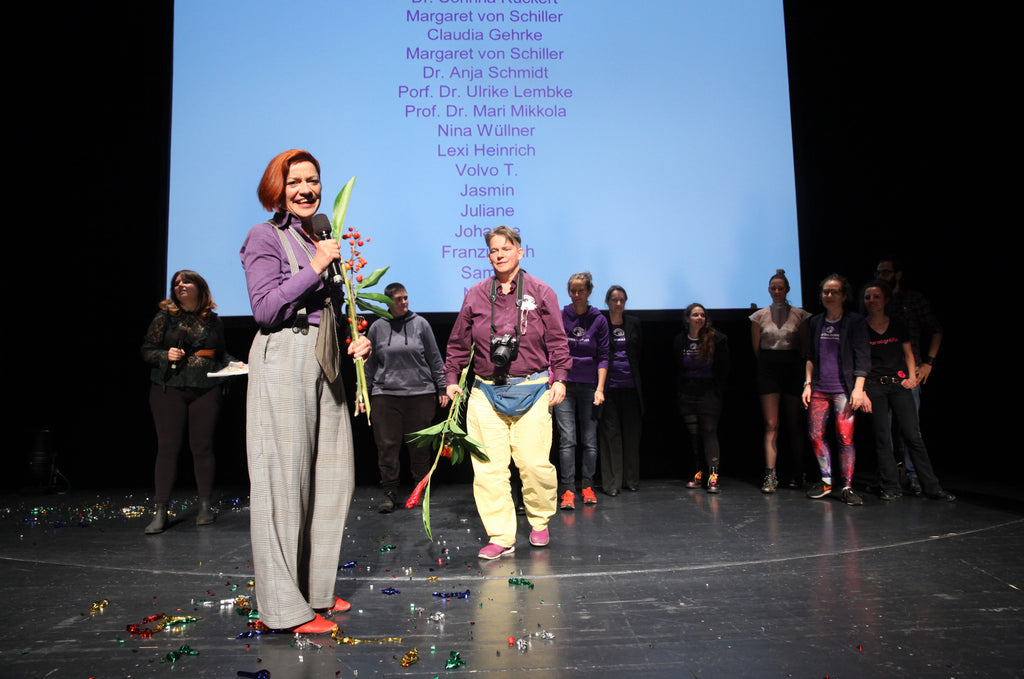 Photo of 2017's award ceremony courtesy of: Hebbel am Ufer Berlin
We were met with vulvaric greetings and talked with Laura Meritt, a sexpert with a doctorate in communication sciences, shop owner of Sexklusivitäten, a Berlin sex shop for women in, and cofounder of the PorYes European feminist porn film awards.
Since 2009, PorYes has been hosting workshops and lectures as well as awarding erotic filmmakers with sparkling oysters.
Jizz Lee at the 2015 PorYes. Photo credit: Lothar Schulz
Clone-a-Willy: What is the story behind the beginning of PorYes, aside from finding a positive move forward from the sexist, mainstream pornography?
Laura Meritt: PorYes was founded in 2009 to raise awareness of the sex-positive feminist movement, which [has] actually already [existed] since the '60s. There are really clear criteria for [the] feminist porn, like diversity, consent and [fairness] which we want to mediate apart from pornography as well. An important request of the sex-positive movement is to question what we love, what turns us on, [and] why without any alternative. It is about breaking open the conditioning of the pleasure.
Education is a task of feminist porn too. Female ejaculation, safer sex, communication and even basic information on what we call 'pleasure organs'. The whole sexual anatomy is still not taught, so many people have no idea what they could all do with it. Lustful sexuality is not explained; the so- called education still predominantly refers to the mediation of knowledge for reproduction. This silence to lustful sexuality in the middle of society contributes to the importance highness of the mainstream pornography in this area. We want to change that!
Clone-a-Willy: How do you choose jury members as well as speakers for the panels?
Meritt: The jury is a group of feminists from different backgrounds and [age ranges]. Our Chairwoman matronizing the award is Ula Stöckl, a national film prize recipient and the first German feminist film maker. [Stöck is] currently a professor in Orlando (USA). The publisher, Claudia Gehrke, is a pioneer of female lust. [Gehrke is] the first German publisher to publicize sexuality and credit women with a particular status. Corinna Rückert did her doctorate on women's pornography and is a well-known erotic writer. Margaret von Schiller, as a former program coordinator at the Berlinale Panorama, continues her engagement for the perspective of women in film. [I am]  a sexpert and sex positive feminist, supporting knowledge and exchange about sex, politics and gender.
Clone-a-Willy: How were the films for this year's screenings chosen? What are you most excited about with these particular choices?
Meritt: We pay attention to a mixture of diverse cultures and generations to continue the sex positive story of pornography. The filmmaker María Llopis is from Spain. In the beginning of the 2000's, [Llopis] co-founded the feminist collective, "Girls who like Porn". Dorrie Lane is a nominee from San Francisco; she invented a vulva pillow [demonstrate to] her daughter what the vulva looks like. [Lane] made inspiring films for masturbation. Ms Naughty is from Australia [and] focuses especially on hetero people, [relieves] men from performance pressure and reveals a wide range of variety for all sexes. We have two black activists from Berlin on board: Sky Deep, who processed the history of her ancestors, in a vampire movie. Bishop Black breaks down gender boundaries with a lot of humor. The diversity shows feminism is for everyone. Feminism is not just sexy and not just for women. There are a lot of feminismen. They can compliment each other perfectly.
Clone-a-Willy: Highlights from past years' parties?
Meritt: Our "Freudenflussteam" always animates in the most delightful ways and comes up with a lot of lovely ideas. The concept is you are the stage! This means that everyone can perform a sexperiment joyfully. In this way, unexpected performances happen, which, in addition to some planned ones, create great enthusiasm. From there, a pussy ballet or a moaning choir might appear, in which everyone can participate. A darkroom behind a lit wall allows [audience members] to witness shadow games. The pole-dance-bar invites you to play. Through bondage, guests might be tied together with ropes. Everything is allowed as long as it ́s consensual and pleasurable.
Clone-a-Willy: How did the award ceremony go this year? Did any moment exceed your expectations?
Meritt: We were overwhelmed by the interest of so many people at the awards and all of the events [this year]. We had a full house in our new location, the Hebbel Theatre. People appreciated the mixture of information and entertainment, the humorous feminist input and the diversity [within] age, culture, approach and gender. The diversity of "masculinities" and different gazes were a big topic for people who participated the first time in [PorYes].
We are really happy to see the movement grow, raise consciousness about alternatives and change the porn industry.
Clone-a-Willy: What are your plans for next year?
Meritt: We [are noticing] more sex positive [film] productions in Berlin, which is great. As we always care for different generations and cultures, we [are beginning to scout for new] pioneers from Europe, but we will not tell you.
To find out more about PorYes: